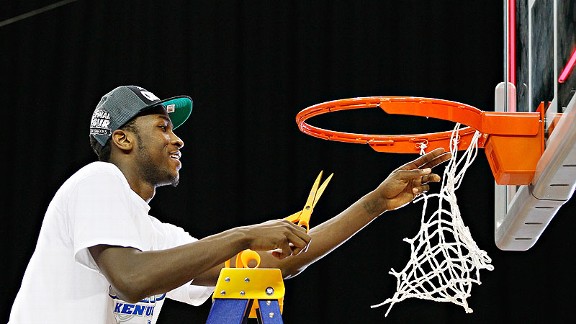 Kevin C. Cox/Getty Images Sport
Michael Kidd-Gilchrist can make a huge NBA impact without go-to scoring skills -- on a well-run team.
The Heat won the 2012 NBA Finals in five games, removing almost all doubt that they were the best team. I don't think people in Oklahoma City really think a bounce or a whistle here or there decided anything.
But in Boston ... the Celtics damn-near beat the Heat. They really had the champs on the ropes, leading 3-2 with Game 6 at home. That's a series the Heat only won with one of the great LeBron James performances of all time. That's a series that could have gone differently.
Yes, the Heat were without Chris Bosh. But Celtics fans will point out that Boston was also missing a key performer: Avery Bradley.
Avery Bradley?
Bradley, who aggravated a shoulder injury in the second round and missed the whole Heat series, is hardly the next Michael Jordan. In his ten playoff games he made just 25 of 68 shots. He nabbed two rebounds a game. He was below average from the free-throw line, and it's not like he was creating for others -- what few assists he had (eight total) were overshadowed by ten turnovers. In the regular season he was a decent 3-point shooter, but in the playoffs he made five of 22.
And yet Bradley's tenacious defense means everything. John Hollinger pointed out that late in the regular season the Celtics' defense was as good as ever when Bradley was on the floor, and the crazy stats kept right up during the playoffs; The Celtics outscored opponents by about 15 points per 100 possessions when Bradley played. When the 19th pick in the 2010 draft sat, Boston was outscored by more than four points, for a nearly twenty-point swing. When a shoulder injury forced Bradley to the bench ten games into the playoffs, Boston lost a ton.
And that, my friends, is a short clinic in the best way to make the NBA draft work.
Too often the draft is seen as a way for a young player to change a team. And the simple fact is that almost never happens. Other than the Thunder, really bad teams almost never become excellent through the draft.
The smart teams, though, use the draft differently. Instead of looking to change their identity through the draft, the best teams have well-established systems, and they use the draft to find players who can complete relatively simple chores.
The Celtics, Heat and Spurs aren't just three of the best organizations in the league. They're also three of the teams most likely to give long minutes to inexpensive role players and non-lottery picks like Bradley, Kawhi Leonard and Norris Cole. This is no coincidence.
Think if your team as a vehicle. On struggling teams, high draftees audition to be the engine. It's a tough job at which almost all young players fail for years. On good teams, the engine is not a rookie. It's an organization-wide way of doing things -- a philosophy of front office, a scheme from the coaching staff and veteran stars who can keep it all humming along through thick and thin. When draftees and cheap free agents show up, far from being the engine of wins, they are expected to be the gas -- an entirely essential but far less complicated role.
The Celtics aren't getting so much out of Bradley because he's a once-in-a-generation talent. They're getting so much out of Bradley because Danny Ainge, Doc Rivers, Kevin Garnett and Paul Pierce have mastered the hard jobs, enabling the team to derive big benefits from ten-times-a-draft talent like Bradley. They can give him the tremendous gift of a simple job description, the kind of job he can master at the age of 21.
---
Every 20-year-old that I encounter behind the counter gives me that look: "This job sucks."

YEAH! That's why we gave it to you!

Because you're 20. Which is a mathematical guarantee that you have no skills and nothing to offer anybody anywhere in the world.

-- Comedian Louis CK (PG-13 on video)
Let us accept that while young people matter more in sports than anywhere else, and that they can be crucial at the highest levels of the game, there are limits to how much responsibility they should be given.
So long as that's so, the draft becomes less about what a player can do for a team, and more about what a team can do for a player.
Here's where I'm convinced that a lot of NBA teams are poorly run. In most cases they have not built the offensive and defensive systems that create defined roles for young players (anyone doubt that on the Bobcats or Kings, without Kevin Garnett and Doc Rivers, Bradley might not stand out at all?).
They also fail in player development, organizational systems and building team culture that matters.
When a team does all those things right, it's amazing how much it stands out. Here's a conversation I had with injured Thunder backup guard Eric Maynor during the Finals:
What's different about OKC?

Oh man. I think it's the best organization in the league. From players to coaches to trainers to everything. The way they go about everything is just so professional. And they care about you as a person -- more than as a basketball player, they care about you as an individual.

I noticed that even though you're out for the season, and it's the middle of the Finals, you had three trainers working you out, cheering you on, helping you rehab.

Oh yeah! Of course, man. Because they care about you more than a basketball game, more than a series. I've been here for three years. You really build relationships with people. With this team, I think, it's more like a family. It's not just you go to work, see that person, and be like oh, see you later. There's more to it here.

After that, would it be hard to play somewhere else?

Who wouldn't want to be here? I think it's a great spot to be. Great guys. Great coaches. Great owner. It's everything. Everything is lovely here. Guys put in the work every day. Guys got the same personalities around here. It's hard to say you want to be anywhere else but here, doing what you love to do, being around people you love to be around.
Yes, the Thunder lucked into some crazy talents like Kevin Durant and Russell Westbrook, and competing executives would like you to believe that's all Sam Presti did that matters. But it's only part of the story. This organizational stuff, the stuff that makes it so all of their players (James "you won't find another team like this, I love it here" Harden is proving it right now) never want to leave ... that's the kind of stuff every team could be doing.
That's about role modeling -- for instance like those three trainers -- working smarter and harder. That's about investing in young players and taking so much time to develop them that the relationships surpass basketball.
---
Of course, 20-year-olds, and rookies of all ages, can help basketball teams all kinds of ways. Just not as CEO or, indeed, a superstar in the mold of LeBron James, Michael Jordan or Derrick Rose. This draft is dripping with players poised to be fantastic role players, defenders and teammates.
Anthony Davis, Michael Kidd-Gilchrist, Andre Drummond, Royce White, John Henson, Fab Melo, Marquis Teague, Meyers Leonard, Festus Ezeli, Moe Harkless, Jeff Taylor ... know what those guys have in common, besides being highly regarded NBA prospects?
They can't shoot. Not reliably, anyway. Some of them can score well enough. Kidd-Gilchrist was great in transition and posting up in college. White is creative with the ball. Davis can fly. But none strikes fear in opponents pulling up from 18.
Yes this draft also features scorers like Damian Lillard, Dion Waiters, Bradley Beal and Austin Rivers. But for every natural scorer there are five guys who would be better in a system where they have limited responsibilities on offense and great player development. Well-run teams are standing by to snap them up and get the best of them.
It's hard to point to any players in this draft who solves the problem of fixing a broken team. Smart teams tend to solve that problem some other way, while using the draft to unearth high energy young players who can play roles. This is one way that the rich get richer in the NBA.
Maybe looking to the NBA draft for a player who can save your franchise is like ordering sushi at a steakhouse.
Maybe it's just a case of asking the wrong question.
Maybe 20-year-olds who save organizations are so rare that they're almost not worth seeking. Maybe the smarter approach is to create a system that can get the most out of the players who actually are available on draft day.