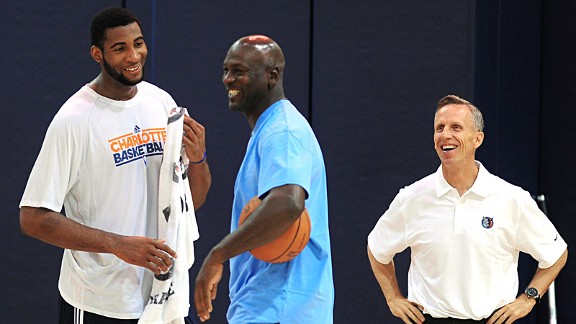 Jeff Siner/Charlotte Observer/MCT
Andre Drummond worked out for Michael Jordan and the Bobcats, who have the second overall pick, but could fall as far as the ninth pick.
On the NBA Today Podcast, NBA Draft Insider Chad Ford and high school recruiting analyst Dave Telep discuss one of the most controversial talents in the 2012 Draft: Andre Drummond.
If you haven't seen Drummond, all 6-foot-11 and 280 pounds of him, in action, prepare to be confused. One moment he'll display the exceptional lateral quickness, soft hands and explosive leaping that suggest NBA stardom; the next, he's bricking a free throw straight off the backboard.
Drummond's physical tools make him a potential All-Star, but he's a work in progress. Which means to progress further -- something he absolutely must do to make an impact as a pro -- he'll need to do a lot of work. Whether that happens, whether he can capitalize on his prodigious physical ability, may depend largely on who drafts him.
Ford and Telep explain:
DAVE TELEP: There's no question that that Andre Drummond is, in my mind, all things being equal, should be the number 2 pick in this draft.

I guarantee you he's going to go somebody's camp and there's not going to be anyone on the roster who looks like him or moves like him. Does he want to be Andre Drummond the rotation player, or want to be Andre Drummond the guy who challenges for a max contract someday?

Where he's going to fall on that continuum? I don't think that you can possibly answer that question right now. It is truly up to him.

CHAD FORD: [Drummond] -- this isn't a question of his character, by the way -- he doesn't have a clue what it takes to be a great NBA player. He doesn't understand the work that's got to be put in, how hard it is, all the obstacles and challenges he's going to face. He doesn't have a clue.

That's not a knock on him, by the way -- you could say the same thing about LeBron James. Now that he's won the title, you're hearing LeBron talk about things he didn't know, things that he wasn't doing, that he started doing when he realized he was going to have to put in more effort.

He's been so great for so long, but to be a great NBA player requires hard work, it's not just about being big or athletic, and I just don't think [Drummond] gets that yet, but I'm not saying he won't get it. I think he very well could.

TELEP: You think about when Randy Moss was drafted by the Vikings, and Chris Carter takes him under his wing. Andre Drummond is very much going to need someone to do that for him. Maybe Juwan Howard gets his 20th season serving as a mentor to Andre Drummond. Because if he's going to be successful and max out his ability, he's going to need someone to walk this journey with him a little bit.

If you put Andre Drummond with the Spurs -- and [I'm] just throwing them out because of the culture -- you put Andre Drummond with guys who have an approach to their job, that conduct themselves in that manner at an elite level, you're giving him a final chance because he's able to reset his foundation a little bit. If he goes to a culture of not much structure and a lot of flexibility, it could be trouble for him.

FORD: That's a great point, and unfortunately, most of those teams drafting at the top of the lottery are drafting at the top of the lottery because they don't have the right mentors and often times the right systems in place. And if he goes to the Bobcats, I'm not nearly as bullish on him as I would even going to the Wizards where Nene and Emeka Okafor are there as veteran guys who can help him understand what it takes to be an NBA pro.
Despite his rare talent, Ford has Drummond dropping all the way to the Golden State Warriors at No. 7 in his latest mock draft (Insider), up from a previous projection that Drummond him going ninth to the Pistons.
It's worth remembering that, though he may have the most impressive physical tools, Drummond is the second youngest player in the draft. The natural talent is there, but Ford and Telep suggest that his success will depend on the nurture he gets from whoever drafts him. In that sense, the team that eventually selects the young big man won't be betting on Drummond so much as its own player development staff and resources.