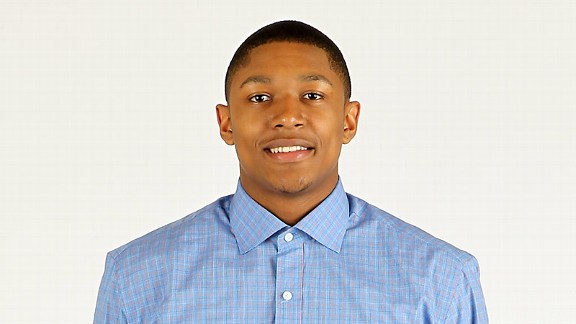 Nathaniel S. Butler/NBAE/Getty Images
As the draft approaches, several teams are focused on Florida guard Bradley Beal.
Some drafts have suspense about who will be the top overall pick. In this draft, Anthony Davis secured that spot months ago. The action now is around the second pick, which could be Thomas Robinson, Michael Kidd-Gilchrist or, increasingly likely, Bradley Beal.
The idea that it could be Beal is fueled less by rumors that the Bobcats, who hold the second pick, would draft him than by rumors that all kinds of other teams are infatuated with Beal. Word is there is aggressive bidding for the second pick as we speak.
Beal, who insists both he and his agent have no idea where he'll end up, addressed these points and more on Wednesday in New York:
1. ON POTENTIALLY BEING PICKED SECOND OVERALL
"As long as I'm picked, I'm happy. Honestly, it doesn't matter how high I go. As long as I'm with the right team, a great group of guys, a team that wants to work hard and try to win, regardless if I'm [pick] two or 10, I'm happy."
2. ON HIS THREE WORKOUTS (Charlotte, Cleveland, Washington)
"The workout [in D.C.] was great, honestly. I believe I shot the ball well, played well and really showed what I was capable of doing handling the ball. All my workouts were like that."
3. ON WHAT TEAMS TOLD HIM AT WORKOUTS
"They all said they were interested. If I'm there when they pick, they're telling me they would take me. But I'm not 100 percent sure if that's true or not. But all of them said they were interested, and I'm very curious to see what happens."
4. ON THE NBA'S SMALL-BALL TREND
"We played it a lot at Florida. There's times I've played the 4. If that happens in the league, I'm used to it."
5. ON WHETHER, WHILE WATCHING THE FINALS, HE IMAGINED HIMSELF ON THE COURT
"I did. You're just like wow, that's going to hopefully be me next year. You see the intensity, the heart and the passion that they play with ... that's what I love to see. Hopefully I'll be part of it."
6. ON THE IDEA OF PLAYING FOR THE THUNDER
"I've heard it a lot. ... It's really interesting. I would love to play with Kevin Durant, [Russell] Westbrook -- great point guard. Just the whole team. It's young. I would love to play with a young team. They play fast. I'd love to get up and down, shoot the ball. Overall, whatever situation I land in I'll be happy. ... That's what it's all about: being a team and being a family. I would love to go into a situation like that and just be a part of it. Get to know everybody. Just get up and close with them and get to know them, get a feel for them."
7. ON BEING COMPARED TO RAY ALLEN
"I respect it a lot. It's an honor for me, but I have huge shoes to fill. Either him or Eric Gordon, just because Eric Gordon puts the ball on the floor a little bit more."
8. ON WHETHER ALL FOUR OF HIS BROTHERS WILL LIVE WITH HIM IN THE NBA
"Oh, hell no. Two. I'm bringing along my two oldest brothers. All of them are linemen. I'll be curious to see what the grocery bills look like. I think they're probably going to have to buy their own food."
9. ON HIS MOM TEACHING HIM TO SHOOT
"100 percent. She's the one who put the ball in my hands from the beginning. She's really the one who taught me how to shoot the ball like I do now. The credit all goes to her and God. ... She [played at] Kentucky State. She didn't play pro ball. I don't even know if they had pro ball then. She always thinks she can still shoot better than me, but ..."
10. ON FOOTBALL
"I still think about it sometimes. ... Football was probably my favorite sport growing up. But I didn't have the body."
11. ON FACING NBA STARS
"LeBron and Kobe and all those guys. I really look forward to that. And I hope I do a great job when I play them."
12. ON MEETING MICHAEL JORDAN AT CHARLOTTE WORKOUT
"It was just a meet-and-greet. There was nothing too extraordinary about it."
13. ON WHAT HE DID TO GET TEAMS SO FIRED UP
"I don't know what I did! It really is a blessing and an honor, honestly. ... It's going to be an interesting draft tomorrow."