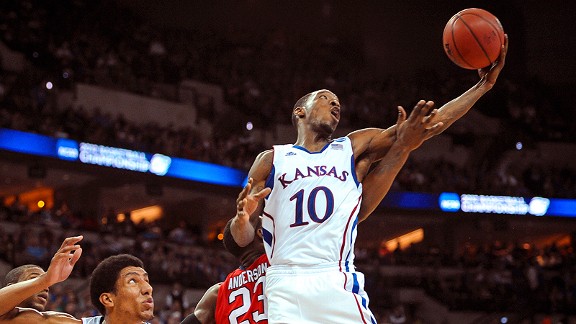 Eric Francis/Getty Images Sport
Jaw-dropping athleticism is only part of what Kansas guard Tyshawn Taylor offers.
When the Oklahoma City Thunder made it to the NBA Finals against the Heat, one of the big questions was: How would they handle the Heat's swarming, athletic, aggressive team defense? The Thunder had faced some very good teams in the Western Conference playoffs, but no team with that much energy on D.
Heat bodies were flying all over the court -- LeBron James, Mario Chalmers, Norris Cole, Chris Bosh and company were tenacious in using their speed and athleticism to frustrate the Thunder's preferred offensive actions. It was a key to deciding the title. An ongoing question for Heat opponents is how to cope with that team's energy level.
And an interesting part of the equation was that young guards Chalmers and Cole were parts of it. Neither has superstar potential. Both were late draft picks. But both made real impact at the highest levels.
Kansas guard Tyshawn Taylor, projected to be drafted 36th, by the Kings, in Chad Ford's latest mock draft, fits the trend. "I thought he was very average as a high-school freshman,' says David Thorpe, who met Taylor when both lived in Clearwater, Florida years ago. "He had no energy, no purpose. But playing for Coach Hurley [at St. Anthony's in Jersey City, N.J.] really inspired him. Now I think he has a lot of Mario Chalmers in him, and not just because of the Kansas connection. And there's no question that he is a better prospect than Norris Cole. Tyshawn has the speed and quickness to help any team defensively."
Video demonstrates what Thorpe is talking about. Not only are there all kinds of plays when Taylor contains skilled offensive players, but there are also any number of blocks, strips and hands poked into passing lanes. He makes some plays at the rim, and some others well above. There are also plays in which Taylor (whose time at St. Anthony's became part of a documentary) matches opponents step for step on the run, and then turns on the jets and dusts everybody. The speed is almost frightening.
Statistics show it was almost impossible for opponents to succeed running isolation plays against Taylor -- they scored barely more than 20 percent of the time.
"I hang my hat on being a good defender," says the 6-3 guard, who nods along with Arron Afflalo's theory of making it in the NBA: Earn minutes with defense, use those minutes to learn the whole game. "Hopefully whatever team picks me will like me enough to hopefully give me some time."
There is more to Taylor's game than defense. In a hot-and-cold senior year at Kansas, he finished the season having made an impressive 38 percent of his 3s. That's part of the reason John Hollinger's draft rater pegs Taylor ahead of more heralded prospects like Damian Lillard, Austin Rivers and Terrence Ross. (Hollinger says he would take Taylor with the 25th pick.)
Taylor is dynamic in transition, but also succeeded in the half court, creating off the dribble and attacking the pick-and-roll with polish befitting a four-year college player. Taylor's favorite finishing move is a play that translates well to the NBA, where the basket protectors are far bigger than college: The floater.
"He really thinks he can score," says Thorpe, "and that's the first step in becoming a real scorer. If he can really nail that NBA 3, on the right team Tyshawn can play the same role Mario Chalmers plays for the Heat. They will need some other playmakers."
Similar to his college teammate Thomas Robinson, Taylor has had to overcome some tough off-court challenges. He grew up in a single-family home, often supervising his two younger sisters while his mother worked. For a month the family lived in a homeless shelter, other times when they came home to find the electric company had shut off the power.
"[Kansas] Coach [Bill] Self likes tough guys. He likes competitors. He likes guys that have stories," says Taylor, who says he feels more than ready to handle whatever basketball challenges arise. "Compared to what I went through ... I feel I handled some things well, and some times I got overwhelmed. But for the most part, I've gone through more than a lot of people go through, and I know I'm going to hang tough. To be at this point now, I'm just excited. It's a really great feeling. I haven't slept for the last few days. I'm up all night just thinking about it."