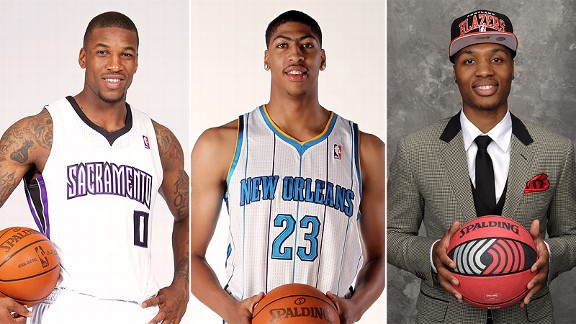 NBAE/Getty Images
Thomas Robinson, Anthony Davis and Damian Lillard will headline the Las Vegas Summer League.
The Las Vegas Summer League is the Sundance Film Festival of basketball. It's an unofficial industry conclave, a place where the best young talent, power brokers, international agents and hoop junkies convene for 10 days in the desert. Star rookies will play to loud applause. Lesser-known players will grind and hope their effort will translate into a training camp invitation or a substantial European contract.
Here is Part 2 of our annual "back of the envelope" guide to the Las Vegas Summer League, highlighting some of the more promising and intriguing prospects who will take the floor. Read Part 1 here.
Dallas Mavericks
Jared Cunningham: The shooting guard out of Oregon State, drafted No. 24 overall, plays at NBA speed with NBA athleticism. He became a pretty heady player in the confines of Craig Robinson's Princeton-ish offense. Can Cunningham play the point? He'll be Gary Payton's newest protégé this summer when he works out with the nine-time All-Star and fellow East Bay native.

Jae Crowder: Among basketball junkies, Crowder was a draft favorite. Crowder is a feisty, NBA-ready defender from Marquette who not so long ago toiled in obscurity as a junior college standout at South Georgia Tech. At the national junior college championships, West Virginia coach Bob Huggins implored him to get his tuchus to Division I ball, where Huggins was sure Crowder could thrive. Crowder doesn't have a natural position but is one of those guys analysts love to say is "just a basketball player."

Aubrey Coleman: The shooting guard is known primarily for two resume items: leading the NCAA in scoring during the 2009-10 season at Houston and stomping on the head of Chase Budinger. Coleman put together a nice season this past season at Angelico Biella in the Italian League, where he could play the free-flowing brand of ball that suited him under Tom Penders at Houston.
Denver Nuggets
Quincy Miller: Did Miller drop to Round 2 because of questions about his left ACL, which he tore as a high school standout? The Nuggets were willing to set aside those concerns because Miller enters the league as one of the best skills-to-size players in the draft -- a 6-foot-10 forward who can handle the ball like a guard and find shots with a blindfold on. On his draft board, our John Hollinger had Miller ranked as the No. 6 overall player in this year's class.

Kenneth Faried: The Manimal makes his first appearance at Summer League, where he's a morning-line favorite to lead Vegas in rebounds. Faried has an inspiring life story, which was profiled by Dana O'Neil in 2011 a few months before he was drafted in the second round by Denver. In May, Faried represented the NBA at the Gay, Lesbian and Straight Education Network Respect Awards to honor his mother and her wife.

Jorge Gutierrez: The Pac-12 Player of the Year went undrafted out of Cal, but trying to make it to the NBA through the side door will be just another in a young lifetime full of challenges. Gutierrez arrived in the United States with his family at 15 years old from Chihuahua, Mexico, as an undocumented immigrant. He battled poverty, anemia, teenage life without parents (after his mother and father returned to Mexico) and calls for him to be deported from nativists such as Tom Tancredro. The combo guard is certain to tackle summer league like each of those other challenges.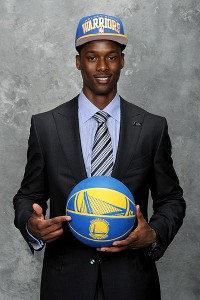 Jennifer Pottheiser/NBAE/Getty
Harrison Barnes: Happy Warrior.
Golden State Warriors
Harrison Barnes: The Tar Heels' forward can defend; find shots at will by using his athleticism and physicality; deke defenders with shot fakes; and manufacture good looks. Listen to David Thorpe with Henry Abbott discuss Barnes on the NBA Today podcast (approximately at the 8:10 mark).

Draymond Green: Stat heads love Green's college numbers, which show him to be an efficient scorer and a nasty rebounder, despite being only 6-foot-7 (in lifts). He has a silky touch and a deceptive ability to make plays in traffic and never stops working. As is often the case with undersized, beefy forwards, the question for Green is whether he can defend NBA-quality athletes who move at warp speed.

Wendall McKines: Dubbed "the most interesting man in the WAC" by ESPN's Myron Medcalf, McKines is both rapper and baller. In February, McKines tweeted, "I said no mammal can guard me. I will go in the pacific ocean and give the most dangerous whale a double double."
Houston Rockets
Royce White: Mental health is one of the most underreported and misunderstood stories in the NBA. White has been very expressive and eloquent about his anxiety disorder, a condition he lives with every day. On the court, he displays a broad versatility of skills and could even play point forward in a pinch. Off the court? Same deal. He slept many nights in a Minneapolis music studio, where he indulged his passion, and even sports a tattoo of Frank Sinatra, as chronicled in Jonathan Abrams' Grantland profile on White.

Jeremy Lamb: The shooting guard out of UConn is a polarizing player. His droopy eyes, mellow manner and occasionally iffy shot selection worry a few onlookers. But a closer inspection of his game uncovers a lanky guard with a full set of tools and sharp instincts as a scorer.

Donatas Motiejunas: A stretch big man with a smooth jumper, a high basketball IQ for a 21-year-old and an increasingly assertive presence on the glass, Motiejunas is still one of the Rockets' most interesting prospects.
Los Angeles Clippers
Trey Thompkins: The baby fat is gone, and the Clippers' second-round pick from the 2011 draft is eager to see some floor time after playing almost exclusively as a garbage-time performer. The Clippers desperately need some stretch in the frontcourt, and Thompkins might very well be their best option for the 2012-13 season.

Eric Bledsoe: The speedy guard has the potential to be a top-5 perimeter defender and in the postseason brandished a far more versatile offensive game than previously thought possible. In 2010, he was petulant on the floor in Las Vegas, rolling his eyes at teammates who botched plays. We'll see a more mature Bledsoe this go-round.

Cameron Moore: Looking for a defender who can control the paint and flatten a point guard with a ball screen? Keep an eye on the four-year big man from UAB.
Los Angeles Lakers
Andrew Goudelock: The young point guard had a magical stretch in late January in which the Los Angeles media swarmed the rookie's locker after a season-high 14 points in a gritty win over the Clippers. Goudelock has the potential to be a catch-and-shoot specialist and can capably pass the ball but has to prove he can create to stick as an NBA point guard.

Darius Johnson-Odom: The smallish shooting guard out of Marquette was one of the more gregarious guys selected. As CBS' Jeff Goodman tweeted at the June combine, "Never seen anyone talk more in the middle of a shooting drill than Darius Johnson-Odom."

Toure Murry: For every Anthony Davis, there are a dozen Toure Murrys -- players who went undrafted out of mid-major schools such as Wichita State who don't have a Wikipedia page and who show fewer than 700 Twitter followers. For these guys, the thrill of putting on an NBA uniform, if only for a week, and competing for a spot at an NBA training camp in September is a thrill.
Memphis Grizzlies
Tony Wroten: Yet another supernova to emerge from Seattle, the lefty combo guard was regarded as one of the top pure talents in the draft, but one burdened with a quiver full of question marks: Can he develop a jump shot? Can he learn to play with his right hand? Is his on-court brashness a sign of confidence, or is he just a loose cannon with an outsized opinion of his game? Whatever the answers, Wroten figures to be one of the more entertaining players to watch in Las Vegas.

Mitchell Watt: The big man from Buffalo has persevered after being diagnosed before his sophomore season with Guillain-Barre Syndrome, an autoimmune disorder whereby the body's immune system turns on itself. Watt put up big numbers his senior year. He moves around the court with mobility and purpose and has a nice stroke facing up.

Josh Magette: The University of Alabama-Huntsville grad's likes on Facebook include the NBA Meme "Pass? Just get the rebound" superimposed over Kobe Bryant's face.
Minnesota Timberwolves
Robbie Hummel: Nothing raises a red flag for a young prospect quite like an ACL injury. Hummel has had two of them, the second of which cost him the entire 2010-11 season. Despite the setbacks, Hummel can do something that has become an essential for today's NBA combo forward -- drain face-up jumpers. He's still a long shot to become an NBA rotation player.

William Buford: The four-year shooting guard from Ohio State was "the last man standing" from the Buckeyes' standout 2008 recruiting class. Buford is a sound, fundamental player -- with good size at 6-foot-5 -- but had trouble finding open looks in Columbus. That task doesn't become any easier in the NBA.

Jet Chang: The 6-foot-4 Taiwanese guard from BYU-Hawaii has an attractive, high-arcing jump shot with a compact stroke. A member of the Taiwanese national team, Chang's transition game is well-suited for the breakneck pace of Summer League.
New Orleans Hornets
Anthony Davis: There's a special electricity in the building whenever the No. 1 pick takes the floor for the first time in an official jersey. Mark your calendars for 7:30 p.m. PT on Sunday, when Davis will man the middle against Portland.

Austin Rivers: Summer League serves as a laboratory to test the potential capabilities and pitfalls of top prospects. Don't be surprised to see Rivers logging plenty of time at the point, a position at which many skeptics believe he lacks NBA skills as a distributor (not that we see a helluva lot of distribution in Vegas), though he's a lethal finisher. Rivers' jump shot improved over the course of the college season. Can he sustain that progress against longer, more dogged defenders?

Xavier Henry: One of the forgotten men from the 2010 draft after being selected No. 12 overall by Memphis. Still only 21, Henry could potentially be a nice replacement for the departed Trevor Ariza on the wing as a 3-and-D specialist, if his ankle holds up.
Phoenix Suns
Kendall Marshall: A potential steal for the Suns, he is a seasoned point guard who performed against top competition and comes to the league with an old-man game laced with savvy, physicality and floor awareness.

Erving Walker: A 5-foot-8 point guard from Brooklyn who can zip through the trees, Walker finished as Florida's all-time assists leader. He also was arrested for stealing a $3 taco in Gainesville.

Patrick O'Bryant: Look who's back! The former Celtics big man has bounced everywhere from China to Puerto Rico since his two-year, $3.1 million deal expired in 2010. Big fan of "Family Guy."
Portland Trail Blazers
Damian Lillard: A fiendish worker who arrives in the league as a knockdown shooter, pick-and-roll practitioner and attacker. We haven't seen a workout regimen from a prospect like this since Blake Griffin was running up sand dunes with ankle weights. Check out the "License to Lillard" video series at Lillard's YouTube channel.

Wesley Matthews: Every year there's an NBA veteran who packs his duffel for Las Vegas, even though the team didn't give him marching orders. Matthews told Jason Quick of the Oregonian in April that he wants to improve his post and isolation games and will use the week in the desert as a laboratory.

Meyers Leonard: The 7-foot-1 rookie is absolutely ripped and can run the floor like Blake Griffin. Jeff Zigglitt of USA Today describes the difficult circumstances of Leonard's upbringing after the center's father was killed in a bicycle accident when Leonard was 6 years old.
Sacramento Kings
Thomas Robinson: Having the chance to watch Robinson up close from beneath the basket at Allen Fieldhouse this winter, "NBA body" was the first impression during a lackluster first half. After intermission, the skills were on full display -- an irrepressible desire to find space inside, the touch to convert and athleticism to spare. As much as Robinson's game impresses, his personal story will leave you with a lump in your throat. Check out his video interview -- along with little sister Jayla -- with Henry Abbott at TrueHoop.

Jimmer Fredette: This time last year, the sharpshooter from Brigham Young was a sensation. As he heads into his sophomore season with the Kings, Fredette will try to ward off the dreaded "bust" label in Las Vegas, where defenses are notoriously generous along the perimeter.

Josh Akognon: The 5-foot-11 guard was the 2009 Big West Player of the Year and lit up the Chinese Basketball Association for the better part of two seasons. Akognon got the call from Canton of the D-League, then promptly dropped 33 on Erie in his second game on April 6.
San Antonio Spurs
Marcus Denmon: Could the smallish 3-and-D guard from Mizzou be another steal for the Spurs? Denmon isn't the most athletic guard in this crop, but he's a heady player with strong leadership skills and the instincts to make himself useful on the floor -- in other words, a prototypical Spurs player.

Cory Joseph: The young guard took 73 field goal attempts in Austin for the D-League Toros and 70 in San Antonio with the big club -- and wasn't efficient at either locale. The jury is still out as to whether Joseph can develop the shot, defensive wherewithal and, most important, trust of the Spurs' staff.

JaMychal Green: If you want to play the old parlor game "Who was the best prospect not to be drafted?" the power forward out of Alabama isn't a bad answer. Green turned heads at the Portsmouth Invitational Tournament by setting up shop on the baseline and never letting go. If he can refine his face-up jumper, Green is a candidate to come into the league through the side door.