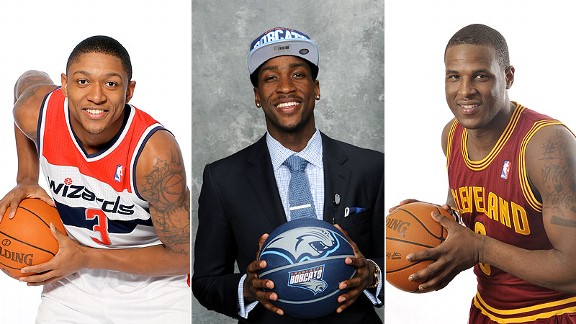 NBAE/Getty Images
Wings of desire: Bradley Beal, Michael Kidd-Gilchrist and Dion Waiters are ready for flight.
Atlanta Hawks
John Jenkins: Quite possibly the best pure shooter in the 2012 draft class, Jenkins has the kind of silky stroke coaches wish they could bottle and pass on to their next recruiting class. Here's a demonstration from Jenkins from September 2010, just before his sophomore season at Vanderbilt.

John Shurna: While we're on the topic of pure shooters, how about the 6-foot-10 face-up specialist from Northwestern? The Wildcats' all-time leading scorer went undrafted in June but could catch on as a stretch big with sharp court awareness.

Brian Butch: Cox Pavilion fell silent on the first Saturday of Summer League in 2010 when Butch crumpled to the ground with a dislocated left kneecap. Once a top high school prospect who played against LeBron James and Chris Paul in the 2003 McDonald's All-American Game, Butch was a double-double machine for the Bakersfield Jam last season.

Note: Butch has left Hawks minicamp and will now join the Milwaukee Bucks' summer league team in Las Vegas: "[The Hawks] had a change in philosophy ... It was my choice. Not by any means did they kick me out of there. But I want to go somewhere where I can play and be seen. In summer league, that's what it's all about. And making sure you're going to play is the biggest thing.''
Boston Celtics
Jared Sullinger: Had he come out a year ago, Sullinger would've been a lottery pick. But after returning for his sophomore season at Ohio State, Sullinger dropped to No. 21 overall. The upside? He'll get to play for a storied franchise and a coach for whom NBA players would run into fire. Sullinger is a classic space eater with a soft touch and strong skills on the block, but critics worry that his less-chiseled frame might hurt him defensively.

Fab Melo: It's hard to take issue with a young center who loudly proclaims, "I freakin love my job!!" Melo was the Big East Defensive Player of the Year in 2012 and will pancake more than one dribble driver in Cox Pavilion over the course of the week.

Sean Williams: The Celtics' designated enigma, Williams will have ample opportunity to swat the shots of training camp hopefuls. Despite his troubles off the floor, Williams has his fans, including former Texas Legends coach Nancy Lieberman. If Williams can wed talent and temperament, it might not be too late.
Charlotte Bobcats
Michael Kidd-Gilchrist: Far from a consensus No. 2 pick -- many had the Bobcats selecting Thomas Robinson -- Kidd-Gilchrist will start the 2012-13 NBA season as the league's youngest player. Despite that youth, Kidd-Gilchrist displays uncommon maturity. Told about a ritual once started by Michael Jordan, Kidd-Gilchrist launched the "Breakfast Club" -- a voluntary early-morning workout for him and his teammates, followed by breakfast.

Kemba Walker: Setting aside the train wreck that occurred nightly in Charlotte last season, Walker showed the makings of a capable NBA pick-and-roll point guard. Although Summer League tends to favor isolation-happy guards over floor leaders and practitioners, Walker should be able to marshal an interesting composition of Bobcats prospects.

Bismack Biyombo: You could imagine Biyombo as the celebrated garbage/energy man on a team chock-full of scorers. But on a miserable Bobcats squad that needed points, he was regarded as part of the problem, somewhat unfairly. As the Cats grow up, they'll need Biyombo's intensity underneath.
Chicago Bulls
Marquis Teague: The Bulls scooped up the national champion's point guard, whose brother, Jeff, starts in Atlanta. With Derrick Rose expected to be on the shelf for most of the 2012-13 season, Marquis Teague could see meaningful minutes on a good team from the outset. He's a speedy guard with composure who can fly off a screen, get into the paint and make a play for himself or someone else.

Leon Powe: Everyone loves Leon! Few Summer League participants (save the Heat's youngins) can brandish a championship ring, but Powe was a key member of the 2008 Celtics championship squad. Since then, Powe has endured a series of knee injuries as he's tried to claw his way back into the league. He finished last season in Puerto Rico.

Jermaine Taylor: The scoring guard takes 5-10 shots every morning before he brushes his teeth. From my 2010 Summer League roundup of Day 1: "One of the more amusing moments of the afternoon came when Taylor flew down the court with just under 30 seconds left and the Rockets up by a bundle. Taylor launched a shot, drawing a hard foul from Taylor Griffin. He then turned to the bench -- Rockets' assistant T.R. Dunn in particular -- and yelled with a smile, '2 for 1!' The entire Rockets bench cracked up at the idea that Taylor was conforming to a strategic imperative rather than, well, doing what he loves to do most -- shooting the ball."
Cleveland Cavaliers
Dion Waiters: Like Russell Westbrook in 2008, Waiters shot up the draft board in a flash. Waiters put up nice numbers at Syracuse and projects well, but he's the kind of player you need to lay eyes on to appreciate. Waiters' body control allows him to suspend midair, contort his frame and still finish in traffic. A good bet to lead Summer League in oohs & ahhs on the offensive end.

Kyrie Irving: The reigning NBA Rookie of the Year will get a chance to test out his new toys, most notably Waiters -- and that will be the most interesting item to watch when the Cavs take the floor. We're all well aware of what Irving can do individually. Now, we'll get our first glimpse of what he can build in Cleveland.

Tyler Zeller: It's difficult to imagine Zeller achieving anything resembling stardom. He's a solid center with a modest standing reach and decent instincts for a center. But the new-look Cavs have enough firepower and dynamism. They'll need a couple of reliable big men who can set a screen, get off the ground and drain free throws. Pencil in Zeller's name in that box.
D-League Select
Mardy Collins: The defensive specialist from Temple (a redundancy if there ever was one) will try to work his way back into the NBA, where he played meaningful minutes with the Clippers and Knicks.

Jeremy Wise: Once a cautionary tale of an underclassman who left school early only to go undrafted, Wise has established himself as one of the D-League's most generous distributors since he joined the Jam three seasons ago.

Marcus Dove: Here's a guy who, at Oklahoma State, was one of the most brutal defenders in the country in a conference stacked with frontcourt performers. In Las Vegas, Dove will try to convince scouts that he has just enough confidence offensively to accompany that defensive toughness.
Miami Heat
Norris Cole: Heat assistant coach Dave Fizdale has put Las Vegas on alert: "We're breeding Norris a different way. Norris is a hunter. Norris doesn't care about people coming after him, and all that. We're developing him to be an attacker. So he's going out to Vegas with the intent to destroy whoever he plays against."

Justin Hamilton: Did you know that Hamilton was the first LSU Tiger to be drafted since Marcus Thornton in 2009? The Heat's second-round pick is unlikely to make the Heat's 2012-13 roster -- they already have a 7-foot project in Dexter Pittman -- but size doesn't slump, particularly for an organization that needs more of it.

John Holland: On sheer likability, you won't find a better dude at Summer League than Holland, who graduated from Boston University in 2011 as the America East Player of the Year. The Bronx-born swingman logged some minutes for the Thunder at Orlando Summer League, played with the Puerto Rico team at the FIBA Americas Championships and spent the 2011-12 season in the French B League.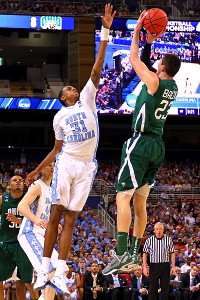 Dilip Vishwanat/NBAE/Getty
John Henson could help improve the Bucks' D.
Milwaukee Bucks
John Henson: Over the past half-decade or so, the Bucks had established themselves as a team that could win a game on the defensive end on any given night. They got away from that last season, then cut ties to Andrew Bogut, their defensive ace. Henson, who has preternatural defensive instincts, has a chance to make Milwaukee a stingy squad once again.

Aaron Miles: At 29, the former Jayhawks point guard who helped lead Kansas to a couple of Final Four appearances will likely be one of the two or three oldest players in Las Vegas. He's had something of a Crash Davis career since going undrafted in 2005, despite being the Big 12's all-time leading assist man. His most recent stop was in Samara, Russia, where he led Krasnie Krilya in minutes per game last season.

Jarrid Famous: The center from the University of South Florida will chair up the Summer League "all-name" team. Famous put up a couple of monster games in the D-League last fall before heading to the Philippines, where he played with the Meralco Bolts of the PBA, then the San Miguel Beermen of the ABL.
New York Knicks
Chris Smith: J.R.'s little brother was a starter on the Louisville Final Four team in 2012. Check out this 2009 story from The New York Times' Brian Heyman, when Chris was starring at Manhattan College and J.R. was still with Denver.

Walker Russell Jr.: The purest of pure point guards, Russell is a Summer League legend, the one guy on the floor looking to make a play for someone other than himself. Russell finally got his shot in the NBA in January, when the Pistons brought him up from the D-League.

Mustapha Farrakhan: The grandson of Louis Farrakhan, "Lil' Mu" was a standout at Virginia in his senior year under Tony Bennett. Farrakhan then caught on with Bakersfield of the D-League, where he excelled early last season, but struggled down the stretch.
Toronto Raptors
Terrence Ross: Was No. 8 a reach for Ross? That was the question coming out of the draft from those who felt the swingman's game was a bit too limited to justify a top-10 selection. Ross is a confident shooter and has the feet to contribute greatly to the vastly improved defensive system Dwane Casey has installed north of the border.

Quincy Acy: A fascinating contradiction of a player -- a jaw-dropping dunker ... but not incredibly athletic. Strong ... but not always sturdy. A forward with nice length ... but who plays smaller than his size. Seems to play the game with passion and commitment ... but with occasional defensive lapses. Could possibly find a niche in the NBA with the right nursing.

Terrell Stoglin: The Maryland point guard had a bizarre spring. After leading the team in scoring as a sophomore, Stoglin was booted off the team for a year for violating the student-athlete code of conduct. Stoglin subsequently declared for the draft, and though he had an army of Twitter fans touting his first-round bona fides, he was ultimately passed over.
Washington Wizards
Bradley Beal: Ever since Washington drafted John Wall with the first overall pick in 2010, Wizards fans have been imagining what kind of shooting guard the team could place alongside him. In Beal, the Wiz have a gem -- an all-purpose, two-way player who fits snugly into the evolving, knucklehead-free culture being instilled in Washington. There's a smart economy to Beal's game. You won't see a trademark move or a lot of razzle-dazzle.

Kim Tillie: The power forward was hoping to fill a hole in the depleted frontcourt of the French Olympic team, but failed his physical. Now, he'll take a tour with the Wizards' squad in Las Vegas, just down Interstate 15 from the University of Utah, where he played four years.

LaRon Dendy: Dendy put together a well-rounded season at MTSU, and he impressed at Portsmouth. Just don't ask the power forward out of Middle Tennessee State to perform a standing jump over a four-and-a-half-foot brick wall.