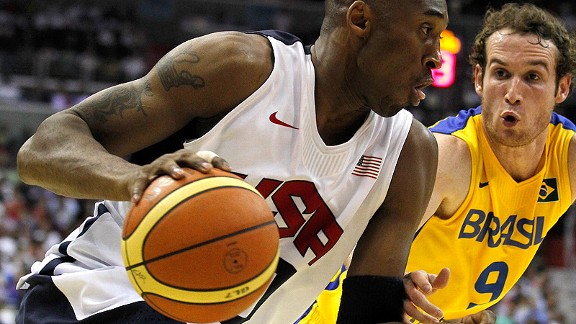 AP Photo/Alex Brandon
Marcelo Huertas, right, is the kind of player that can give Team USA's pressure defense problems.
Anderson Varejao, Nene, Tiago Splitter. The Brazilian frontline was NBA-tested and active around the rim -- just the kind of matchup that could cause relatively undersized Team USA problems at the Olympics in London. But when the two national teams met in Washington D.C., it was a 6-3 point guard, Marcelo Huertas, who really gave Team USA headaches.
To fans of European basketball, Huertas is known as one of the world's great passers. Last night, he had more assists (13) than did all of Team USA. However it wasn't the total that was astounding, but the way it happened. Even against sweltering pressure from USA's athletic, aggressive wings, Huertas dazzled, repeatedly shedding tight coverage to slip the ball to cutters or push the ball up court and finding open shooters in transition.
Huertas -- who has never played in the NBA -- plays professionally for Barcelona, the top club in Spain and former home to Pau and Marc Gasol, Ricky Rubio and fellow Brazilian Varejao. And maybe the NBA is not for him: He lacks the explosive quickness associated with most of the NBA's top point guards and has a cost-prohibitive buyout clause in his Barcelona contract. But Huertas is strong and, as they say, can get where he wants to go -- a fact he made clear on Monday night when, on a fast break, he baited Deron Williams all the way onto his left hip then casually spun past him for a layup, never touching the ball with his off hand.
Team USA is still coalescing defensively, but the general plan seems to be to apply as much pressure as humanly possible all over the court. That swarming strategy was effective in forcing Nene to cough up the ball five times, and Team USA's guards abused Brazil's backup point guards for easy steals when Huertas sat. But when Brazil's top ballhandler was in the game, Huertas was able to use that aggression against Team USA, as when he lofted a divinely weighted one-handed pass that perhaps only four or five players in the world would make -- off the dribble and over the outstretched arms of the defender, right into the hands of his cutting teammate.
The rap on Team USA is that quality "bigs" could slay them, but here's a new worry from a quality "little." They don't make many point guards with that kind of feel, but Huertas may have exposed a greater worry for Team USA than pure size: point guards who can handle, and exploit, pressure. As NBA.com's John Schumann Tweeted, Brazil scored 79 points per 40 minutes with Huertas on the floor and 37 points per 40 minutes with him on the bench.
Spain, widely acknowledged as America's chief competition for gold in London, will roll out Jose Calderon, Juan Carlos Navarro, Sergio Rodriguez and Rudy Fernandez. Not exactly murderer's row, but all players with NBA ability who won't be intimidated like 19 year-old Brazilian backup Raul Neto was.
It was a turnover-strewn second quarter, much of which Huertas sat, that spelled Brazil's defeat. But excepting that period, which the US dominated 20-5, Brazil controlled the glass, found good looks and shot 50 percent from the field for the game. Of course, Tyson Chandler, the U.S.'s lone 7-footer, only played 20 minutes, so the U.S. looked even smaller. But Team USA's philosophy seems clear: Surrender size in the interest of intense pressure.
Facing a solid Brazil squad while still very much in the "working out the kinks" stage, Team USA's plan worked. But Brazil also revealed that a steady, heady point guard could do damage.