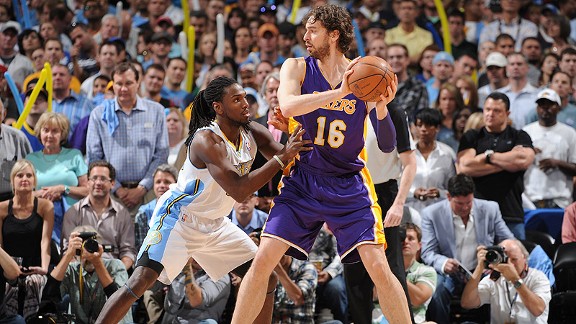 Garrett W. Ellwood/NBAE/Getty Images
Faried doesn't measure up to the likes of Pau Gasol, but he's an effective power forward nonetheless.
"He doesn't have a position."
That right there is one of the most common knocks on future NBA players as they enter the draft, and a criticism that can stick with them as they try to find their place in the league. Yet, as Kevin Arnovitz and David Thorpe point out on TrueHoop TV, every year we see players come in without a position who thrive all the same -- a fact that's especially true for players whose games seem to fall somewhere between traditional definitions of small forwards and power forwards.
These "tweeners" are all 6-8 or shorter, and have the following working against them:
Smaller than traditional power forwards (example: Kenneth Faried)

Have some perimeter skills but not perimeter quickness (Derrick Williams)

Or some combination of the two (like Paul Millsap).
What to do with such players? Make them small "fours" or beefed up "threes?" It has long been an NBA conundrum, especially because plenty of quality players fit this rough description.
It's a conundrum, however, to which a clear solution is emerging: In today's NBA, they're all power forwards.
If there is a question as to whether a player is a small or power forward, that player's almost always better playing power forward. That's just the state of the league these days.
Want proof? First consider what small forwards do. A great way to start this exercise is to spend a few minutes watching small forward Andre Iguodala play defense. A typical possession starts with him sprinting through and around screens. Then, his man may end up as the screener in a pick-and-roll with the point guard. Iguodala then must swallow up a point guard, then dig down to stop a pass to the post with his long arms, and then use his quickness to recover to the perimeter. Yes, Iguodala is strong, smart, and long -- but most of all he's lightning quick and moving all over the place.
Do you really want Paul Millsap attempting all that?
Being notably smaller than your opponent is a hassle. Being notably slower, against a well-run offense, takes you out of the play entirely. Putting an undersized power forward at small forward just because he has a modicum of perimeter skill is a mistake, especially as every position in the NBA becomes more and more perimeter oriented. It's a strategy rooted in the past and destined for failure.
Chris Bosh and Kevin Garnett are so effective as centers and Carmelo Anthony was a revelation as a power forward for this very reason. At those positions, they are fast. Being quick instead of big increases team-wide offensive and defensive versatility while also creating individual advantages.
Teams worry about smallish players getting beat up on the boards, but the fact is that, as David Thorpe likes to say, the player who gets to the ball first is the one that wins possession. Being tall helps, but it's really about hunting "out of area" rebounds and securing good position. Shane Battier is a model for how a slightly smaller player can hold his own inside better than he can defend quicker players on the perimeter.
That's why it was so curious that the Timberwolves, with Kevin Love already in the fold, drafted Derrick Williams with last year's second overall pick. If Minnesota hoped he would become an effective small forward, it was wishful thinking. In today's NBA, that position must be able to operate pick-and-rolls both as a screener and ball handler, make the corner 3-pointer and show hyper-versatility on defense. Basically, a small forward is now just a tall shooting guard; Toronto's Terrence Ross is a ready example.
Williams, despite his protestations to the contrary, is simply not cut out to be a small forward, but boy, could he be a nasty face-up four.
These days, being a "tweener" often just means that player has an opportunity to exploit an advantage in quickness.
With few exceptions, there should be no doubt about what position a front court player plays. It's the one that best suits his speed, not his size.