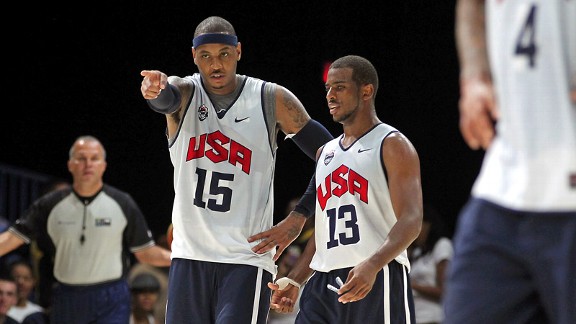 Ned Dishman/NBAE/Getty Images
Chris Paul knows how to get Carmelo Anthony high-percentage looks.
Carmelo Anthony is widely rated as one of the best offensive talents in the NBA, and one of the best small forwards. But his efficiency suffers because, as a so-called "volume scorer," he takes a ton of tough shots, including a lot of long 2-pointers.
How to get Anthony's best offense, while skipping the worst? As Team USA is demonstrating: Move him to his natural position -- Amare Stoudemire's position -- power forward.
In Team USA's tune-up against Brazil, for instance, Anthony spent the first 10 seconds of an early possession fighting for position 18 feet from the hoop, something he does quite a bit in New York. Kobe Bryant couldn't find an angle to get him the ball though, and swung the ball back up top to Chris Paul.
Then Paul retreated a bit and ... flipped the script. He called Anthony over and directed him to act like a power forward, setting a screen in a high pick-and-roll.
After hesitating initially, as though surprised to find out he was the big man in charge of ball screens, Anthony eventually rumbled over to Paul, dislodged Paul's defender, then slipped down the middle of the paint where, of course, a lovely pass from Paul was waiting for him.
Anthony caught the ball and -- superstar offensive player that he is -- instantly noted the defense was badly distorted and slipped a pass to LeBron James racing in along the baseline.
Dunk.
That's Carmelo Anthony as a hyper-skilled power forward. That's how Anthony can be a major part of a great team.
Anthony isn't the only player who has moved positions on Team USA wing-heavy roster. But he might be the only one who moves to his natural position as a result.
Coach Mike Krzyzewski explains to Marc Stein how Anthony's game becomes even more deadly as a power forward: "He can play defense on a power forward, but a power forward has a difficult time playing defense on him because he can lose you in transition."
On Team USA Anthony seldom attacks from a pure isolation play, which is his bread-and-butter NBA play, even if it's not one of the Knicks' best. Some of that is because of the roster he's on -- that's a lot of firepower to keep watching from afar. He still makes one-on-one plays on Team USA, however, but those actions seldom begin with Anthony catching the ball 20 feet from the hoop and everyone else standing still on the weak side.
Instead, you'll see Anthony setting ball screens and flaring to the wing where he can drive against a scrambling defender. Or, even better, he catches the ball rolling down the middle of the court. With Team USA, Anthony uses advantages created by motion and movement to give him ideal opportunities, and it makes him vastly more efficient.
Sets like the one described earlier, in which Anthony is the screener in a high pick-and-roll, are not impossible to pull off in Madison Square Garden. Raymond Felton can handle the ball in the Paul role, while Tyson Chandler can cut hard along the baseline, catch and dunk. But put Stoudemire in place of Team USA's Kevin Durant, and the floor suddenly loses the necessary spacing.
Lineup data from Basketball Value confirms it. With Anthony at the four and Tyson Chandler in the middle the Knicks were very productive. Ironically enough, for all he did to force his way to New York, Anthony managed to join a team where he plays the same position as the other player with a huge salary, Stoudemire.
Anthony's defense also gets a boost from playing against power forwards more accustomed to tussling in the paint than sprinting around screens on the perimeter (not to mention playing for smaller stints to avoid fatigue). His body and game is built for power and quickness, not sustained speed, and his lack of range on defense is just not a big problem if the player he's guarding rarely ventures out to the 3-point line.
Against Spain, Anthony hunted shots early in transition, raced the wing for midrange jumpers, crashed the offensive glass in transition and spaced to the corner for spot-up 3s. It isn't hard to imagine him making the same plays in New York, because he has. But keep in mind the many of the buckets he got against Spain came off of the hard work of guys like LeBron James and Chris Paul.
On Team USA, Anthony is primarily a finisher. All Olympics, he might not run a single pick-and-roll as the ball handler -- something he regularly does with Stoudemire and Chandler on the court. That role seems to suit him best.
There are some technical aspects that help Anthony as an Olympian -- like the fact that the long NBA 2, among the least efficient shots in basketball but one Anthony loves, becomes a 3-pointer with FIBA's shorter line. But more important is that Anthony benefits from playing off of other good players and fulfills typical power forward duties.
The idea that Anthony plays international ball particularly well is mostly, however, because on Team USA, he gets to play his best position.