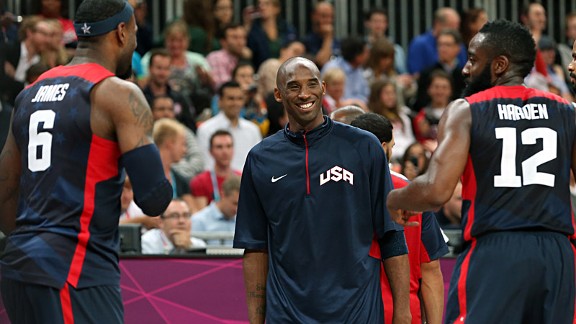 Christian Petersen/Getty Images
The NBA has reason to think beyond the Olympics -- but questionable right to keep players away.
READ PART ONE: "Is the NBA divorcing the Olympics?"
The first time the NBA spoke in any detail about pulling back from the Olympics was at the NBA draft lottery in May. Deputy commissioner Adam Silver said: "We think international soccer has an excellent model. And in the case of soccer, of course, there's the World Cup of football, which is the biggest sporting event in the world every four years, and then in the off-years, for the World Cup, they play, in essence, with some exceptions, a 23-and-under competition at the Olympics."
Silver promised meetings galore, with USA Basketball, FIBA, the NBA's competition committee and a select group of NBA owners.
Glaringly obvious, of course, is the missing piece. Basketball really does not have a World Cup, the kind of tournament that outshines the Olympics. Not yet and certainly not to an American audience. Yes, there's a World Cup of basketball, but the globe hardly stops to watch (as is reflected in the cost of the TV rights).
The NBA could make one, however. An amazing way to start one would be to allow NBA players in the World Cup, while simultaneously banning them from the only competing event, the Olympics.
Silver didn't say that explicitly, but that is the soccer model.
It's a little creepy, controlling and anti-Olympic. But effective.
The real reasoning?
So, with TV cameras rolling, Stern and Silver explained their thinking, and offered various rationales that didn't really add up.
Silver said Mavericks owner Mark Cuban was concerned about the best players playing year-round.
Yes, that's the same Mark Cuban who has been open about the fact that he'd like the NBA to add a new summer tournament?
And then Commissioner Stern discussed the merits of giving top NBA players a ready way to avoid playing when they don't want to. "In some ways, because of a certain tradition that's out there, the players that have it the most difficult and the pressure is the greatest, is on the non-American players," explained the commissioner. "There's an expectation. And if we change the rules so that they can only be expected to play in two Olympics, I think that would relieve them more than they will say publicly."
In the view of many who will only speak off-the-record for fear of angering Chinese basketball officials, playing for China -- something Yao Ming was virtually forced to do -- contributed to the series of injuries that prematurely ended Yao Ming's career. A similar injury threat, the thinking goes, has hung over Dirk Nowitzki's career. Not long after gutting his way, through fever and exhaustion, to the 2011 NBA title, Dirk was shown off all over Germany and counted on to lead the German national team through Eurobasket and to an Olympic berth. Looking gaunt and in need of a good night's sleep, Nowitzki played poorly, for him, and Germany failed to qualify. Dirk announced he would hang up his Germany jersey for a while.
Stern's point: Making the Olympics strictly 23-and-under would remove the pressure from the influential organizers of their national teams.
But it's hardly a pressing league-wide concern. Yao was the big worry, but he is already retired. Nowitzki has already gotten out of the obligation for a few years at least. And none of this works at all as a reason to keep Kobe Bryant and LeBron James from Team USA, where, honcho Jerry Colangelo reminds us, no current player has had a serious injury.
A thinly veiled fight over money
Sports are often profitable at the highest levels, but costs are an ever-present concern. Training at a high level year-round is a lavish investment of time that generally requires somebody else paying the bills. Building a stadium costs something close to a billion dollars these days. That all pays off, hopefully, on the day some owner, commissioner or lawyer gets to sit down to negotiate huge TV and sponsorship deals.
To NBA owners, however, Olympic organizers appear to have gamed the system. The International Olympic Committee skips most of those steps. Host cities worry about the facilities. Already-famous names like Michael Phelps and LeBron James ensure good TV ratings. And athletes, or other entities, finance the training, by and large -- to the extent they have their own sponsors, they are at odds with the IOC. Most deviously, the IOC -- founded with noble ambitions, but now implicated in a string of bribery scandals -- now welcomes the truckloads of cash from broadcasters and sponsors but hides behind the brilliantly slippery notion of "amateur athletics" so as to not even be on the hook to pay the athletes much of anything for their precious time.
It's a sports hustle, of a kind. And to people like Cuban, who know what it's like to lose money in sports and understand how it all works, it can be maddening to see the NBA's best players sucked away from the NBA and into such an unsavory machine.
"They are risking their futures so that the Olympics organization can maximize sponsorship and TV deals," Mark Cuban wrote in an e-mail to The New York Times' Jeré Longman. "There is no good reason for the N.B.A. to risk our athletes so they can profit."
Is this even the NBA's call?
As Michael Wilbon reports, after beating France on Sunday Kobe Bryant made clear he doesn't want David Stern or anyone to keep him from the Olympics.
"The Olympics," Bryant said, "are all about putting your very best athletes into the competition. This shouldn't even be a topic for discussion."
And here's where the conversation gets very tricky for the NBA. If Bryant is just dying to volunteer his time to play in the Olympics, by what principle could the NBA fairly stop him?
The phrase "our athletes" in Cuban's quote above goes down hard. There is something a little possessive about that possessive. Cuban sees Nowitzki as you probably do, as a Dallas Maverick first and foremost, who may or may not decide to play for Germany. And for all I know Bryant sees himself as a Laker first, and then a member of Team USA.
But it is not written in stone. There may be all kinds of players for whom the national team is their heart's delight and the NBA is simply a job. And they are free to do as they please in the summer.
The players' time of year
NBA players have contracts that specify they do not work for their teams in the offseason, a time of year when most aren't paid -- in a typical NBA contract, the first paychecks come November 15, more than a month after training camp begins. They earn their salaries by delivering services over 170 days of the year (plus a few other appearances and the like). In other words, they are paid to play the NBA season. They are not, as the contracts are currently set up, paid to do much of anything in the summer.
Beyond that, the players get to do almost whatever they want in the offseason, so long as they continue to honor rules keeping them from dangerous things like hang gliding and rock climbing. In the summer, the players' time is their own. That's something Stern, Silver, Cuban and company have already agreed to.
If Bryant chooses to volunteer for Team USA does the league really have a right to stop him?
Set aside for a moment the realpolitik truth the NBA is not just the globe's best basketball league, but also the most influential basketball entity. Answer me this: Is it the NBA's business who plays in the Olympics at all? If all the Cubans and Sterns in the world agree, should that matter a lick? (In college, I worked at the front desk of a health club in New York City during the semester, and at a resort swimming pool in central Oregon in the summer. If one boss told me I couldn't go work for the other ... so what? It's not their call.)
If owners want control and profit from players' summer work, presumably they'd have to pay for that right.
I asked Commissioner Stern on TrueHoop TV if it was the NBA's place to stop an NBA player from playing for his national team in the offseason. Initially he was lawyerly: "If my contract that I signed with him required him to get permission to play basketball out-of-season and I said that for a particular reason I thought that it was a bad idea, because his contract is worth $120 million and I didn't want to endanger the investment? I could picture a circumstance where that would be an effective use of the contractual right."
I countered that perhaps basketball players play basketball, and that's no crisis, and Stern's mood lifted, and he provided a reminder that he has been Team USA's champion for decades.
"Now you're arguing my side!" Stern replied, noting that owners often complain about players playing overseas: "I say hey guys, relax. If they're not playing here they're going to be down in Houston, they'll be at UCLA. I know how it works. They're playing anyway."
Here's where the NBA and its owners have a fuzzy agenda. If injury risk isn't paramount, what is?
It's starting to sound like owners really want a year-round monopoly on deriving profits from the play of NBA superstars. Without such rights -- the Players Association is amenable to such discussions, which have already taken place informally -- it'd be tough to convince me, or Kobe Bryant, that the league has a good reason to keep players from playing where they want to play, whether that's at the Olympics or the local health club.
One more chair at the table
Michael Wilbon synthesizes things:
Stern didn't get the NBA where it is by being rash. He and his posse, and very smart owners such as Cuban, have taken the calculator to this World Cup thing, and although they might be putting the brakes on the discussion for the next two weeks, clearly the cat is out of the bag. Maybe the ball is now in the IOC's court to come up with a way to keep the NBA/FIBA from leaving, which is to say lots of $$$.
Think about that! If Wilbon is right, this would be a case of Stern removing top NBA players from the Olympics with his under-23 rule ... and then returning them for cash paid not to the players, but to their ... owners?
From my seat, that's a transaction in which human beings are being sold, which would be something heinous but not at all new to sports. Instead, it would be something old, and something that is hopefully waning as athletes assume more and more control of their own work lives.
Free agency and unions have brought players meaningfully into the process of deciding things like where they can play and for how much money. Occasionally now players, like LeBron James in the Decision, truly unsettle things by masterminding their own destinies.
They're not assets, they're people. They have free will. They belong neither to the NBA nor the IOC and could rightly refuse to play their summers for either.
Wherever the best players decide to play, in a newly strong World Cup or the Olympics, will be the preeminent international tournament. You know who'll win this fight? Whoever wins the players' affections. Bryant has made clear the history and reputation of the Olympics mean a lot to him. Others may prefer getting paid, or sticking it to the IOC, as would likely happen in a new World Cup. There are messy conversations to have -- not just with the NBA, the IOC or FIBA, but with the best players from around the world, too.
And that's exactly how it should be, because David Stern doesn't run the summer -- and neither do the IOC or FIBA. The players do.