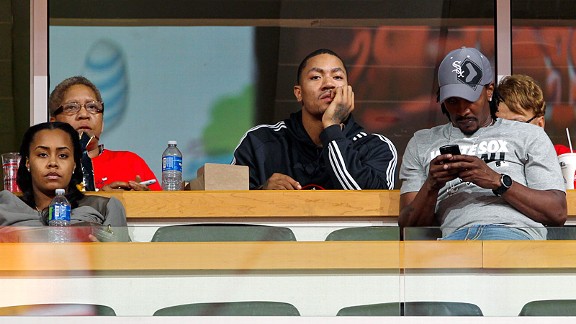 Gary Dineen/NBAE/Getty Images
With Derrick Rose on the sidelines, the Bulls have been excellent in the past. Can they keep it up?
The Bulls really know how to cap off two straight years of having the NBA's best record: With one of the league's worst offseasons. Though Derrick Rose -- still rehabbing last season's gruesome knee injury -- will be the only starter missing early in the season, the very effective bench has been blown to smithereens. Bench Mobsters Omer Asik, Kyle Korver, C.J. Watson and Ronnie Brewer are all gone. That's the crew that, along with Taj Gibson, won plenty of games for Chicago over the last two years by overwhelming opposing second units with tremendous defense and an offense built on fast breaks and Korver's shooting.
Chicago has restocked with Nate Robinson, Vladimir Radmanovic, Marco Belinelli and Kirk Hinrich, leading some to wonder whether the Bulls have been making personnel decisions with the luxury tax, not a championship, in mind.
In a way, that outlook makes sense. After all, former MVP Derrick Rose will be coming off reconstructive knee surgery -- a procedure that often requires more than a year of recovery time -- so 2012-13 is almost certain to be a down year for the Bulls.
Last year the Bulls were 18-9 without Rose. Could they be anything like as good without him this year?
Possibly.
Contract concerns
There is certainly a financial impetus behind these offseason decisions. Specifically the Bulls seemed determined to stay within something called "the apron," which is a four-million dollar buffer above the luxury tax line (set at about $70 million).
The Bulls have committed a combined $54 million to Rose, Luol Deng, Joakim Noah and Carlos Boozer in 2012-13 and even more than that in 2013-14. If they want to stay under the apron, that leaves them with around $20 million for 10 or 11 players.
Exceeding that buffer (the specific way the Bulls acquired Hinrich and Belinelli means they cannot exceed the apron this season) would have limited Chicago's options when it comes to signing new players and even re-signing current ones. Teams that go over the apron can't sign-and-trade, have a smaller mid-level exception and can take less money back in simultaneous trades -- all tough news when you're making final tweaks to contend.
For the Bulls, a payroll that spills over the apron would make it tougher to resign Taj Gibson and acquire other players. Cost-cutting this summer also can help them avoid stiffer repeat payer penalties should they decide to spend big once Rose returns.
So maybe the Bulls balked at contracts for role players to retain flexibility for when Rose is healthy.
But Patrick Minton of NBA Geek points out the problem:
If the Bulls are trying to save money, why are they spending more than the minimum on anybody at all if they aren't going to pay those players? They didn't want to sign Brewer (who is very, very good, and whom they could really use now that Korver is gone) for one year at $4 million but they are spending $3 million on Bellinelli (who has never come close to average) and Radmanovic (who is old and will never be good again)?
Is saving a couple million here and there worth it if it leaves the Bulls with significantly worse players?
The system survives
There's another, more charitable way to look at this offseason. Chicago's front office appears to be following the Boston Celtics playbook by putting its full faith in coach Tom Thibodeau.
The plan: Pay the top players, and surround them with bargain players who can be effective at both ends thanks to a fantastic defensive system.
That's what Boston did during the first three Big Three seasons in Boston, when Ray Allen still commanded an $18 million salary and Thibodeau barked out instructions from the Boston sideline as a defensive assistant. In those years, Boston supplemented its championship core with the likes of James Posey, Eddie House and Leon Powe.
Those players made big contributions because they were surrounded by excellent players. Thibodeau's defense can hide weaker defenders because, when run correctly, the system constrains the opposing offense's options. That means a slower defender can predict where the play is going, which makes him look fast.
The Bulls are hoping that Thibodeau will, as he did in Boston, turn average or below-average defenders like their new signees into solid contributors.
Of course, along with Thibodeau's system, the constant during Boston's impressive run as one of the league's top defenses has been Kevin Garnett. Thibodeau's strong-side pressure defense puts a massive burden on his team's big men and Garnett is one of the great help defenders in NBA history. In Chicago, Taj Gibson and Joakim Noah have proven capable of anchoring a nasty team defense even if some of their teammates aren't all that good as individual defenders.
Losing Asik would seem to weaken Chicago's second unit defense, but NBA.com's data suggests that Asik's effectiveness was heavily dependent on being paired with Gibson. Newcomer Nazr Mohammed isn't as mobile as Asik, but in tandem with Gibson and Thibodeau, he should do fine.
Assume the Bulls' system remains effective and the gunners added in the offseason become less of a short-term worry.
The future is unclear, but bright
Unless Rose somehow comes back completely healthy, the Bulls will need to put their title aspirations on hold for a season. That's the assumption under which Chicago's front office seems to be working.
As John Hollinger puts it, moves made this offseason will allow Chicago to "keep all its exceptions and sign-and-trade capability next summer as a non-tax team, can use them to replenish the roster, pay Gibson, and hopefully ride a healthy Rose back into contention."
Assuming Rose returns to sustained health, the Bulls are still in a great long-term position. They have a phenomenal coach and, come the start of the 2013-14 season, Rose will still be just 25 years old, Deng will be 28 and Noah will be 29. Despite everything that happened this offseason Chicago still has a core that, with the right complementary pieces, can contend for years.
And if Thibodeau's system can buoy the Bulls' new bargain bin players next season, Chicago's front office will want the money saved on players in order to help pay its increasingly valuable coach.