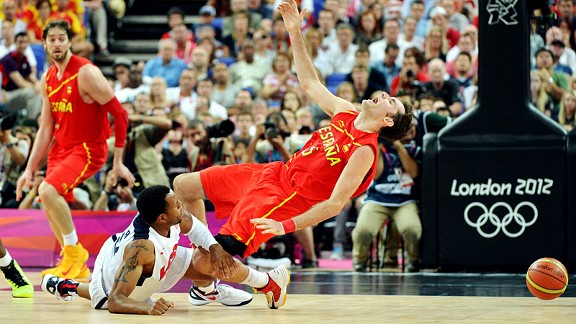 Mark Ralston/AFP/Getty Images
Andre Iguodala touched Fernandez's leg, and touched off a Shakespearean death scene.
Despite the acting reputations of American players like Chris Paul and Dwyane Wade, many still see European hoopers as the masters of flopping. In the gold medal game between Team USA and Team Spain, former NBA player Rudy Fernandez fulfilled the stereotype.
You may remember how the Olympic quarterfinals between Spain and France took an ugly turn when France's Nicolas Batum took a closed-fisted swing at the groin of Spanish guard Juan-Carlos Navarro.
Batum's reported motivation: "I wanted to give him a good reason to flop."
Navarro may have actually been paying for the flopping of Rudy Fernandez, who exaggerated his fall to draw an intentional foul after colliding with Ronny Turiaf moments before Batum went after Navarro. Now that's patriotism.
Fast forward to the gold medal game, where Fernandez reprised the role of flopping villain (Video); this time it was Andre Iguodala who picked up the intentional foul. As Iguodala dived to the floor after a loose ball, he briefly grabbed at Fernandez to prevent the Spaniard from reaching the ball. Fernandez responded by lashing his head backward and spinning violently to the ground.
Said Doug Collins, who was calling the game for NBC, "Rudy is one of the all time good actors. Rudy looked like he got shot on that play on the way down but you know what? When acting is rewarded go ahead and do it."
The acting exhibition was worthwhile for Fernandez and Spain. By drawing an intentional, rather than a common foul, Fernandez converted a loose ball into two free throws and possession. That could have ended up as a four- or five-point swing in a game that went down to the wire.