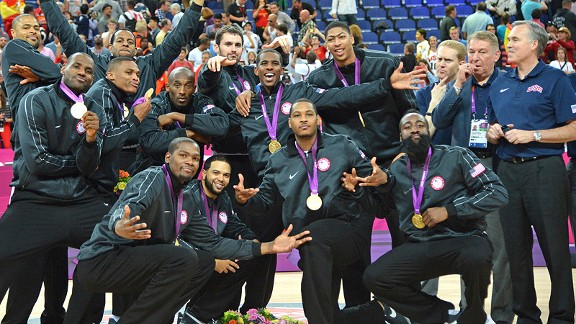 Jesse D. Garrabrant/NBAE/Getty Images
"I hate that in a couple months these guys are going to be my enemies," says Chris Paul.
"The bond and the camaraderie," says coach Mike Krzyzewski of the 2012 Team USA, "I would take ours over anybody."
"We built camaraderie," says Andre Iguodala. "We worked hard together, we sacrificed for one another. ... Just to be a part of that is amazing. It just shows all the hard work every individual has put in since we were a young age, what's been instilled in us to get to this point."
Chris Paul may have been the most delighted of all: "This is the most fun time of my life; '08 was all good and well but there was something about our 2012 team that was just special. I hate that this was our last game playing together. It's something that we'll never forget."
It's a fantastic story. Be proud, America. A team of superstars became a real team, won gold in London and evidently had an amazing time doing it. They sacrificed for each other, and, perhaps most importantly, reveled in the fact that every one of them does things in a top-notch fashion on every play. Imagine the pleasure in knowing your teammates will always be spectacular.
John Stockton knows what that's about. In Jack McCallum's "Dream Team" he talks about how on 1992's Dream Team, the delight was in making the transition, from teammates who are sometimes in the wrong place, or lack the right skills, to teammates who do it all just about perfectly. Think about what happens in the brains of point guards like Stockton and Paul -- whose careers depend on seeing the chess pieces better than everybody else. Great chess pieces mean a lot.
They played the right way, and it was lovely. There is no appropriate reaction but to smile.
---
Here's where things get far trickier, however: What if Paul wants to get him some more of that? What if after enjoying great teammates on Team USA he decides, when he's a free agent next summer, to seek out great teammates to play with every night of the NBA season?
Are you happy for him then?
Recent history suggests the reaction of most fans is: Hell no.
Consider what happened to LeBron James, Dwyane Wade and Chris Bosh. They fell in love with the idea of playing together while on Team USA (not coincidentally, while Heat owner Micky Arison's son Nick was involved with the team). That's where they learned it was possible to have teammates who delighted, instead of disappointed. Teammates who worked as hard as they did.
They banded together to get more of that ... and people killed them for it. (Even Magic Johnson, who had once done something similar.)
But how can that celebrated and healthy summer urge to have the best camaraderie imaginable become a sinister force in the fall? If Chris Paul decides to seek out superstar teammates, on the Clippers or elsewhere, would that really make him a bad guy?