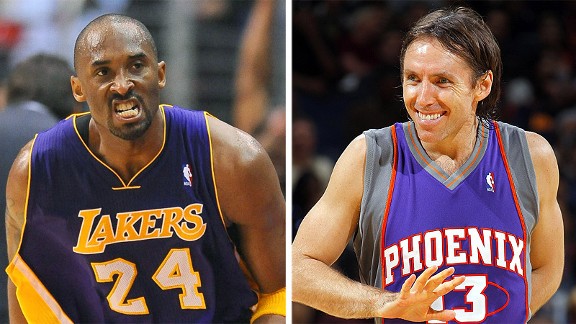 Noah Graham, Rocky Widner/NBAE/Getty Images
In firing up teammates, the Lakers' two leaders could not have more different styles.
Kobe Bryant and Steve Nash together are really something, as a backcourt. The point guard playing alongside the shooting guard. That promises to be a huge national basketball story all season.
But vastly more fascinating to me, and something I predict I'll write about again and again, is how differently these new teammates work as leaders.
It's an interesting time for the NBA in this regard. Team USA and the NBA's two dominant teams of last season -- the Miami Heat and the Oklahoma City Thunder -- are unabashed about blatantly loving each other. But for the occasional Mario Chalmers incident, the tone of how they talk about each other is not about berating each other. It's about engulfing each other in support, loyalty and fist bumps.
That fact is dissatisfying to anyone who sees Michael Jordan's scowl as the ultimate sign of leadership. But it's undeniably working in basketball, as predicted by a thousand modern books on leadership. In a business where you win by being up, why be down?
And, even though he's a card-carrying member of Team USA's love-bomb squad, there is no more overt icon of the old-school Jordan "berate 'em into professionalism" approach than Bryant.
Jordan's best-known teammate, Scottie Pippen, even refers to Jordan's scowling at teammates as "doing the Kobe" in Jack McCallum's book, "Dream Team."
And there is no more blatant a practitioner of the new-school "love 'em up" theory than Nash, who -- in one of the greatest sports videos in Internet history -- was documented by Jess the Suns intern dispensing 239 high-fives in a single game.
On some level it strikes me that Nash and Bryant are destined to undermine each other. They are antithetical. If Pau Gasol misses a big shot, Nash would run over to say something like hey, you're a great shooter, keep shooting. Bryant, on the other hand, has long been prone to "you believe these crappy players I have to play with" looks of disgust. You're not a good shooter, that look, from the league's player most likely to ignore open teammates, seems to say: Pass it to me next time.
One approach or the other may command an inspired performance from Gasol, I suppose. But together ... isn't that just a confusing mess?
Not so, says former Suns front office guy Amin Elhassan, who knows Nash well and carries a healthy fear of Bryant. He told me on TrueHoop TV recently that he sees the pairing as "the perfect marriage of good cop, bad cop. Kobe's the guy who gets on guys -- which some people would criticize and say Steve didn't do enough of in his career. And on the other hand you have Steve to kind of build guys up and build their confidence up, which obviously has been a criticism of Kobe. ... I think it's a perfect, perfect marriage."
I started to wonder if there were examples of teams that really had paired both kinds of leaders side-by-side. How did that turn out?
A clue comes from a footnote of Bill Simmons' "The Book of Basketball." In the tiny type at the bottom of page 478, there's a Phil Jackson quote, borrowed from a must-read 1999 S.L. Price Scottie Pippen profile in Sports Illustrated:
"On the Bulls," says Jackson, "[Scottie Pippen] was probably the player most liked by the others. He mingled. He could bring out the best in the players and communicate the best. Leadership, real leadership, is one of his strengths. Everybody would say Michael is a great leader. He leads by example, by rebuke, by harsh words. Scottie's leadership was equally dominant, but it's a leadership of patting the back, support."
Wow. Take a note, Laker fans. Elhassan is looking like a genius: "Good cop, bad cop" is how most people's pick as the best team ever was led.
And to hear Pippen tell it in Jack McCallum's book "Dream Team" the combination was deadly:
"To me, our team was always about chemistry," says Pippen, pushing around some scrambled eggs, "and we never could develop chemistry because of Michael. He didn't believe in his teammates. It was hard for us. We got accused of standing and looking because he would always ... do the Kobe." (He means showing visible anger to his teammates, as the Lakers' Kobe Bryant often does.)

"When Phil [Jackson] came, it made all the difference to Michael. Phil convinced him to believe in his teammates, and I think I was the first one Michael really trusted. We didn't have to worry about Michael coming down and pulling up one-on-five. We could just play."
In the Price article linked above, former Bull Joe Kleine says: "Michael was the father figure saying, 'You're grounded.' Pip was like Mom coming in to tell you everything's going to be all right."
Now that's starting to make some sense. "Mom" and "Dad" may have opposing styles, one with a soft touch and the other with a firm hand. But underneath it all they're both sending the same message: Play your brains out.
Any teammate who receives that message has a chance to help the team do something special. That has good implications for the Lakers.