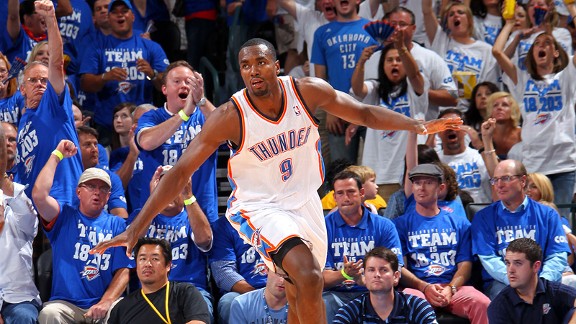 Layne Murdoch/NBAE/Getty Images
Serge Ibaka left money on the table, but are the ancillary benefits worth the cost?
You can count on one hand the number of players who can legitimately bother LeBron James at the rim, make an open midrange jumper and dunk off of one dribble from just about anywhere inside 20 feet. Over the weekend, the Oklahoma City Thunder locked up one of those guys, Serge Ibaka, for four years and $48 million.
The deal is an outright coup for Thunder general manager Sam Presti.
It's common practice for a team to seek an extension with a talented player rather than let him hit the open market. What happened with Jeremy Lin and the "poison pill contract" Houston used to sign the guard away from New York is an example of why, when it comes to players of a certain ability, it pays for a team to set the market rather than risk that player becoming a restricted free agent.
It's common practice, but the result -- a player taking significantly less than he could get on the open market -- is not. At 22, Ibaka's player profile is trending in the right direction. In each of his three NBA seasons, he's blocked shots at a better rate than the season before while also reducing fouls. He's becoming a better jump shooter (he's already very good for a big man) and he is a monster on the offensive glass.
If we use the four-year, $58 million contact of Roy Hibbert as a barometer for a big man's market value, it's reasonable to assume that, after next season, at least one team and probably more would be willing to give Ibaka a deal equal to what Hibbert received. I don't think Ibaka deserved to be first team All-Defense but, if nothing else, it indicates how much people value shot-blockers. Think Portland wouldn't offer Ibaka, the perfect complement to LaMarcus Aldridge, the same $58 million it offered Hibbert?
The Thunder signed Ibaka not only before he hit the open market, but they did it for around $10 million less than he could have received elsewhere when his rookie scale contract expires next summer. So the question becomes: Why in the world would Ibaka do that?
What about playing for the Thunder is worth approximately $10 million?
A bird in the hand
An obvious consideration for Ibaka, despite what projects to be a long and productive NBA career, is security. Barring some as-yet-unreleased detail of the contract that would contradict the following statement, Ibaka is pretty much financially set, no matter what happens on the court next season, until 2017-18.
Without speculating on Ibaka's specific personal and family financial situation, it's easy to see why that would be an attractive offer for any 22-year-old.
Small-town charm
Wait just a second, did a franchise in a very small, relatively unappealing market just sign a great young player for less than he is worth? Why yes!
This doesn't mean that small markets in less-than-perfect climes are as desirable a destination as, say, Los Angeles, but this deal does dent the idea that small markets are powerless in the NBA.
For those NBA players who can pretty much choose where they play, answering "where do I want to play?" involves a complex calculus. They have to weigh the impact of the local lifestyle with workplace conditions, family considerations, real estate, etc. But the Thunder, like the Spurs before them, are proving that a first-class organization and teammates you truly like can go a long way to overcoming other shortcomings.
Presti's crew won this negotiation over the course of years, not weeks, by building a club that values and develops personnel and makes being in Oklahoma City seem fun to exceptionally wealthy young men. This contract is an organizational, rather than personal, achievement.
If there is a "Thunder Model," that's it.
Do big games draw big brands?
Ibaka and his representation may have also decided that the value of playing in (at least) the conference finals for the next four years on a popular, telegenic team is the right long-term strategy.
When it comes to endorsements, appearance fees and all that, Ibaka may have concluded that the best way to increase marketability is to win, and that's one thing the Thunder are almost certain to do over the next several seasons.
Ibaka is, despite his obvious talent, still relatively raw. As the fourth option on a championship-caliber team, he gets to both be in the bright lights and develop at a comfortable pace.
Oh, to be young
Serge Ibaka is just 22, which means that when he emerges from this contract he'll be 27, peak earning age in the NBA. That's good news because it's also when he should be peaking as a player. Being a more attractive player in his prime earning years mitigates the financial blow of a lesser deal.
If Ibaka is still with the Thunder at the end of his contract, it's likely he'll be all of the following: playoff-hardened veteran, multiple All-Defense selection, reliable shooter and rebounder, beloved teammate and just 27.
What team wouldn't pay top dollar for that?