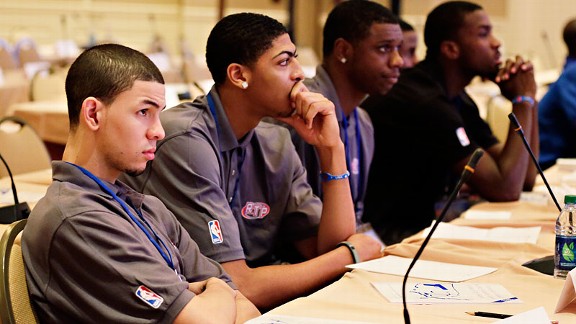 NBAE/Getty Images
NBA rookies Austin Rivers, left, and Anthony Davis, second from left, at the Rookie Transition Program in New Jersey.
The road from being a young boy with a hoops dream to an NBA player takes many twists and turns.
For the 2012 draft class, the most recent step, which concluded Monday, was four days in an aggressively business casual suburban hotel conference center. It was khakis and league-issued polo shirts all around for the annual pro athlete crash course known as the Rookie Transition Program (RTP).
As designed by the NBA and the National Basketball Players Association, the program is heavy on avoiding tricks: financial advisors with an eye on raiding the nest egg, gamblers eager to rope players into conspiracies and women scheming to entrap husbands are all on the agenda.
But after spending a day roaming the conference center halls with the generally delightful, upstanding and promising 60 players of the Class of 2012, it's clear that one of the dirtiest tricks facing young players today is the persistent racially tinged accusation that NBA players are "thugs."
When people ask what I do for a living, a substantial portion of them respond that they do not watch the NBA -- not because they are bored by it or need that time to catch up on "Dancing with the Stars," but as punishment of a kind for NBA players of which they do not approve. Perhaps because they're too spoiled, too violent, too scary or too ... something. I hear this again and again.
And here the NBA has a tangled history. The era of furs and Bentleys didn't play well with a lot of fans but has passed. Various fights, including the Auburn Hills incident, made for intense visuals.
But by any objective measure, other sports have far more fights, and NBA players are hardly criminals. Between 10 and 20 percent of NBA-age adults are arrested in the U.S. each year. The percentage of NBA players arrested -- a handful in a busy year -- is a minuscule fraction of that.
Whatever is assumed to be wrong with NBA players, I'd challenge their accusers to find evidence of it at this suburban New Jersey meeting facility.
"We're finally feeling like this stuff is working," said retired player Antonio Davis, who is a key part of the proceedings in his role for the NBPA's player programs department. "We're finally feeling like, 'Man, we say things, and we don't know if they're getting it, until we see them doing the things we have told them to do.'"
Rory Sparrow, who works for the NBA's player programs department, said he sees the same thing. "What we have now are guys who understand what the ultimate prize is about," he explained. "Guys come into the business knowing, 'OK, I'm going to get paid, and I really do want that compensation. And I'm going to enjoy the benefits thereof. But I also know that ultimately you're not really judged as a great player until you win something.'"
And winning a championship means being far more than a good player, but also a good teammate, a good citizen, a good representative of the NBA and a lot more. For players on bad teams, it generally also means taking on the tough task of becoming a vocal leader to help inspire a winning culture.
"It took LeBron [James] a while to find his voice," Sparrow said, "to where he can now make statements, on and off the court, to inspire his team to win."
Having spent four straight days, around the clock, with the rookies, Sparrow said he sees kernels of leadership. "Draymond Green has been outstanding," he said of the Warriors' second-round pick. "Austin Rivers has a pedigree and has been very good in leading guys. Anthony Davis is quiet and unassuming, but when he gets in his little group, in his element, he makes really positive statements. It's refreshing to see the guys we picked as high draft picks have these qualities as well. It bodes well for our future. These players who can do well on the court can also do well off the court, as leaders, among their peers."
Green laughed when I told him, with a wink, he had been named "MVP of RTP." But he did not sound surprised and raved about the experience. "It's the beginning of a journey. We're all getting started," he said. "We haven't even received our first paycheck yet. I think this is a great event just to help us out with situations that we're going to face. Everybody has experience to share. No matter what, you are not going to handle everything the perfect way. No matter what they tell you. But at the end of the day, they give you ways to handle things, so you don't go completely wrong."
He also confirmed the notion that by and large this draft class has a far more promising future off the court than you'd expect based on reputation. "The truth of it is, a lot of knuckleheads used to be drafted," he explained. "Now that's a huge process of drafting good guys. You can just tell from the way all of us get along here, everybody is great guys as far as that background assessment. I think that's very important. It's a lot of great guys in the draft class."
"Sometimes fans complain about our league getting younger," Antonio Davis said, "but they're getting more mature, really quick. That's the key."
Dress is a major topic. A decade ago players spent lavishly on furs and jewelry, but the fashion is more sedated now -- in no small part because of the NBA's dress code for players, which has gone a long way to improving how a lot of fans see players. "If you want to wear a big blue chinchilla with big chains, if you want to do that and that's how you want people to see you, let us tell you what that looks like," Antonio Davis said. "Sit here in this chair, put that on, and let us tell you what we're thinking. Let us tell you what corporate America is thinking. That's what we're trying to get you to see. That's your choice."
Green, for one, accepts the dress code, saying, "I'm fine with it. It's a business. You are a business. Dress as if you're going to a Fortune 500 company meeting. I like to dress nicely, to give guys a reason to dress nice. That's the rules you have to follow. I'm fine with it. I have a few suits. Four or five suits. I'll add more in time, but that's a part of this too -- you don't want to dive in too fast. Got to watch those finances."
That's music to the ears of Sparrow and Antonio Davis, on both counts.
This year's session opened with talk from Chris Herren, who -- in a descent chronicled memorably in books and an ESPN "30 for 30" documentary -- lost a very promising basketball career to drugs. Four days later, rookies were still talking about Herren's dramatic talk. "It touched me," Green said. "It touched a lot of people."
Antonio Davis said Herren set the tone perfectly, shocking the rookie class into realizing nothing is set in stone and everything must be earned day in and day out. "There's a lot of experience in this room," Davis said. "There's a lot of dads in this room. And there's a lot of things we don't want you to go through. And every year we see guys going through it, and get our hearts broken. Every year we come to RTP just hoping this next class don't go through that same thing."