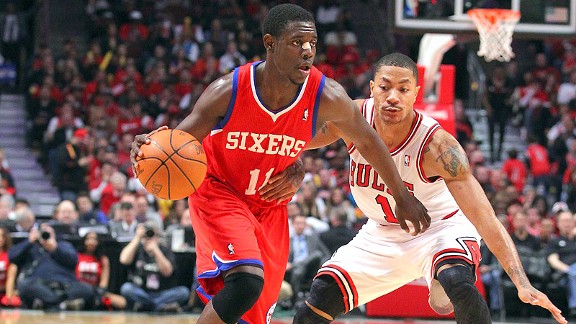 Dennis Wierzbicki/US Presswire
Jrue Holiday should keep his eyes on Derrick Rose if he wants to take the next step.
So, the 76ers got Andrew Bynum.
Now what?
Now, Jrue Holiday needs to be more like Derrick Rose. And to do that, he needs to become an "extra-point player."
Being an "extra-point player," a term coined by Henry Abbott, is the difference between being a very good player and an All-Star, or in Rose's case, the difference between being an All-Star and an MVP.
Players can score in several ways -- a 2-pointer, a 3-pointer or on a fouled shot attempt -- but winning in the NBA requires an emphasis on the latter two, because that's where the payoff is highest. Players can make life easier on themselves by finding extra points at the 3-point and free throw lines, and this is precisely what Rose did en route to becoming an MVP. And what Holiday should strive to do in 2012-13.
The season before Rose won the MVP, his extra-point percentage (percentage of overall shots from 3 and the free throw line) was just 23.9 percent, far below the 39.4 percent standard for guards. He was an All-Star then, but not the force he is today. In his MVP campaign in 2010-11, that all changed. Rose's extra-point percentage (or ExPt%, for short) shot all the way up to 39.3 percent even as the overall number of shots he was taking also increased. All of the sudden, Rose was firing away from 3 and seeking out contact rather than avoiding it when he darted into the paint. By focusing on extra-point areas, Rose became one of the most powerful players in the NBA.
(Note: ExPt% is a close cousin of something called "Secondary Percentage," which was coined a few years ago by Carson Cistulli. The difference is that ExPt% just describes how often a player shoots from these desirable spots, while Secondary Percentage is more concerned with the amount of shots made.")
Holiday could also look to Chauncey Billups, the overall ExPt% leader amongst guards in 2011-12. Billups was a solid player in terms of ExPt% throughout his career, but his play went to another level when he went to Detroit and started posting up and going to the line more. In 2002-03, his first year as a Piston, Billups' ExPt% leapt from 62.5 to 71.0. Now a 15-year veteran, Billups remains an clinically effective offensive player despite posting low field goal percentages because he still focuses on bullying his way to the line and hoisting from deep.
That's what Philly fans are hoping will happen with Holiday, who has struggled to get to the free throw line throughout his young career despite an excellent first step. And even though Holiday is a strong 3-point shooter (38 percent in 2011-12), his number of attempts is relatively low -- just 2.8 per 36 minutes last season, which is right on par with Thabo Sefolosha.
As a result, Holiday's 25.2 ExPt% was 81st out of 92 guards who took at least 10 true shots (to incorporate free throws) per game. The average guard posted a ExPt% of 35.4, far above Holiday's rate.
What's strange is that Holiday is an above average shooter from the free throw stripe and the 3-point line -- in fact, there are few players who are as proficient as Holiday yet shoot so sparingly. The more common profile for a player with Holiday's ExPt% is someone like Rajon Rondo (89th out of 92 guards), who seems to consciously avoid drawing shooting fouls and taking 3-pointers.
Check out the list of top ExPt% guards from the 2011-12 season (min. 10.0 true shots per game):
Top guards by ExPt% in 2011-12 (at least 10 true shot attempts)
It's no surprise that Manu Ginobili and James Harden, two of the most efficient scorers in the NBA are on list. Nor is it a shock that a high-volume 3-point shooter like Ray Allen makes the cut.
But Randy Foye?
We've talked about guards like Rose and Billups changing their styles to be more efficient. But Foye's high ranking comes from his context -- specifically, from playing with Chris Paul. The Clippers' wing shot 7.0 3-pointers per 36 minutes last season, an exceptionally high rate, and still made over 38 percent of them primarily because Paul is so good at manufacturing open 3-point shots. So even though Foye's free throw attempts actually went down, the percentage of extra-point opportunities increased.
Also note that two Orlando players are also on this list, suggesting what we already know: that certain offensive systems and teammates (e.g., Dwight Howard) help dictate where players shoot.
Under head coach Doug Collins, Philadelphia's offense has not offered Holiday much freedom to freelance and has tended to create mid-range jump shots. Still, Holiday actually takes an above average amount of shots at the rim (about four per game). Yet, despite his size, Holiday hardly ever draws shooting fouls, suggesting that he can do more to initiate contact with defenders.
Holiday has a chance to benefit from both contextual and individual changes to his game. Though Philadelphia is not a team that relies on pick-and-rolls for offense, Holiday must, like Rose and Billups, take it upon himself to find ways to attack the rim more and get to the free throw line at a higher rate. But this season Holiday also has a new environmental advantage, which is that he will be playing with Bynum. Bynum draws double teams like few big men in the NBA, which should lead to more spot-up attempts for Holiday.
Playing alongside Howard, another double-team magnet, Jameer Nelson averaged about four 3-pointers per game. Holiday could very well be in that same range of attempts if Philadelphia employs a Bynum-centric offense.
Just 22 years old, Holiday is still finding his identity as an NBA player. With ball handlers like Lou Williams and Andre Iguodala shipped to new teams and Bynum on the block, he's never had a better opportunity to capitalize on his combination of explosive quickness and reliable long-range shooting.