Kobe Bryant's too selfish. He doesn't know how to succeed in a team concept. He's at odds with the coaching staff and his teammates. He's playing too hard. He has blinders on.

Kobe Bryant's the best player in basketball, and the Lakers are holding him back. He works harder than anyone, and plays harder than anyone, and is a winner. If you have a problem with Bryant, you have a problem with success.
Level whatever criticism you want. I guarantee the Lakers, and Bryant, have played through it all before. And with inspired on and off-court leadership from role players, the team has, in the past, been better then OK.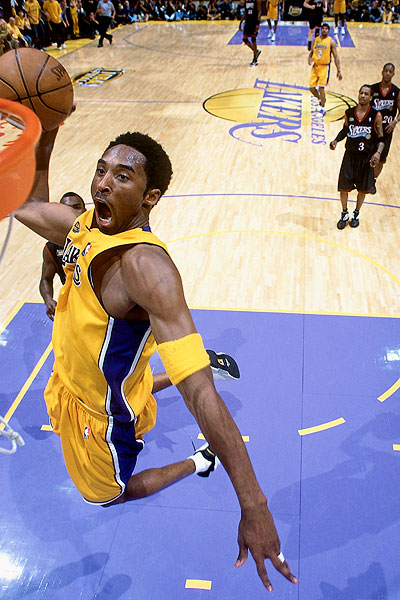 One of the best teams in the modern era was the 2000-2001 Lakers, who lost just one playoff game. They coalesced at the right time, eventually taking the title against Allen Iverson and the 76ers.
But those Lakers were held together by chewing gum and prayers.
The kinds of trouble the Lakers are facing right now -- down a couple of games, and seeming out of sync -- don't seem to be insurmountable compared to some of what they faced in 2000-2001.
Roland Lazenby, author of "The Show: The Inside Story of the Spectacular Los Angeles Lakers in the Words of Those Who Lived It" has been nice enough to let me reproduce a passage from his book on TrueHoop, about that season.
We join the defending champions a few months into the season.
Although he played well, [Kobe] Bryant himself struggled to find consistency. He would make just 8 of 31 shots in a home loss to Milwaukee, then hit 20 of 26 to score 45 points in a win at Houston. After the Houston win, [Lakers coach Phil] Jackson compared him to [Michael] Jordan, but [Shaquille] O'Neal fumed that Bryant was trying to hog all the glory. It was clear that the nasty conflicts of the past had come back to life. And to some observers, the dislike seemed greater than before.
"I'm just going to play within the flow of the game," Bryant said. "If people want to criticize that, they're going to criticize that."
Jackson conceded that Bryant, who was leading the league in scoring as the new year neared, was playing the best ball of his life. Some observers began calling Bryant the game's best all-around player. "He's got a level of commitment to his game and to wanting to be the best that few guys have," Phoenix Suns Coach Scott Skiles said. "Nobody on our team has that commitment, that's for sure."
The Lakers entered the new year with a 23-11 record, but there was a sense of uneasiness about the team. Bryant confided that despite his individual success he was miserable and even had doubts about his love for the game.
Tex Winter: "Kobe said that he'd spent a lot of time working on his game in the off-season, working on his shots, working on his moves, and improving his game so he would have a chance to be the best player he could possibly be. Then to come back and have people fault the efforts he made through the summer to make himself what he was, that was very discouraging to him. My wife Nancy indicated to me that she thought Kobe's heart had been broken at that particular point."
His resentment would become a pattern for the Lakers. It was based on the fact that Jackson seemed willing to overlook O'Neal's laziness. Because of O'Neal's extreme sensitivity to criticism, his shortcomings brought mild rebukes. All the while Jackson maintained his aggressive criticism of Bryant. This double standard became increasingly difficult for Bryant to accept. Bryant said he finally decided such despair served no purpose and used his strong will to throw it off.
Kobe Bryant: "I just woke up one morning and decided I wasn't going to let it affect me anymore."
January brought a cover story about Bryant in ESPN The Magazine, in which he revealed that Jackson had come to him in November and asked him to back off his aggressive approach. Bryant said he told Jackson that instead of backing off his game he needed to step it up more.
Bryant had warned his teammates before the article came out and even tried to back off his tough talk, but the story infuriated O'Neal. The center told reporters that Bryant's selfishness was the main reason the team wasn't playing well.
Bryant countered that O'Neal still wasn't in shape and still wasn't playing defense. Jackson likened the two of them to little children arguing in a sandbox. Not surprisingly, the Lakers dropped four of their next seven games. Their 15 losses equaled the losses for the entire previous season.
February brought injuries to O'Neal and rumors that the center was again trying to have Bryant traded. Although Bryant and an injured O'Neal appeared to be buddies at the All-Star game in Washington, that wasn't the case.
March brought more trouble, this time with a host of rumors that there was a rift between Jackson and Bryant, who was sidelined with injuries to his shoulders, ankles, and psyche. Toward the end of the month, Jackson made what he would later admit was an unbelievable blunder in an interview with Rick Telander of the Chicago Sun-Times. The coach revealed the contents of a private conversation with Bryant and, for some reason, decided to discuss an old rumor about Bryant "sabotaging" his team's high school games to make himself a game savior.
Winter was furious with Jackson for his comments to the newspaper. So was Bryant's old high school coach from Pennsylvania, Gregg Downer, who told reporters Jackson needed to apologize for spreading a story that had no basis in truth. Bryant was clearly wounded by the betrayal, although he made little public comment. The incident would frame Jackson's relationship with his star guard.
Bryant and his agent, Arn Tellem, turned to Jerry West for counsel about how to deal with Jackson's serious breach of trust. To make matters worse, Jackson got wind that Tellem was threatening a slander lawsuit against him for his statement.
For a time, it appeared to some Jackson observers that the coach might even have panicked as the team fell apart before his eyes. It was then that Jackson apparently leaked a story to Sam Smith of the Chicago Tribune that the Lakers might well trade Bryant in the off-season. Jackson apparently had his associates imply other threats to Bryant that the young guard better get in line or face the trading block. To longtime observers, the moves were trademark Jackson, a use of media messages and other pressures to influence events.
Jackson appeared on NBC's "The Tonight Show," and host Jay Leno asked the coach if he wanted to announce a trade of Kobe Bryant right on the air. Jackson just smiled. With another organization or another owner, a coach of Jackson's power might have set enough of a public relations agenda to force the trade.
After all that, however, by the time of the playoffs a team concept prevailed. Lazenby explains:
With the arrival of the playoffs, the Lakers faced Portland, Sacramento, and San Antonio in order. To get them ready for that run of teams with strong power forwards, Jackson spliced scenes of the Gladiator in and around the scouting tapes he showed the team. As with most of his video selections for his previous team in Chicago, Jackson was seeking to build "togetherness" for the playoffs.
"The reality is this is kind of a gladiator's life -- here today, gone tomorrow," the coach explained. "And you've got to develop that teamwork and that team play, and that's really the challenge of coaches right now and of teams.
"We know what we are. We know what we're built on. We're built on the fact that Kobe and Shaq
are the best one-two combination in the game, and the complementary players around them want to play as a team and want to figure in this."
In retrospect, the veteran role players -- Rick Fox, Ron Harper, Derek Fisher, Brian Shaw, and Robert Horry -- would weigh large as a factor in hteam's ability to with three straight titles. And as they wore down, the team's effectiveness would disappear.
"One of the main reasons they won the titles was the surrounding cast," explained one of Jackson's assistants. "The team's two major talents were so eaten up with narcissism that it was the veteran leadership that made the difference at all the key moments. Harper was a leader on the floor, Horry was an intellectual leader, Fox stepped up and helped the team find its emotional level, and Shaw was a spiritual leader. Those guys should get a lot of the credit."
(Photo: Andrew D. Bernstein/NBAE via Getty Images)