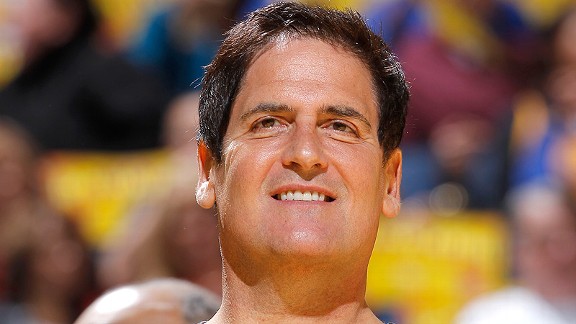 Rocky Widner/NBAE/Getty Images
The Mavericks' owner says a good team system can make a player far better.
It's not news that stat-geeky owner Mark Cuban has spent a lot of money on Chris Kaman, a center who is generally abhorred by advanced stats.
What's new is that Cuban's taunting and generally mixing it up with stat geeks who would dare to challenge his decision.
The conversation (which is served with a spicy side dish of "how dare you question Dirk Nowitzki?") is playing out now in the comments of the Wages of Wins blog.
The whole thing began innocently enough, with Ari Caroline sharing a tidy chart of NBA centers who are really effective but don't get a lot of minutes (Omer Asik, Kosta Koufos, Anderson Varejao, Chris Andersen, etc.) with a note about centers who are very ineffective but play quite a few minutes. The star of this second list was the default star of what was once supposed to be a big free-agent offseason for the Mavericks: Kaman.
So it should come as no surprise that Cuban arrived guns a-blazin'. He announces his arrival by trashing Wins Produced, the core of Wages of Wins' work: "Im not a huge fan of WP for the NBA, but its still fun to read the craziness you guys post."
This is kind of a cheap shot. No, Wins Produced isn't perfect. But, as several commenters make clear, at this stage of the game no system is without flaws, including whatever it is Cuban might be using.
The default position of Wages of Wins, however, is that the most important thing in basketball is getting good players on your team. All the other stuff -- coaching, putting players in different combinations, etc. -- per Wages of Wins ... is secondary.
That gets under the skin of coaches and other basketball people who make their careers from that "other stuff." It also evidently chaps Cuban, who has a long-term relationship with the high priest of lineup analysis and ends his first comment with: "Maybe you should start looking at WP for lineups ? Coaching matters. Who you play with matters. Who you play against matters."
(It's worth worrying whether or not this is really Mark Cuban. I'll bet it is. Notice the space before the end-of-sentence punctuation, in this case a question mark. That habit has been a fixture on his blog, Blog Maverick, for years.)
Andres Alvarez, of Wages of Wins, responds: "I believe there is value in lineups and systems, etc. However, you can't get around the basic problems: You need good players to compete and you can't give bad players major minutes. We're trying to help with that, and I believe Ari does a great job showing some of the problems. And yes, you should be worried about Kaman."
Then it starts to get really interesting. First Neil Paine, of Basketball-Reference fame, make a great point that Wins Produced simply loves centers who attempt to do almost nothing on offense.
Then Cuban goes all in on the idea that the Mavericks know how to use some players better than other teams do. The implication is that Kaman may have been horrible elsewhere, but he'll be good in Dallas. He also goes heavy on the idea that Nowitzki is vastly undervalued by metrics like Wins Produced, because a huge part of his value is drawing double-teams and making great decisions out of them, creating easy looks for his teammates all over the floor. During the Mavericks' title run, the team offense was amazing, even though Nowitzki was not a standout statistically. Cuban points out that almost no Maverick played well without logging long minutes with Nowitzki.
The idea is that the Mavericks know how to make players like Kaman effective.
"Damp, Tyson, haywood, bwright all got better. ... Are we that good with our centers or do we just use them differently. Or do we recognize that a good player is only as good as they contribute to a team game"
The Mavericks certainly have a lot of pride in their system, and now they have a title to back it up. Cuban gets to win a lot of these arguments. But the idea that the Mavericks can be really good with Kaman on the floor, and get markedly more production out of him than he has shown in recent years ... it's a bold call that flies directly in the face of most, if not all, of the publicly available evidence. If Cuban is right, then you'll simply have to tip your cap to Cuban, Rick Carlisle and the Mavericks.
It's a tall order, and who knows who'll be proved right: Cuban and his "we put them in a position to win" crew, or the Wages of Wins and the idea that bad players are bad players and that's that.
I can remember only one other time when Cuban made a big bet that flew in the face of most stat geekery: When he traded Devin Harris for Jason Kidd. Harris was not only younger and faster, but by far the more productive. Cuban took more than a little heat, including on this very blog, for sending Harris to the Nets for an aged Kidd.
But history has proved Cuban's argument was precisely correct. He said, essentially, that Kidd would make his teammates better while Harris -- since proven to be one of the most selfish point guards in the league -- would not. It was a great trade.