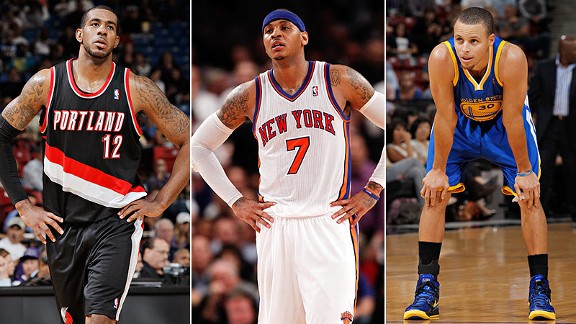 Getty Images
LaMarcus Aldridge, Carmelo Anthony and Stephen Curry: Gridlock or glory?
Think about your favorite team then ask yourself, "What are things going to look like for the next three to five seasons?"
A degree of uncertainty will find its way into every situation, but smart teams have plans. They might be in championship-or-bust mode like Miami, Oklahoma City or the Los Angeles Lakers. They might be straight-up rebuilding like Detroit or New Orleans.
Some teams pursue a more targeted plan. The Clippers want to perform well enough to maintain Chris Paul's faith in the organization, lock him up on July 1, 2013, then keep building from there. Others, like Phoenix, lost the flash drive with the PowerPoint on the way to the presentation.
Then there are those NBA teams standing at the junction, examining the map and looking at the routes. Do they stay on course? Take the scenic route, or the practical one? Get cute and try a shortcut? Slow down and move more deliberately and keep their options open?
Such is the challenge for several NBA teams entering the 2012-13 season, with some facing a better set of options than others.
New York Knicks

The Knicks' crossroads are grander and better paved than most teams in their predicament, by virtue of playing in one of the league's two premier markets. It certainly ain't the cooking in the front office, which has prepared a roster slated for another quick April ouster from the postseason.
Let's rewind: Two years ago, New Yorkers were giddy and comparatively patient. The Knicks didn't bag LeBron James in 2010, but it wasn't for a lack of trying or bad bookkeeping. They signed Amare Stoudemire and, that winter, the Garden was alive for the first time in ages. The acquisition of Carmelo Anthony midseason signaled the Knicks' official return to relevance (even if the team was playing well prior to his arrival and forked over a king's ransom to get him). Aware that the 22nd-ranked team defense would be a train wreck, the Knicks anchored the middle with Tyson Chandler in the summer of 2011.
Despite the defensive improvement last season, the Knicks couldn't score and the old dysfunction returned, pausing for only a seven-week hiatus when Jeremy Lin single-handedly thawed winter.
That brings us to the 2012-13 season. Lin is in Houston, Stoudemire is sidelined and the Knicks are indisputably Anthony's team, which was always the design in New York. If nothing else, perhaps Stoudemire's injury coupled with the success Anthony had as a power forward in Olympic competition will finally convince Melo that he's a new-wave 4. Improving the Knicks will require some innovation, because Anthony, Chandler and a band of reclamation projects, post-prime players and question marks in the backcourt won't make much noise in the playoffs. If they fail to play into May, the Knicks would begin to look a lot like Mike Woodson's Atlanta Hawks -- a team with discernible talent, but no championship aspirations.
What happens then?
The Knicks could resign themselves to a nice house in the East's upper-middle class district or, much like the Lakers did in sheer defiance of what was thought possible, they could trade on the allure of their market and coax a game-changer to New York. It won't be easy. They'd either have to part with Chandler, convince a team with cap room to absorb Stoudemire's outsized salary along with a few goodies, get a superstar approaching free agency to hold his existing team hostage in exchange for a ticket to New York -- and probably some combination of the above.
The Knicks wanted superstars to elevate their brand and incite championship aspirations among their beleaguered fans. Now it's time to manage those expectations and find an acceptable alternative should the team fall short of them.
---
Golden State Warriors

The new regime in the Bay is committed to a serious rebranding campaign. It's not just the smart new threads and the Snøhetta-designed jewel box slated for downtown San Francisco. The Warriors finally seem primed to be more than the NBA's novelty act. They're practicing defense again in Oakland, using analytics for the first time to make personnel decisions and, aside from a hiccup or two on the cap-management side, forging something that looks like a future.
The Warriors traded roboshooter Monta Ellis for Andrew Bogut, one of the five best defensive big men in the game ... when he can move on two feet. Stephen Curry has proven he's far more than a spot-up shooter ... when he can move on two feet. Add a little seasoning to Golden State's young wing tandem of Klay Thompson and Harrison Barnes, and you can pencil them in for the opener across the bay. David Lee makes a mint, but he contributes consistently and the Warriors have virtually nothing else on the books in two years, so why worry?
But that's the thing about cap flexibility -- it's a luxury that can lure smart people into iffy decisions. When you're a front office strapped for cash, you have to be selective in your decision-making. But when you have clean books, you can be tempted to populate the ledger with all kinds of stuff that isn't good for you.
The biggest decision facing the Warriors over the next week is whether to extend Curry. If not for his wonky ankle, this is a no-brainer for Golden State and even with all the concern, still is. But the cap can be unforgiving, and paying max or near-max money to a chronically-injured player can be devastating to a team's long-term ambitions. Bogut, the team's highest-paid player, has a bum left ankle and there's no timetable for his return.
The Warriors don't have to make a contractual call on Bogut for two more seasons, but it's hard for a team to forge a path without a vision of its future core. And, practically, it's difficult to achieve goals if there's $30 million worth of stars in street clothes -- just ask the Houston Rockets.
That's the gamble for the Warriors: Do they construct a team for the foreseeable future around the inside-out threat of Curry and Bogut, knowing it's very possible their two best players might not share a court for weeks, maybe seasons, on end?
Do the Warriors commit to Curry, then wait and see on Bogut once they have a clearer prognosis on his health, knowing they'll likely have some money to find an alternate big man? Do they look at their promising young wings as the guys who will usher in the new era, a Klay Thompson-Harrison Barnes ticket rather than Curry-Bogut? Can Golden State craft a clever contingency plan whereby there's some insurance in the backcourt should Curry's ankle be an indefinite concern?
Or do the Warriors act without prejudice, knowing that the revenue they'll generate in the most state-of-the-art arena in North America (with some of the most expensive seats in sports) can compensate for a lot of dead payroll?
---
Portland Trail Blazers

The rug was pulled from the Rose Garden floor some time ago. What was once the most tantalizing roster in the league has been stripped of its jewels, with Brandon Roy's retirement and relocation and Greg Oden's injuries.
Beyond those bad beats, the Trail Blazers no longer play the flavor of deliberate, possession-focused basketball they did under Nate McMillan, for better or worse. Last season, the Trail Blazers were adrift. They no longer controlled the rim -- on either end -- and many of those familiar patterns that were solidified during the Age of Promise went missing.
LaMarcus Aldridge is a refined, reliable power forward -- probably a Top 15 player -- but is he truly the centerpiece of a contending team? What if the best blueprint of the team going forward has him at center in a more agile offense? Is he flexible and resolute enough to not only tolerate that adjustment, but embrace it?
The first question is a difficult one, though one that can be answered more optimistically if Damian Lillard can evolve into a lead guard who can simplify the game for Aldridge. The Trail Blazers' big man has spoken glowingly about how easy the game came to him after being paired with Andre Miller in Portland. It's unfair to expect Lillard to find that kind of command before he gets a couple of years of NBA basketball under his belt -- and right now he's more of a pick-and-roll scorer than a manager or distributor -- but Aldridge can screen-and-pop with the best shooting big men in the game and should be able to make ample use of Lillard's talent.
The Trail Blazers also re-upped Nicolas Batum long term, defensible given the spreadsheet. Throw in Wes Matthews -- probably a better third guard than a fixture at the 2, but the team's third or fourth best player -- a raw rookie center, and a couple of imports. Is that a foundation that can grow into legitimate power in the West? If you're a Trail Blazers fan or executive, how many teams would you happily exchange futures with? Three years ago, that number was minuscule. Today, you're making a lot of outgoing calls.
A creative Terry Stotts will work hard to develop the Lillard-Aldridge tandem to its full potential, and it could be something special. But if the chemistry doesn't translate into a winning combination, and Aldridge grows uncomfortable as Banana No. 1, do you reshuffle the deck? And, if so, is Aldridge an asset you'd discard if the right offer came along? Could you afford not to?
The Trail Blazers don't figure to win much in 2012-13, and will likely have another high pick in June to add more young talent -- as well as some money to throw around -- but it's going to be a painstaking process.
---
Philadelphia 76ers

Entering the offseason, the Sixers' crossroads looked something like a busy London roundabout. The team could take any number of routes, and there was an intelligent case to be made for each of them.
Hard-bitten realists argued it was time to blow up a core that was unlikely to finish higher than a Hawkish No. 4 or 5 seed. Romantics felt that the Sixers' young talent had finally cracked the code on Doug Collins' safety-first system. If the versatile roster could come back largely intact in 2012-13 and buy in for a full season, they could take what was already a Top 3 defense, win the Atlantic then, come spring, play with the elite.
Instead, the Sixers made a lateral move in trading Andre Iguodala, their best defender and ball-mover, for a true inside threat in Andrew Bynum. They also lost Lou Williams, one of their few creators outside of Iguodala.
So who are the Sixers now and what can we reasonably expect them to become, especially with Bynum playing out the final year of his contract?
Performance will dictate everything. With Bynum anchoring the post, Philadelphia will no longer need a cab to get to the rim. For a team that relied on an unhealthy diet of midrange jumpers, that's no small thing. But indispensable defenders like Iguodala don't come around every day. Systems matter, but you can't just plug Evan Turner into the small forward slot and expect the same results. Bynum is not exactly Collins' idea of a big-man defender. On pick-and-roll coverage, Bynum is a chronic dropper (in fairness, that has generally been the scheme employed by the Lakers), and he'll be pressed rather persistently by Collins to put some more bite into his defensive game.
Let's say the Sixers drop a few of spots defensively, rise a few offensively and their final tally looks a lot like previous seasons. What then? You probably try to lock up Bynum long-term, but is there anyone else on the roster who you'd automatically wave through the door? Do you punt on Turner? What do you need to see from Jrue Holiday to warrant handing him the reins for the next five years? Does all that add up to contention?
Philadelphia will have plenty of flexibility going forward, but cap room isn't an end unto itself. At some point, the Sixers need to figure out what the plan is along the perimeter, and whether their existing platoon of curios and vets can do the job around Bynum.
---
Toronto Raptors

Head coach Dwane Casey got the hard work out of the way in Season 1, taking a team ranked dead last in team defense and catapulting it to 12th by installing some conservative principles and demanding full effort from the entire roster.
There were other bright spots, with more on the way. When Andrea Bargnani was healthy, he played some of the best basketball of his career. Once Jonas Valanciunas gets a feel for the NBA game, he'll demand attention down low. New acquisition Kyle Lowry can generate instant offense, which should also help.
There's a lot to like here, but still a ton of work to do to improve upon a 25th-ranked offense. The Raptors desperately need to open up some space in the half court to prevent the rigor mortis that bogged them down last season. Bargnani, when he's out there, helps inordinately, and Lowry can hit a shot from the perimeter and break down defenses off the bounce. But the Raptors simply can't build the kind of offense they want with their current supply of wings -- and that sober reality starts and ends with DeMar DeRozan, who enters the final guaranteed year of his rookie deal.
DeRozan, the Raptors' leader in minutes played each of the past two seasons, has never posted a player efficiency rating (PER) above the league average and it's not as if he's making up for it as a defender. He's not a proficient outside shooter, makes iffy reads on the pick-and-roll and is a ball-stopper in isolation with a less-than-stellar track record of converting those opportunities into anything -- a creator without much creativity.
To put it bluntly, there are very few things DeRozan is doing to help the Toronto Raptors win basketball games and it's hard to imagine an efficient offense that relies on him for a significant chunk of possessions.
The Raptors raised eyebrows by selecting Terrence Ross with the No. 8 pick in June. While Ross is no polished product on the offensive end, he's a Casey type of player, with quick feet on defense and a heady awareness of what's happening on the floor. Ross could watch tape of Tony Allen and craft a career as a stopper with a few offensive tricks. He'd be a natural replacement for DeRozan, provided he can find his shot or, at the very least, recognize his limitations and minimize mistakes. That would be an easier proposition if there was another wing on the floor who could create.
If the Raptors let DeRozan walk, they'd have some dough to find someone -- anyone -- who can score efficiently at the wing. Once that happens, the ball will start to move again in Toronto, this time with a stalwart defense to complement it.