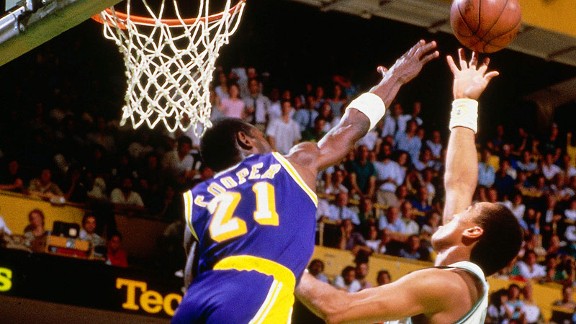 Andrew D. Bernstein/NBAE/Getty Images
The role of the classic NBA wing stopper has changed since Michael Cooper's day.
Mavericks rookie Jae Crowder fell to the second round of the 2012 draft in part because teams wondered exactly what position he'd play in the NBA.
It's an old complaint, not fitting a known niche, but one that matters less with each passing year, as coaching evolves. The core tasks of a team haven't changed -- protect the rim, create open shots, get to the line, etc. -- but who is doing those things is changing all the time. As a sign of how the NBA has evolved, here are examples of how new kinds of players are filling time-honored roles.
Rim protector: Dikembe Mutombo to Omer Asik
For NBA wings in the 1990s, scaling Mount Mutombo was a dangerous proposition. At 7-2 and with excellent timing, Mutombo turned away would-be dunkers by the dozen. But his defense was vertical in nature -- lateral quickness and pick-and-roll coverage were not his favorites. Omer Asik may never block ten shots in a game, but he does a great job of frustrating attempts at the rim -- hey, a miss is a miss -- and is also adept at stringing out quick point guards with a hard hedge on a pick-and-roll. For today's big man stoppers to dominate, they also have to be able to prevent drives before they start, and Asik is one of the new defensive specialist big men who can do both.
Power wing: Anthony Mason to Jae Crowder
In New York, 6-7 265-pound Anthony Mason often shared the court with Charles Oakley and Patrick Ewing despite being nearly the same size as Chuck Hayes, who plays center today. Mason was a defensive stopper with quick feet and a powerful build that allowed him to defend wings and centers alike. His offensive game was built around a solid handle and a brute ability to bully defenders near the rim. At 6-6, and significantly lighter at 240, Jae Crowder accomplishes many of the same goals in a smaller, speedier package. In his first NBA game, Crowder proved his power by holding his ground in the post against 7-footer Pau Gasol, and drilled two 3-pointers on the other end. Like Mason, Crowder has a reliable handle and strong court vision. And though Crowder may never average a double-double, like Mason he will make every team he plays for tougher and more flexible.
All-purpose wing stopper: Michael Cooper to Luc Richard Mbah a Moute
Michael Cooper was the lockdown wing defender on all five of the Los Angeles Lakers' championships in the 1980s. 6-5 and skinny, Cooper could guard all wing positions -- from Isiah Thomas to Larry Bird -- and typically took his team's toughest assignment. He didn't contribute much in the half court on offense, but he could fill the wing for the Showtime offense and became a decent 3-point shooter in the second half of his career. His modern day counterpart, Luc Richard Mbah a Moute, plays a similar role today; he'll spend time facing off against the likes of Carmelo Anthony one night and shadowing Tony Parker the next.
Mbah a Moute is a little taller and longer than Cooper at 6-8, but what makes him today's prototype is his ability to guard multiple positions within a single possession. The proliferation of offenses centered around multiple pick-and-rolls makes for possession after possession in which the defense is forced into a switch with a few seconds left on the shot clock. This is where Mbah a Moute shines, because he can blanket a point guard in an iso with his length or body up against a big wing. It's nearly impossible for an offense to gain the advantage of a mismatch when the Bucks wing is involved. That kind of play may not get you on the All-Star ballot, but as Cooper proved in the 1980's, it's a big part of winning basketball.
Tall shooter: Reggie Miller to Klay Thompson
Not much has changed with this formula -- you don't have to change much about 6-7 guys who can shoot over their defenders and fire accurately on the move. Miller developed tons of clever ways to get open and had could pull up over almost any defender, so it's no surprise that Klay Thompson watches tape of Reggie Miller coming off screens to better develop his skills in that area.
But in his second season, Thompson will also be a frequent pick-and-roll ballhandler. When defenses are stretched guarding one pick-and-roll, today's teams often like to punish them by setting up another -- which means, essentially, every wing has to be comfortable handling the ball. As Ray Allen proved in Seattle and in his early years in Boston, running a great shooter off of screens and then involving him in a pick-and-roll causes all sorts of headaches for the defense.
Speedy, open court point guard: Kevin Johnson to Ty Lawson
It's fun to imagine what Kevin Johnson would do in his prime were he unleashed in today's handcheck-free NBA. The current mayor of Sacramento could really cook in the open floor and averaged a phenomenal 21.2 points and 11.1 assists between 1989-1992. Johnson, like Lawson today, was at his best when weaving past entire defenses on the run and challenging much larger players at the rim. At 6-foot, they both use their extraordinary quickness to compromise defenses by piercing into the paint. But Lawson, in just three seasons, has shot only 70 fewer 3-pointers than Johnson did in his entire career.
That fact speaks to two changes in the NBA: essentially every perimeter player not named Dwyane Wade is now expected to take 3-pointers, and point guards now have more creating done for them. That is, Johnson would never cede control of the offense the way Lawson will to Andre Iguodala or Danilo Gallinari, who both have license to push the ball in the open court and act as the team's primary pick-and-roll creator. The proliferation of the side-to-side rotating pick-and-roll offense makes it imperative that point guards -- even speedy ones like Lawson -- be adept at not only operating in pick-and-rolls, but knocking down shots from the weakside.