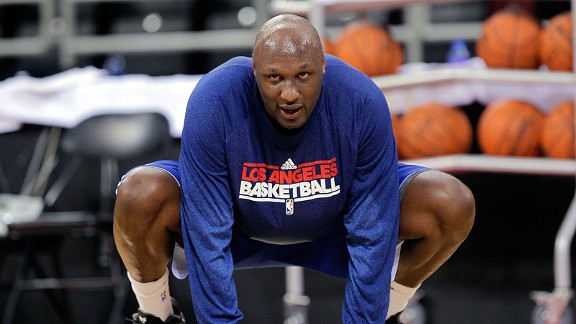 ChinaFotoPress/Getty Images
Lamar Odom is back in Los Angeles, but is still looking for answers.
LOS ANGELES -- Lamar Odom steps out of the double doors that protect the shower area of the Los Angeles Clippers' locker room and saunters across the plush, logo-adorned carpeting, white towels wrapped around his waist and draped around his neck, heading toward his stall.
I have seen Odom in uniform on three occasions since he arrived in Los Angeles this summer in search of himself, and each time it has been hard to know what to make of him. I expect to feel more compassion for him here in this more vulnerable state, and that is the case initially, for his past heartaches are indeed heavy. But any sympathy is quickly complicated by the performance I just witnessed in the first game of his third stint in an L.A. basketball uniform.
Separating person and player is a futile exercise, even when they are so at odds.
Odom missed the Clippers' final five preseason games and two weeks of practice because of a bone bruise and poor conditioning, and it seemed as if he'd miss their season opener as well. But he suits up after two straight practices, and his NBA re-debut is equal parts sloppy and spark: two points, six rebounds, four blocks and three turnovers in 17 minutes of the home team's victory.
As he dresses, Chris Paul, who holds a soft spot for accomplished veterans like Odom, gets the 32-year-old forward's attention from four lockers down by enthusiastically noting how the Memphis Grizzlies couldn't keep up with Odom in transition. A wry smile runs across Odom's face and he explains to Paul how his body hasn't caught up to the speed with which he processes the game, torquing his hips and swinging his head back with planted feet to provide a visual. It's hard to tell if Paul is ribbing him or not; Odom turned it over on a careless fast-break pass soon after he checked in for his first spell, but his advanced ballhandling for his size and instincts were evident against their opponent's lumbering frontcourt.
Everything about Odom seems to be at war these days. He has a kind heart, one that is still cut deep by the deaths of his 24-year-old cousin and a 15-year-old pedestrian in a single New York month, but it's hard not to question it after he mailed in game after game in his short stint in Dallas. He pined for a return to his beloved Los Angeles, for another chance, but he arrived to training camp completely out of shape. He speaks of finding the pure joy in basketball again, and you believe him -- at least you want to believe him -- but the task is much tougher when you consider that Odom is a Kardashian by marriage.
Dressed in a dark T-shirt and jeans and sitting in the black rolling chair positioned in front of his locker, Odom looks up at the small pack of reporters crowded around him, and in his gentle eyes you can clearly see he's looking for answers as well.
An opening question is asked. Odom pauses for six seconds, then in a soft tenor says, "I just need to play. … It's kind of like when I was a little kid, small, and I used to go play. That's what I want to do now, is play. I had an opportunity to play [Wednesday] and, I mean, that felt good. And it was like being a kid again. No matter how it goes, you just get to play."
Odom was at the height of his professional career the last time he suited up in a Staples Center home locker room for a game of any consequence. A core member of two straight title-winning teams heading into the 2010-11 season, Odom flourished individually despite the Lakers' falters, earning Sixth Man of the Year honors after producing better than he ever has and likely ever will. But a summer of personal tragedy and professional tumult -- in the form of a failed trade that would've shipped him to the Hornets, then a successful trade that shipped him to the Mavericks -- sent him into a spiral from which he has yet to recover.
Now Odom heads into Friday's matchup against his former team clinging to what could be his last opportunity in the league. Although he still benefits from the fat contract he signed with the Lakers in 2009, the cross-town Clippers are the ones footing that bill for one more season after dealing for him this summer in hopes that a return to the West Coast would reboot his career. And it's with the Clippers -- the team he began his career with more than a decade ago and once referred to as "basketball hell" -- and Paul, the player the Lakers would have received in that rejected trade last winter, that Odom is attempting to find salvation.
There is still a chance, outside as it may be, that he can somehow regain his past form, but the Clippers don't need to rely on him the way they once did, and Odom embraces the change. He likes the relative anonymity he feels he gets from being in a reserve group full of players with similar pedigree and past accomplishments. While the spotlight remains very much on him -- if not from NBA cameras then surely from those of the paparazzi -- the expectations are rather limited. Just being in shape and up to game speed are the goals at this point.
"It's funny, because it's not like I can't. It's not like I can't jump as high or run as fast, or move laterally," Odom says. "It's because I missed time, you know what I'm saying? The speed of the game is way different than practice. You could watch a million practices and get guys running up and down, it ain't nothin' like being out there. There was a couple times when I was trying to catch to game speed and I missed it."
The claim is understandable and yet also outrageous. Odom was limited to just 50 games with the Mavericks, averaging a career-low 20.5 minutes a game, and was ultimately paid to stay away; regular-season basketball has evaded him since early March. But that he showed up to this supposed shot at redemption out of shape and unprepared is frustrating, regardless of which side of this internal struggle you fall on. And it is surely worse for longtime Clippers observers, who are quite familiar with Odom's past missteps. It would help if he would first help himself.
Mellowed-out opinions continue to pour from Odom for seven minutes before he's asked about the Western Conference in the wake of an active offseason. Odom begins discussing the thrill of competing and the joy he gets from being the underdog. Then he pauses.
"It's hope," he says. "Hope is everything."
It's what defined him when he first arrived in Los Angeles as a talented No. 4 overall pick, and it continues to hang over him now, 14 years later.
"I remember coming here and my daughter walking on her first birthday in Santa Monica Loews," says Odom, now fully clothed in a blood-red button-down and ready to escape into the L.A. night. "My daughter [just] started high school. She's in the ninth grade. I've been here for a long time."
And now, once again, so is his body. For better or worse.