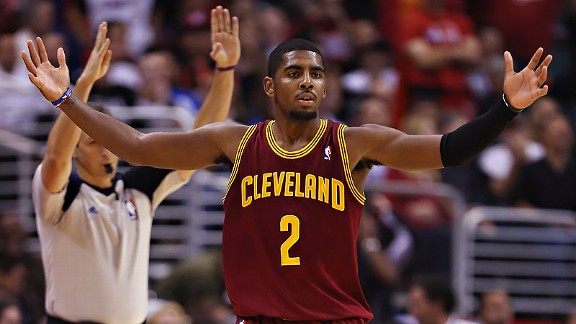 Jeff Gross/NBAE/Getty Images
Kyrie Irving is still the man in Cleveland, but he now has a playmate.
LOS ANGELES -- It's Year 2 of the Kyrie Irving era in Cleveland, and the point guard out of Duke has picked up where he left off after his formidable rookie season.
On Monday night at Staples Center, Irving faced Los Angeles Clippers guard Chris Paul, someone he regards as a mentor. Prior to the game, Irving confessed that there are times when he watches Paul and marvels. "You just sit there," Irving said. "You grab your head, like, 'Oh my God, I can't believe he saw that [passing lane].' The angles of his passes are freaky."
While Paul certainly brandished his share of freakiness, the marquee freak show on Monday was on display in the Cleveland Cavaliers' backcourt -- and it was an entertaining buddy flick starring Irving and rookie combo guard Dion Waiters. The duo combined for 52 points in the Cavaliers' 108-101 win over the Clippers.
"This is what we were thinking," Cavs coach Byron Scott said. "We'd have another guy who can make plays, that could score, also find other guys and beat people off the dribble, create for himself, create for his teammates."
With a full season under his belt, Irving is undoubtedly the more polished product. He got off to a torrid start, torching the Clippers for 16 points of his 24 points in the first quarter. Irving furiously worked through Scott's checklist -- making plays (a no-look pass to Tyler Zeller), scoring (step-back 3-pointers), beating people off the dribble (getting by both Paul and DeAndre Jordan for an open midrange jumper). The Cavs turned an early 7-0 deficit into a 31-28 lead after the first quarter.
Enter Waiters in the second quarter. After cycling through the subs at the beginning of the period, Scott handed the reins of the offense to the rookie, allowing Irving to work off the ball and spot up.
Waiters might lack some of the pure point skills Irving exhibits, but he has a voracious appetite for the ball and can get off shots at will. Waiters finished the night with a game-high 28 points, 21 of them from beyond the arc on 7-for-11 shooting.
"[Waiters] was awesome," Irving said. "Having him get it going made it easy for me to get into the lane."
We've seen it early this season in Houston with Jeremy Lin and James Harden and, early on, there's a similar dynamic at work with the 20-year-olds in Cleveland. What some might regard as a redundancy -- two guys who both need the ball to be effective -- is actually a luxury if the workload is divvied up strategically.
"It gives us more options as far as you don't have to put all the pressure on Kyrie to handle the ball and make plays," Scott said. "You've got another guy who can do the same thing, so it just kind of depends on who has it going. We can say, 'Kyrie, you run the pick-and-roll and we'll put Dion in the corner,' and [Irving] was able to find [Waiters]. And vice versa. It helps us offensively to be a little bit tougher to guard. You have two guys who can not only make plays, but make shots as well."
It won't always come this easy, and both Scott and Irving pointed out that Waiters still has a lot to learn as a floor general.
"[Waiters] did a good job," Irving said of Waiters' possessions as the initiator. "He just has to understand that, when you come down, you have to get everybody set before you make a move."
To Irving's point, there's a trace of impatience in Waiters' game, but nothing out of the ordinary for a kid who has played a total of 114 minutes of professional basketball in his life. The biggest adjustment for a ball dominator like Waiters will be deferring when the game's rhythms demand it.
"I've been 'the man' my whole life, but I'm with a great group of guys where we all work together and we believe in each other," Waiters said. "[Working with Irving] has been great. I get a chance to learn every day, get better and really perfect my craft."
Long-range shooting was never Waiters' forte at Syracuse -- he was more of an attacker than a marksman -- but he showed a ton of poise down the stretch with his shot. With about four minutes remaining in a tie game, Waiters drained a pair of 3-pointers in the span of 35 seconds from opposite corners of the floor to put the Cavs up for good. A couple of minutes later, Irving would nail a 3-ball of his own to give the Cavs a six-point lead with 28.1 seconds left.
That's some fearful symmetry for opponents who have not one, but two perimeter assassins on opposite sides of the floor to contend with. Just ask the Clippers.