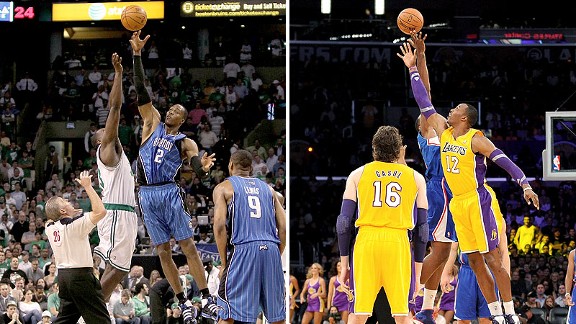 Jim Rogash, Noah Graham NBAE/Getty Images
He is not jumping like he used to, but Dwight Howard has been magnificently productive anyway.
Nobody knows what to make of the things Dwight Howard says. He loves attention and will clown around to get it. And ever since l'affaire Stan Van Gundy, where he appeared to have been caught on video in a bold-faced lie, there are real questions about his credibility.
So when Howard told reporters in training camp rather dire things about his state of health -- that his entire left leg had been "dead" just months ago, that before April back surgery to repair a herniated disk he couldn't complete a simple calf raise, and that entering training camp, walking was one of his forms of working out -- alarms did not exactly sound. The presses were not stopped.
It was not treated like one of the NBA's five best players was entering his prime seriously compromised.
It was treated like nobody was too sure what the truth was. By and large, the injury talk was treated with the "OK, whatever you say" you might use with children who say they can't eat their green beans because they have a tummy ache. Maybe they do have a tummy ache ... but if they ask for dessert, you have a pretty good idea the whole thing was trumped up.
Just a week ago, it was hard to know what to think about the entire injury. It had arrived at a convenient time, politically, to exit stage left as the once-contending Orlando Magic blew apart.
Had Howard started life as a Laker with the skywalking blocks and Superman dunks that made him famous -- he well may be the most athletic man that tall in global history -- then the phrase "politically convenient back surgery" might have haunted Howard for the rest of his days.
But four games into the NBA season, two surprises:
There's subtle, but undeniable, evidence Howard is not jumping like he used to, lending credence to the idea he's recovering from injury.

He has been so fantastically productive all the same that it's reasonable to think that if he maintains his health, he has real MVP potential this season.
Two feet on the ground
Before showing Howard in the center circle for the opening tip of his Lakers days, the cameras lingered on the retired numbers in the Staples Center rafters: Here's Wilt Chamberlain. Here's Kareem Abdul-Jabbar. Pan down and there is Dwight Howard.
The player who once stuck a sticker almost at the top of the backboard, the player who has long looked like he might be able to jump his way into those same rafters, lost the opening tip to Brandan Wright. When Howard next touched the ball, the Lakers faithful gasped in anticipation of the thunderous bucket that would announce the arrival of the next great franchise center; Howard had gathered the ball under the rim, the defense was out of position. A year ago, he might have torn off the rim, but this time, he misjudged the distance, underjumped, and used the rim to block his own shot, not unlike something you might see in a high school game.
There would be more to worry about. Often, he was the last player down the floor. Howard told reporters in training camp that conditioning was his main focus. Lo and behold, he looked out of shape, which seems a silly thing to say about one of the most in-shape-looking humans on the planet. And yet in the third quarter the older, smaller Elton Brand (himself a veteran of surgeries) beat Howard down the floor so badly that by the time Howard got there, he could stop a layup only by fouling Brand flagrantly.
It's a trend: Stats show that in the early going, opponents get a lot of fast-break points against Howard's Lakers.
The next night, Howard had his shot blocked twice by 6-foot-9 Blazers forward J.J. Hickson.
Against the Clippers, active young big man DeAndre Jordan won the opening tip and plenty of the physical confrontations, including a lovely putback dunk over a ground-bound Howard.
It was precisely the kind of play that once made Howard one of the most efficient players in the league -- turning balls in the air over the rim into a Christmas present to his team: found points. Now opponents were doing that to him.
Efficiency
The vision was that Howard would set screens for Steve Nash like Amar'e Stoudemire once did, then turn and rumble down the lane toward the hoop. That would pair essentially the best pick-and-roll guard in the league with the best pick-and-roll big man. To help at the rim, defenders would have to leave Kobe Bryant, of all people. It wasn't crazy to think the Lakers would quickly mock their Staples co-tenants' "Lob City" nickname.
Instead, Nash is hurt, and Howard's best plays mostly have involved muscling his way into position near the hoop, then waiting for Pau Gasol to find him for a point-blank layup. His early-season play, with missed free throws, slow defensive rotations and a rather alarming number of turnovers, also has made news.
This is nobody's dream of how it would go.
But here's the scary news for the rest of the league: Despite the dearth of highlights, if Howard improves even a little bit, he'll be an MVP candidate nonetheless. Digging through the most advanced data and video shows that Howard has been incredibly effective, with production up there in the neighborhood of LeBron James, Chris Paul, Bryant and Carmelo Anthony.
It's not just that he's averaging 24 points and 10 rebounds per game. It's that when the Lakers starters are on the floor, they're good. The Lakers score nearly 112 points per 100 possessions with Howard in the game, and allow just 103. Those are numbers from a tiny number of games, but they're pointing to something you can see with your own eyes: Howard creates a ton of opportunities for buckets in the paint. He's always at the front of the rim, which is not true of all big men.
Howard's true shooting percentage is excellent at nearly 66 percent, even though that's the advanced shooting statistic that includes his Achilles heel of free throw shooting. John Hollinger's PER ratings show Howard near the top, even though that essentially ignores what he traditionally is best at: defense.
Projecting a bright future in L.A.
Imagine what all of those numbers might look like when he is once again one of the best-conditioned athletes in the league? Imagine what his production might be like with real explosive power?
His physical recovery is only one reason for optimism. The video also shows a player with jitters, who is learning a new system in a new city for a new coach. His game is uncharacteristically thick with hesitation -- you can almost see the thought bubbles as he attempts to read the court. In the post, in the NBA, standing still even for a moment means having the ball stripped.
Other times, teammates have hit Howard with the kinds of passes he has habitually turned into dunks. A discombobulating combination of conditioning and setting have led him to boot more than a few of those out of bounds. In the Lakers' three losses, he had 10 total turnovers, half of which you reasonably could expect him to convert into buckets once he's settled.
The guy in the Lakers 12 uniform has not been exactly who the team thought it was getting. He is out of shape, recovering from surgery and sometimes lost in the Princeton offense. Nonetheless, he has been excellent, and it's reasonable to project that with nothing more than increased normalcy, he'll be simply amazing.