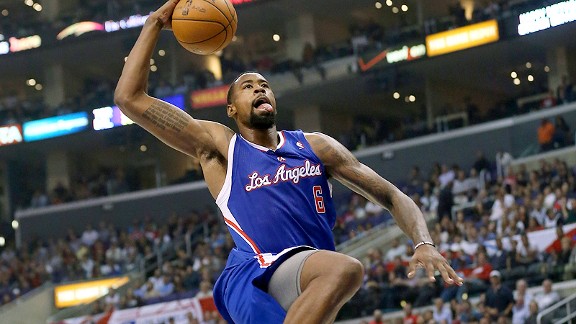 Stephen Dunn/Getty Images
DeAndre Jordan had 20 points and 11 rebounds, giving the Clippers half of a dominant frontcourt duo.
LOS ANGELES -- Long before Chris Paul landed on their doorstep last December, the Clippers had a blueprint for what they wanted to build in Los Angeles.
The pillars of that design were two freakishly athletic big men, Blake Griffin and DeAndre Jordan. They were relatively unpolished, but if they could harness skills to pair with that raw talent, they could anchor a frontcourt that could jump higher, run faster, dunk harder and defend with more speed than any frontcourt in the NBA.
On Wednesday night at Staples Center, Griffin and Jordan turned in their best performances of the season on both ends of the floor, as the Clippers drubbed San Antonio 106-84, handing the Spurs their first loss of the season.
"We came out with that mindset, and we felt like we had something to prove." Griffin said. " We felt like we owed it to ourselves to be on our game offensively and defensively."
Griffin and Jordan each eclipsed the 20-and-10 threshold. Playing with a burst bursa sac in his right elbow and a strained neck, Griffin notched a season-high 22 points on 10-for-16 shooting from the field, and grabbed 10 rebounds. Jordan's outing was especially efficient -- 20 points on 12 shots to go along with 11 rebounds.
But after the game, teammates, coaches and staff weren't talking about the stat lines so much as the defense played by Griffin and Jordan, something that's been a drag on the Clippers, both last season and this one.
"The communication was there, the energy was there." Paul said. "[Tony Parker] is unbelievable with the ball. So is Manu [Ginobili]. Tonight [Griffin and Jordan] were up on the ball screens. They didn't let those guys cross back. They didn't let them dance with it. Without [Griffin and Jordan], we don't win. Because in this league, [guards] are too good for one guy to defend. It takes a team."
The acquisition of Paul instantly made the Clippers relevant, but the teams knows it can't rightly contend in a competitive Western Conference unless the young tandem of Griffin and Jordan matures into an elite back line. The team tied its fortunes to them after Jordan scored a four-year, $43 million contract prior to the 2011-12 season and Griffin sealed a max deal this past summer.
Griffin is a two-time All-Star and an offensive force whose progress helped the Clippers advance to the conference semifinals last spring. Griffin's contributions can be measured virtually every night, even if the defense, screening and midrange shot are works in progress.
For Jordan, the to-do list is much longer. He's a 7-footer who can jump out of the gym standing still, but who frequently moves faster than the action during live games. In the span of a minute, Jordan can sky above the rim and tomahawk an offensive rebound through the cylinder, then on the next trip downcourt inexplicably try his hand at a wraparound pass and find a kid in the third row.
On Wednesday, Jordan released his athleticism on the Spurs, making the standard-bearers appear old and slow in the process. He constantly got underneath the San Antonio defense for easy dunks, and did a stellar job of walling off the paint against Parker and Ginobili.
"When [Jordan] is on his game, he's tough," Griffin said. "He can score. He can catch anything four feet above the rim, no matter where it is, alter, block shots and just intimidate people from even trying to put up a shot. So when he's active like that, the paint is controlled by him."
There's always been a delicate level of trust between Jordan and the Clippers coaching staff. Jordan is an emotional player who is prone to frustration and those qualities can translate into foul trouble, missed opportunities or a rash of turnovers (he had nine in the season opener in 23 minutes). He has started all 82 regular and playoff games in the Chris Paul era, yet has commonly found himself on the bench in crunch time, which was a source of some unhappiness for Jordan last season.
But over the past few months, Jordan has earned a heap of praise from teammates, the Clippers coaching staff and guys around the league for his diligent work over the summer. While training, Jordan picked up a few post moves, more fluid footwork and better timing down on the block.
"Towards the end of the summer, just to see him come back and play in pickup games, you could tell his confidence was better," Griffin said. "Guys were throwing him the ball and he was going to work. Honestly, I think it's confidence. He's had some good moves, but most of the time down low, he would catch it and he wasn't asked to go score. And now we're asking him to go score. He knows we believe in him and that does a lot for him."
That confidence was evident early in the game, when Paul fed Jordan on the left block. Matched up against Tim Duncan, one of the best defensive centers of the past quarter-century, Jordan unleashed a big drop step with his left, then spun back to the baseline to seal off Duncan for an easy two.
"The first play -- nice patience there on the block," Clippers coach Vinny Del Negro said. "A nice right jump hook. He's been working on that a lot and it's paying off for him."
The Clippers need additional payouts from Jordan and Griffin on both ends if they want to build on last season's benchmark. Griffin is a surer bet, and if he can replicate the defensive intensity and precision he showed on Wednesday night, he'll be the player the Clippers have idealized since they drafted him first overall in 2009.
And if Jordan can consistently deliver 20-and-10 games while turning back speedy guards and blocking shots from the likes of Duncan, the Clippers are poised for a deep run. With all that potential, Jordan is the single most elastic variable on the team's roster.
"He knows it too," Paul said.