As TrueHoop digs into the issue of performance-enhancing drugs and the NBA, one of the most basic questions is: What substances are banned?
The list was long even before growing in the 2011 NBA collective bargaining agreement. By the rules of that deal, the list can grow at any time: For instance, if any performance-enhancing drug becomes illegal, it is automatically added. Similarly, a committee set up by the league and the players' association can add substances as it sees fit.
Anti-Doping and the NBA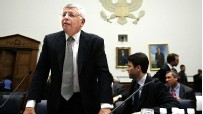 Chip Somodevilla/Getty Images
Lawmakers have long called the NBA's anti-doping program soft, and the head of the World Anti-Doping Agency says the program has "gaps." Now that testimony from the investigation into Lance Armstrong has made clear precisely how sophisticated cheaters beat tests, we wonder if the NBA's program can keep up.
TrueHoop on performance enhancers
Performance enhancers
Adrafinil

Aminoglutethimide

Amiphenazole

Anastrozole

Androsta-1,4,6-triene-3,17-dione (also called androstatrienedione or ATD)

Androstanediol

Androstanedione

Androstene-3,6,17-trione (also called 6-OXO or 4-AT)

Androstenediol

Androstenedione

Bolasterone

Boldenone

Boldione

Bromantan

Calusterone

Clenbuterol

Clobenzorex

Clomiphene

Clostebol

Cyclofenil

Danazol

Dehydrochloromethyltestosterone

Dehydroepiandrosterone (DHEA)

Desoxymethyltestosterone (DMT)

Dihydrotestosterone

4-dihydrotestosterone

Dromostanolone

Drostanolone

18a-homo-17b-hydroxyestr-4-en-3-one

Ephedra (also called Ma Huang, Bishop's Tea and Chi Powder)

Ephedrine

Epitestosterone

Erythropoietin (EPO)

13a-ethyl-17a-hydroxygon-4-en-3-one

Etilefrine

Ethylestrenol

Exemestane

Fencamfamin

Fenethylline

Fenfluramine

Fenproporex

Fluoxymesterone

Formebolone

Formestane (also called 4-hydroxyandrostenedione)

Fulvestrant

Furazabol

Gestrinone

Human Chorionic Gonadotropin

Human Growth Hormone

4-hydroxytestosterone

Insulin-like Growth Factor 1 (IGF-1)

Letrozole

Mefenorex

Mestanolone

Mesterolone

Methandienone

Methandriol

Methasterone

Methenolone

Methyldienolone

17a-methyl-3b, 17b-dihydroxy-5a-androstane

17a-methyl-3a, 17b-dihydroxy-5a-androstane

17a-methyl-3b, 17b-dihydroxyandrost-4-ene

17a-methyl-1-dihydrotestosterone

17a-methyl-4-hydroxynandrolone

Methylephedrine

Methylphenidate

Methyltestosterone

Methyltrienolone

Mibolerone

Modafinil

Nandrolone (also called 19-nortestosterone)

Nikethamide

19-norandrostenediol

19-norandrostenedione

Norbolethone

Norclostebol

Norethandrolone

Norfenfluramine

Normethandrolone

Norpseudoephedrine (also called cathine)

Oxabolone (also called 4-hydroxy-19-nortestosterone)

Oxandrolone

Oxymesterone

Oxymetholone

Pemoline

Pentetrazol

Phendimetrazine

Phenmetrazine

Phentermine

Phenylpropanolamine (PPA)

Probenecid

Prostanozol

Pseudoephedrine

Raloxifene

Quinbolone

Stanozolol

Stenbolone

Strychnine

Tamoxifen

Testolactone

Testosterone

Tetrahydrogestrinone (THG)

Tibolone

Toremifene

Trenbolone

Zeranol

Zilpaterol
Diuretics/Masking agents
Acetazolamide

Amiloride

Bendroflumethiazide

Benzthiazide

Bumetanide

Canrenone

Chlorothiazide

Chlorthalidone

Clopamide

Cyclothiazide

Dichlorphenamide

Ethacrynic Acid

Flumethiazide

Furosemide

Hydrochlorothiazide

Hydroflumethiazide

Indapamide

Methyclothiazide

Metolazone

Polythiazide

Quinethazone

Spironolactone

Triamterene

Trichlormethiazide