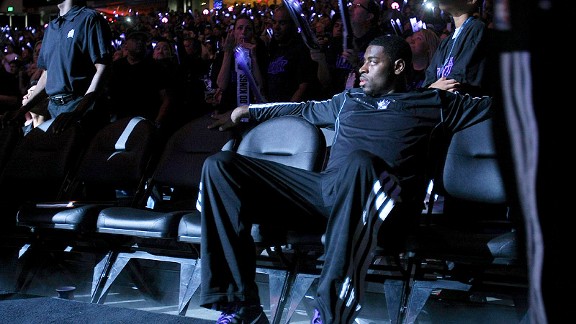 Kelley L Cox/US PRESSWIRE
Tyreke Evans hasn't been able to move forward since a promising beginning to his career.The light never changes on Tyreke Evans.
"He has total green light to do what he needs to do on the basketball floor with me," Sacramento Kings coach Keith Smart said. "It's only [up to him] what he does."
But after emerging early in his career primarily through an uncanny ability to fearlessly and so fluidly charge the basket, Evans has been stuck in neutral to start a fourth NBA season that figures to finally define his place in the league, one or way or another.
Though seven games are far too few to draw meaningful conclusions, troubling signs are there. Outside of a double-digit rebound rate and 85 percent free throw percentage, Evans' numbers are down across the board, and the natural aggression that was the trademark of a 2009-10 season that brought rookie of the year honors and LeBron James comparisons seems to have waned.
Now officially the team's starting 2-guard after bouncing around between the 1, 2 and 3 over his first three seasons, Evans is playing off the ball more than perhaps ever in his career and he admits to some initial discomfort in being in space more often out on the wing. Which has ultimately led to a more passive version of the usually goal-oriented (as in basketball goal) player.
His usage rate is below 20 for the first time in his career. His number of free throws attempted has been cut in half since his first season, from 6.5 to 3.0. And he's attempting two and a half fewer shots at the rim, per Hoopdata.com, despite shooting over 50 percent from there for a fourth consecutive season. A ragged jump shot that has dogged him since his earliest days is also the worst it has ever been: Evans is shooting 18 percent from 16 feet and out, making those forays to the rim more predictable than ever.
The shifty and quick 6-foot-6, 220-pound wing has always been at his best with the ball in his hands and crashing to the hoop, like a tailback that runs downhill. But whether it's by design or desire as he willingly attempts to fit into the role the Kings have laid out for him this season, Evans has struggled to pick up the necessary head of steam. These days, that 20-year-old 20-point scorer seems more like a specter.
With suspensions sidelining both DeMarcus Cousins and Thomas Robinson for the Kings' Sunday matchup with the Los Angeles Lakers, the stage seemed set for Evans to carry the offensive load like he had throughout his debut campaign. But after going 2-for-5 in the first quarter, the 23-year-old took just four shots the rest of the game and struggled to really find any type of rhythm offensively.
After the game, a shirtless and sullen Evans sat in front of his corner stall in Staples Center's cramped visitors locker room, shoulders slumped and his eyes locked on the floor for every second of his postgame meeting with the media, as he told them what he likely thought they wanted to hear.
"I just need to be more aggressive," he said, over and over again. A more upbeat Evans used 13 "aggressives" in a five-minute chit-chat before the game.
In the meantime, a renewed defensive effort certainly doesn't hurt -- particularly in the eyes of the positive-thinking Smart, who was encouraged by Evans' start to the season and seems set on turning him into the type of two-way player he has always had the skills to be.
But no matter how aggressive Evans is, the patience afforded to him, both from fans and the franchise, seems to be running out. In addition to the shot clock, Evans now must contend with the one the Kings set to his future after the club passed on extending him before the Halloween deadline for the 2009 draft class.
Sacramento still holds the final say in whether or not its once-prized player gets away, as Evans will only be a restricted free agent this summer. And it's hard to imagine the talent-strapped Kings letting a player with his potential walk, especially after witnessing the Raptors digging deep into their pockets to keep a lower-ceiling player in DeMar DeRozan around; if not Sac-Town, then surely some other team will fork over a large payday to try to unearth the premier talent he displayed as a rookie. But whether he's worth it, based on his body of work, is certainly questionable.
A lot of Evans' advanced numbers have remained pretty consistent since his rookie season while his raw production has slowly trickled downward over the past three seasons. His points per game have dipped from 20.1 to 17.8 to 16.5. The assists have tumbled from 5.3 to 4.6. The shooting percentage has hovered in the mid-40s and the 3-point percentage in the 20s. After a four-point PER dip his sophomore season, in which he battled foot problems, Evans finished a ho-hum 16.48 in Year 3.
But the lack of any forward movement is the problem. The cast around him has been in continuous flux, but Evans has changed little from that promising beginning. While his position has changed often during that span, Evans functions and produces about the same whether he's dubbed a point guard or wing player.
The environment certainly has something to do with it. Evans' versatility was once considered a blessing; he was the type of player you wanted to build around, and his ability to guard multiple positions allowed more flexibility when filling out the roster around him. But over the past three seasons, Sacramento has focused on redundancy rather than complementary, particularly in the backcourt, where it has loaded up on ball-dominant slashing guards (sound familiar?).
But fault can't fall solely on the Kings. While Cousins' temper hasn't gotten any better, as evidenced by Sunday's two-game suspension for confronting Spurs announcer Sean Elliott, his PER leaped more than six points in his second season. As a result, it now seems like Cousins, warts and all, is perceived more as the key building block in Sacramento.
Right now, Evans is hardly the next King James. He's simply just another disappointing Kings player.
"I wouldn't say he's at a crossroad, but us as a franchise have to make a decision on him, and other people around the league have to make a decision on him [as far as] at the end of the year, what do you do as he moves into that next phase of his career," Smart said. "But I want to make sure and we want to make sure that he becomes this well-rounded player."