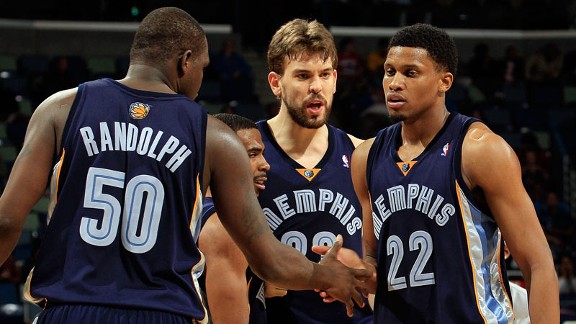 Chris Graythen/NBAE/Getty Images
The Griz have been shutting down teams for a while. Is this the season the offense finally clicks?
By the time the Memphis Grizzlies are through mucking up your half-court possession, your offense looks like an unmade bed.
Your floor spacing is terrible, in part because Tony Allen brutalized your best wing, who never got to his intended destination. Not that it matters all that much, because Mike Conley has hounded your point guard so far to the sideline that the ball is now in a different area code. The passing lanes are clogged. Zach Randolph's rump has pushed your big man off the block, and all you've got is a morass of bodies that's flailing around or gathered in a clump in some undesirable location.
With the clock ticking, the ball might land in the first row off a panic pass, or get picked off by Conley or Allen, or maybe the buzzer will sound and the ref will pat his head, signaling a 24-second violation.
You didn't come close to getting what you wanted -- you got Grizzed.
---
The Grizzlies are the third-ranked defense in the league this season, and they're a good bet to stick. They clocked in at seventh last season and ninth in 2010-11, when assistant Dave Joerger took over the primary defensive duties for a squad that had ranked 24th in 2009-10.
Over the past three seasons, Memphis has established a defensive system that's all about problem-solving. The Grizzlies push pick-and-rolls down. This gives their bigs, who have the turning radius of a '67 Pontiac Bonneville, time to drop back. Want to feed the post? The Grizzlies utilize their length to deny and their physicality to dig in. And about one in five possessions in the half court against the Griz ends in a turnover.
At the top of the floor, Conley has become more than just a pickpocket. He closes space exceptionally well for a little guy and knows how to force the ball away from the middle. He also offers some extras that keep opponents off balance. Off the ball, he'll tease, faking as if he's going to help on the ball only to pull back once rhythm has been broken. There's an intelligence to his game that wasn't detectable when he first signed a deal that raised eyebrows and now looks like a bargain.
Faithful as they are to their system, the Grizzlies can adjust on the fly. Take their big win over Miami on Sunday. The Grizzlies' typical schemes left them vulnerable to the Heat's speed and perimeter power. So Memphis did what smart teams do -- it adapted. The Grizzlies' big men didn't show on pick-and-rolls, but tracked backward instead. The goal: Prevent Chris Bosh from sucking Memphis' defense into the middle.
Bosh and LeBron James still went 11-for-14 at the rim, but the shooters had an atrocious night because Memphis exercised discipline. The Grizzlies didn't rotate the defense and kept a blanket over the arc.
Any decent team can go out and execute its stuff, but the elite ones have the confidence to pivot, to be shrewd and flexible against even the most nightmarish scenario (e.g., defending the Miami Heat), to have the guts to say, "Yeah, our schemes work 60 nights a season. We could run those coverages and hope for the best, but screw it -- let's prepare something unique and ballsy that could totally disarm them. It might blow up in our faces, but who cares?"
---
The dimensions of an NBA court haven't changed, but today's floor is more spacious than it used to be, partly because of some rule changes over the past decade that have favored guards, but also because guys can shoot.
Unfortunately for the Grizzlies, they've been the exception over the past couple of seasons. Memphis has ranked near the bottom of the league in just about every shooting stat, and the numbers from behind the 3-point line dating back to the 2008-09 season have been brutal.
For NBA teams prepping to defend the Grizzlies, this is like starting with 11 against the blackjack dealer's 5. Now you can run under most pick-and-rolls. Your defenders can sag and crowd the middle of the floor, which makes life more difficult for not only the Grizzlies' frontcourt, but anyone on the wing who wants to drive. Perimeter rotations and help decisions become less risky propositions.
The Grizzlies have run some beautiful stuff with their current core, but they haven't ranked above league average in offensive efficiency since Mike Fratello was roaming the sidelines. Even with nifty high-low passes between Marc Gasol and Randolph, or Rudy Gay elevating over a smaller defender, or Conley exploding off a high pick, the deficiencies from the outside have been too much to overcome many nights.
That's the challenge for the Grizzlies: Can they get some reliable outside shooting, or can they identify ways to compensate?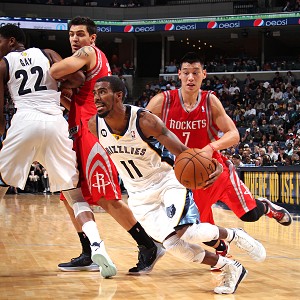 Joe Murphy/NBAE/Getty Images
Mike Conley: Breaking out.
It's early, but they seem to have acquired a bit of both. Although much of the production came from Wayne Ellington's explosion Sunday (7-for-11 from downtown), the Grizzlies rank fourth in 3-point accuracy.
You can't run under on Conley anymore, because he can hurt you from beyond the arc and spot up nicely when Gay is pounding the rock on the wing (although seeing a kickout from Gay is like spotting a red panda). Jerryd Bayless saw a nice uptick in his 3-point percentage last season, and that has carried over early. Elllington has been a find.
The improvement in proficiency has stretched the floor and given the Grizzlies' interior game more room to operate. Gasol's assist rate, always impressive, is off the charts. He prefers to pass and actively loves advancing the ball. For Gasol, the joy of the game lies in beating schemes, and a pass is simply the best way to accomplish that.
The high-low game between Gasol and Randolph is smoother than ever. Most of these connections used to be set plays, but Gasol and Randolph have become so familiar with one another that they're reading and reacting as often as they're following the script.
Conley learned a lot while Randolph was sidelined last season. With Randolph no longer eating up space on the right block, this opened a tunnel for Conley to drive nonstop to the hoop. Conley learned that attacking the defense allowed him to see the floor better. He has become a more comfortable pick-and-roll practitioner, and I often wonder how he'd fare on a team with two wings who stretched the floor and could make defenses pay if Conley found them with a kickout. Even with these limitations, Conley now can dominate the game for long stretches during which the Memphis offense is at its liveliest.
---
There's still one more mouth to feed for Memphis, one with a large appetite: Rudy Gay.
At 6-foot-8 (with a 7-foot-3 wingspan), Gay is a confounding player. Most nights, he has a decisive mismatch over a smaller defender. "Find the best mismatch on the floor and exploit it" has been a winning strategy in basketball for a long time, which makes it tempting for the Grizzlies to rely on Gay for an outsized chunk of their offense.
While Gay had some success as a post-up threat last season, he's a terrible pick-and-roll player who has trouble creating a play for anyone else off that drive. Isolation plays for Gay result on average in three-quarters of a point for Memphis, and he's made only a third of his shots from midrange since the start of the 2011-12 season. From distance, he's Wade-esque (but shoots a lot more than Wade). And no matter what the play call, Gay doesn't read defenses as fluently as most top-tier wings -- maybe because he didn't have to for so long -- nor does he get to the foul line enough.
This is the eternal struggle for this Grizzlies team. How many possessions can you entrust to Gay and still run an efficient offense? Are there ways to make him more efficient, slicing away the fat of his game while retaining the nutrients?
---
Right now, the Grizzlies are flourishing even if they don't have definitive answers to those questions. Their offense sits at No. 8 thanks to a reconstituted bench that's been solid, a jackrabbit start from Conley, and a big point-center who has turned touch and subtlety into opportunities and production.
Is all this stuff sustainable over an 82-game slog?
That's unknowable right now, but a win over Oklahoma City might give us another piece of evidence that the Grizzlies clean up nicely.
We might even discover that the Memphis Grizzlies -- the Memphis Grizzlies -- have found finesse.