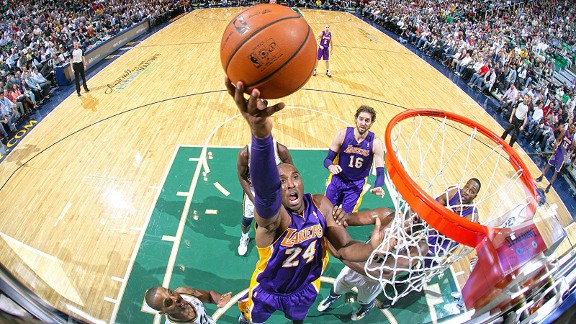 Melissa Majchrzak/NBAE/Getty Images
By getting to the paint more than ever, Kobe Bryant is scoring with insane efficiency.Kobe Bryant is on fire. But it's not the whirling, twisting fadeaways that have Bryant near the top of the league in every shooting statistic.
What's different seven games into this season is that whether because of improved health, a new mindset, the Princeton offense or something else ... he has cut down dramatically on those inefficient long 2-point shots, while loading up on a massive diet of shots at the rim.
As a result, he's one of the most efficient scorers in the league, which has not been his M.O.
HoopData reports that Bryant is attempting just 2.6 long 2-pointers per game, down from a staggering 7.7 just last season. Those gorgeous jumpers that go in about 40 percent of the time have been replaced by something mundane and utterly effective: layups.
Bryant is making 4.6 layups per game -- twice as many as he made over the course of last season and second this season only to James Harden among guards.
That 4.6 number would have led the league last season.
And while he's shooting more at the rim (6.7 attempts), Bryant is also taking fewer shots altogether. As a result, shots near the rim now account for 39.9 percent of Bryant's field goals, up from just 16.2 percent in 2011-12.
Bryant is also taking fewer 3-point attempts. But when we factor in that he's taking five fewer attempts per game overall, it turns out that Bryant is actually devoting more of his offense to those high-value, long-range shots.
Fewer long 2s and more emphasis on shots at the rim and from 3 -- factor in a blistering 91.7 percent free throw shooting and you have the makings of the hyper-efficient Kobe Bryant stat geeks always wanted to see.
So how's he doing it? And can it last?
Subjectively, there seems to be a little more pep in Bryant's step than there was at the end of last season. His long first lunge to the basket looks slightly quicker, and it also seems that Bryant's intentions have changed. The Laker offense may have been the stated reason Mike Brown was fired, but it's clear from the film that Bryant had already mastered ways of finding efficient shots within L.A.'s modified Princeton.
Of particular note is how little Bryant is shooting off the dribble. Here's something we're used to seeing a couple times a game: Bryant, all alone on the wing, goes into a mesmerizing sequence of dribble fakes and footwork, often with the aim of creating space to squeeze off a pull-up jumper. While Bryant has as much skill as any player, that's just an extremely tough way to score.
When Bryant attacks from the wing this season, he seems focused on attacking off of close outs, when the defense is at a distinct disadvantage, or with the aid of a ball screen. In both cases, Bryant uses the skill of his teammates to help get loose rather than taking it all on himself.
That isn't to say Bryant's one-on-one game has deteriorated, just that he's been more selective. He's been absolutely dynamite in isolations and post-ups, the two scenarios that accounted for nearly half of all of Bryant's shots last season. Bryant still does a great job of running down court for early post-ups when there is no defensive help and has almost completely avoided going for difficult fadeaway jumpers over multiple defenders.
If Bryant keeps this up at age 34, it would rank among the finest offensive seasons of his career. Given his age and the way stats work -- time and reps bring lots of amazing trends back to earth -- it's exceedingly unlikely that will happen. But he can still have his best season in terms of true shooting percentage (a stat that accounts for free throws, 2-pointers and 3-pointers). Bryant is currently posting a 66.2 percent -- his best over a full season to this point was 58.
If he can do that, it would be a sign that the game is coming easier to Bryant than in recent seasons, most notably in 2011-12, when he posted the worst true shooting percentage of his career (52.7). You might remember Bryant also got off to a hot start last season before the grind of a lockout-shortened campaign began to erode his efficiency.
Bryant should have more rest this time around, though the Lakers still don't have much in the way of a backup that might allow him to play closer to 30 minutes a night than the 36 he's playing now.
It's also worth wondering whether he'll get these same opportunities after D'Antoni installs his pick-and-roll offense. Will Bryant continue to see the steady diet of mid range post-ups? The answer to that question may be a foregone conclusion, it's hard to picture Bryant unable to get his touches.
The real question is, when he gets those chances, will he continue to muscle his way to the paint? Even if Bryant misses more as the season goes on, so long as he's getting to the paint at his current pace he'll continue to draw extra defenders and help the Lakers maintain their league-leading offensive rebounding.
Bryant has admitted to altering his game as his athletic capabilities diminish. So far this season, his mindset has made him the stat geek dream.