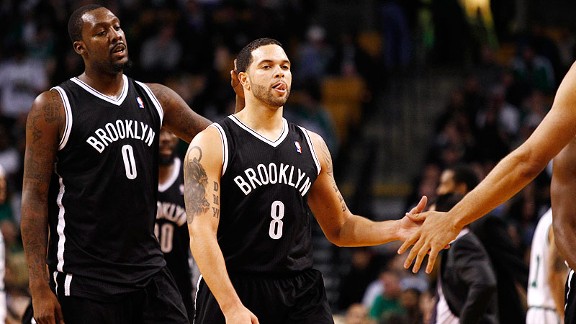 US Presswire
Andray Blatche (17 points, 13 rebounds) and the Nets bench gave Deron Williams and Co. a big hand.BOSTON – Pardon the rumblings, but there's a lot to digest here after the Brooklyn Nets left town with a hard-fought 95-83 win over the Boston Celtics. In several ways, up is down and down is up relative to our expectations for these two teams heading into the season, and Wednesday only reinforced most of those trends.
Did you think that the Nets would be better than Boston at this point? Did you think they'd be better because of their defense? Did you think the bench would be the main catalyst behind the Nets' success while the starters struggled? Did you suspect that Andray Blatche and Jerry Stackhouse would become the linchpins of that unit? And did you imagine the Celtics would be the ones accused of softness after a physical encounter that saw three ejections?
My answers: No, no, no, HELL no, and no.
Yet here we are. Brooklyn is, indeed, in first place in the Atlantic Division at 10-4, tied with New York, after beating both the crosstown rival Knicks and defending division champion Celtics in a span of 48 hours. In fact, the Nets are just a half-game behind Miami for the best record in the conference and can move into first by sweeping the next two games in Orlando and Miami over the weekend.
And the way the Nets reached that point couldn't possibly be more unlikely. Brooklyn spared no expense in building its roster, lavishing free-agent riches on Deron Williams, Gerald Wallace, Brook Lopez and Kris Humphries and then trading for the even more expensive contract of Joe Johnson.
The thought was that the offensive firepower of players such as Williams, Johnson and Lopez would offset the suspect defense in the frontcourt, after the Nets were just 29th in defensive efficiency a season ago.
But instead the Nets' defense has been just as prominent in their success. They're likely to move into the top 10 in defensive efficiency after holding a fifth straight opponent to less than 90 points, offsetting some disappointing offensive results from Johnson in particular and the starting lineup in general.
Meanwhile, the minimum-wage bench they built behind the conference's most expensive starting five is basically carrying them right now. Five players who combined barely make the midlevel exception -- Reggie Evans, Jerry Stackhouse, Andray Blatche, Keith Bogans and C.J. Watson -- finished with 52 of the Nets' 95 points, 25 of their 50 rebounds, and a combined +32 for the evening.
Unbelievably, Blatche, who was recently released via the amnesty clause, and the 38-year-old Stackhouse nearly finished as the game's two high scorers. Discarded by Washington after an embarrassing 2011-12 campaign, Blatche was the game's high rebounder with 13, including eight offensive, and entering the game had a sterling 20.76 player efficiency rating that was better than four the Nets' five high-priced starters.
Stackhouse has made nine of his 11 3-point attempts in the key division wins over the Knicks and Celtics, scoring 31 points in 44 minutes. He was +12 in 22 minutes and it actually brought down his net plus-minus -- an unfathomable +103 for the season now, in just 164 minutes. The Nets have actually been outscored when he's off the floor.
Again, this is Jerry Stackhouse. He's 38 years old and barely played for the Hawks last season. He's a career 30.9 percent 3-point shooter. And for the Nets, suddenly, he's money. Stackhouse added to the surreal state of affairs immediately after sinking his fifth 3 by committing a goaltending violation. On a 10-foot rim.
As for that vaunted starting five? As a unit they have been outscored on the season. Right now the minimum-wage serfs are carrying the Nets. The glass-half-full take is that they'll start crushing once the starters get into a groove; the more negative one is that the bench guys are almost certain to cool off.
As for the Celtics, we went down this road with them last season so we'll tread carefully this time. But it was a bad performance on multiple levels, one that takes them to just 8-7 against an easy 15-game opening slate of schedule.
The Celtics were already likely cooked, trailing by 16 points late in the second quarter after yet another highly unlikely event -- a contested Reggie Evans rainbow jumper from the right elbow -- when guard Rajon Rondo escalated matters by taking exception to a Kris Humphries after-the-whistle love tap on Kevin Garnett. Rondo became tangled with Humphries, pushed him behind the stanchion and into the crowd, and threw at least one punch, which only makes matters worse for Boston: Not only was he ejected, but given his rap sheet with the league office he's likely facing a multigame suspension.
The only silver lining for Boston is the end of Rajon Rondo's streak of 10-assist games at 37, one that had seen him blatantly ignoring easy baskets in order to get his assist fix. On this night that included passing up a layup to kick out to a confused Jason Collins at the top of the key, but Rondo had only three dimes before he was asked to leave the premises. With the streak over, one hopes he'll refocus his efforts on making the right play instead of passing backward on fast breaks and other such assist-padding silliness.
But Boston has far greater worries. Coach Doc Rivers went off on his own team afterward, saying "we're a soft team right now; we have no toughness. And that stuff's not toughness."
Boston's bench again let it down, but the starters were nothing to write home about either -- even before the dust-up, Rondo had given a low-wattage performance that included not crossing half court on one defensive possession until the shot-clock was at 14. Even Garnett's excellence was a bit muted on this night.
Sum up all these improbably events, and the Atlantic Division race seems upside down too. The Celtics, thought to be the hunted, are now the hunters, trailing the Nets and Knicks by a little in the standings and by an increasingly large margin in quality of play. And Brooklyn? In their first season in the new digs, these Nets are showing that there's plenty of mettle and toughness behind all that expensive glitz.