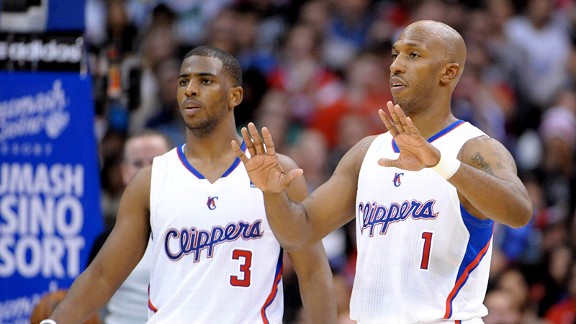 Kirby Lee/US Presswire
Chris Paul welcomed the return of Chauncey Billups, whose steadying influence delivered a win.LOS ANGELES -- The Los Angeles Clippers got Chauncey Billups back. They got an addition to the W column after nothing but L's in their previous four games. The only thing they didn't restore is their mojo, their "it" factor, their style of play that had people ready to place them among the league's elite.
It will take more than one field goal from Billups and a 101-95 victory at home against the Minnesota Timberwolves to earn that label. Great teams don't lose four games in a row in the first place, just as great teams don't watch one opponent grab four consecutive offensive rebounds in a single sequence.
Both the losing streak and that play, when Minnesota's Malcolm Lee took rebound after rebound while the Clippers observed like election day volunteers, speak to a lack of resolve on this team. Billups' long-awaited return from the torn left Achilles' tendon he suffered on Feb. 6 gave them another wise veteran on the court, and not unimportantly a guy who can make nearly every free throw he takes. But he won't solve the team's defensive issues or the type of effort under the boards that led to Minnesota outrebounding them 52-35 Wednesday night.
Billups provided only seven points, making his first 3-pointer and then getting the rest from the free throw line. If nothing else, his mere presence serves as a reminder of the effort he put forth to get back on the court, and of the reasons he wanted to be with this team again. Perhaps that can reignite the pilot light that blew out.
"I still know that I have a burning desire to win," Billups said. "Being here with these guys, I feel like we're close to that."
"That" is the feeling he experienced winning a championship with the Detroit Pistons in 2004. There are moments when it doesn't seem so farfetched with this group, particularly because they match up so well with the Oklahoma City Thunder and Miami Heat. And then there are the losses to Cleveland and Golden State and New Orleans, and the two quarters they lost to the Timberwolves on Wednesday night.
The good Clippers can get buried. It just might take the wisdom of Billups to excavate them. He's kind of like The Wolf in "Pulp Fiction," with his way of stating the obvious and making it seem profound.
"Obviously it doesn't happen overnight, so getting back out of that is not going to happen overnight," Billups said. "You've got to play yourself out of it. It's not just snap your finger and now we're back playing great. You've got to play yourself out of that. You've got to practice good habits, you've got to do other things to just slowly start to turn the corner."
Perhaps they turned it when DeAndre Jordan grabbed Billups' missed shot, then dropped a bounce pass to Blake Griffin for a dunk that put the Clippers ahead by five with three minutes to play and finally made it seem as though they had control of the game.
Those are winning plays. An offensive rebound of their own rather than the 21 -- yes, 21 -- they allowed to the Timberwolves. They also seem to have come to the realization that sitting back and watching their reserves carry them to victory, which happened several times as they won eight of their first 10 games, can provide a false sense of security. Bench players tend not to do as well on the road, and bench superiority matters less in the playoffs, when starters play more of the minutes.
The Clippers' strong bench could even become a detriment. Billups' return meant multiple adjustments, from Chris Paul's son having to vacate his seat next to his dad in the postgame interview room to Willie Green remaining affixed to the bench the entire game after starting the first 14 games. Eric Bledsoe played only 14 minutes. And there will be even more shuffling when Grant Hill is ready to play, presumably next month. Players inside the locker room and around the league have wondered how coach Vinny Del Negro will manage to keep everyone happy.
Those who do play need to remember what constitutes a good basketball team.
"We kind of sometimes get too spread out and worry too much individually instead of playing together and getting after it," Griffin said. "And we can't always rely on our second team like we did in that stretch. They did an unbelievable job for us. It was great to see us pull it together and get that win, but we still have to do a much better job of anchoring down on defense."
Del Negro said, "We're going to stay the process, we're going to stay moving forward, staying together and I want this team to continue to build, and we'll get better results if we have that mentality. If we don't stay together and we let all the outside influences affect us, then our work ethic becomes poor and we don't have the chance to be the team I think we can be."
There is still a chasm to be covered, the gulf between what they and the people who watch them imagine, and the team that's playing on a regular basis.