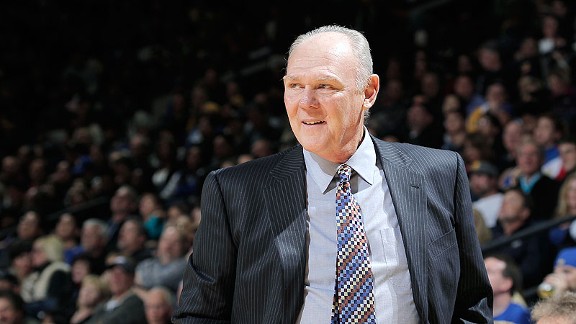 Rocky Widner/NBAE via Getty Images
George Karl: The Enforcer of Freedom (or The Ol' Ball Coach).
Name: George Karl
Birthdate: May 12, 1951
Is he an emotional leader or a tactician?
Karl's tactics require so much passion to properly execute that it's difficult to distinguish what he does strategically from his motivational leadership. Karl preaches the gospel of fast basketball and wants his players to constantly push the pace and attack the rim with the dribble, while also moving the ball as rapidly as possible. A lot of players would say that's how they like to play, but it takes excellent conditioning and tons of work to actually pull it off possession after possession. Karl doesn't like to "coach effort" and often butts heads with players he feels don't prepare to give it their all. He is not a strict tactician on defense, either, and uses loose principles (example: always push pick-and-rolls away from the middle of the court) bolstered by maximum effort. To Karl, it's more important for his players to give "multiple contests" on defense than to be in perfect position at all times.
Is he intense or a "go along, get along" type?
In his younger days, Karl earned the nickname "Furious George," which tells you something about his prickly demeanor, and he has been known to blast his players in the media. But after going through an unspeakably brutal cancer treatment and living a healthier life (Karl is much more trim than he was a decade ago), he seems to have mellowed a bit. Still, he's no teddy bear, and players will see a rapid decline in minutes if he feels they are not playing with passion and trust. "Respect the game" is one of his favorite phrases.
Does he rely on systems, or does he coach ad hoc to his personnel?
Karl's philosophy, dubbed "Random Basketball," is really an ad hoc system. There aren't intricate rules, per se, but there are fixed guidelines and easily understood goals. Karl wants 30 free throws, 30 layups and 30 assists every game, which reflects his core beliefs in ball movement, pushing the ball quickly up court and driving to the rim. The only real restrictions on offense: Don't hold the ball and don't take 2-point jump shots. That system works for the young, fast team he has in Denver. Last season, the Nuggets led the league in layups, took the fewest long 2s, and were second in free throw rate. As a result, they had the league's best offense.
In Seattle, Karl was known as a defensive-minded coach, and with Milwaukee he was sometimes criticized for being too focused on offense. The various perceptions of him and his teams speak to his impressive adaptability. He has a talent for developing players and finding ways to get the most out of a player; thus, his teams are defined by the types of players he has.
Does he share decision-making with star players, or is he The Decider?
He isn't Gregg Popovich, who treats some of his players like assistant coaches. But Karl does consult players regularly in walk-throughs -- going so far as to have them lead sections of practice -- and is known to bring one or two players to his coaching meetings. On a macro-level, he's definitely a "my way or the highway" type coach. But his system implicitly gives much of the decision-making power to his players, and especially the star players who are aggressive about finding their scoring opportunities.
More coaching profiles
Does he prefer the explosive scorer or the lockdown defender?
Karl's Sonics were nasty defensive teams, but over the course of his career he's had more outstanding offensive teams. Still, his heart will always be with players who emulate his own ethic of toughness and pride on the defensive end.
Does he prefer a set rotation, or is he more likely to use his personnel situationally?
His rotations have received some scrutiny over the years, and players who lose favor with him are hardly heard from again.
Will he trust young players in big spots, or is he more inclined to use grizzled veterans?
Karl was labeled early as a coach who doesn't play young guys. But it's hard to find major minutes for young guys on teams that are winning 55 games. In Denver, he's found ways to get his younger players in the flow. He gave Kenneth Faried substantial court time in his rookie season (partly because of injuries in the frontcourt) and is doing a good job of getting second-year man Jordan Hamilton and rookie Evan Fournier some run this season. JaVale McGee, Faried and Ty Lawson all played huge minutes in the 2012 playoffs.
Are there any unique strategies that he particularly likes?
One quirk is that, except in extreme circumstances, Karl forbids his players to shot-fake -- it's too slow! The only options are move the ball, shoot it or drive to the rim. Strangely, Karl doesn't have hard-and-fast rules for how his team guards ball screens, beyond influencing the ball away from the middle. He prefers to let individual players choose how they want to defend; for instance, Kenyon Martin would play for the switch while JaVale McGee prefers the more conventional show-and-recover. This means that big men must communicate really well when a guard is being screened, and that Denver's opponents are constantly getting different looks from the Nuggets' defense.
What were his characteristics as a player?
A nasty, hard-nosed player, Karl was a part of successful teams at the University of North Carolina and is still revered as a fan favorite for his hustle and grittiness. In the NBA, he was mostly a defense-oriented guard defined by his toughness and strength. Karl played professionally for five seasons before moving to the Spurs' bench as an assistant.
Which coaches did he play for?
Dean Smith, North Carolina (college); Tom Nissalke, San Antonio; Bob Bass, San Antonio; Doug Moe, San Antonio.
What is his coaching pedigree?
Smith and Moe both had a profound impact on Karl's coaching philosophies and his path in basketball. All three are North Carolina men, and all emphasized playing fast with rapid ball movement. "Random Basketball" is a direct descendant of Moe's run-and-gun style that Karl was first exposed to as a player in San Antonio.
If basketball didn't exist, what might he be doing?
Karl would be a progressive urban planner, designing flexible systems to keep the traffic moving and improve quality of life.
---
The spirit of the 1984 Bill James Baseball Abstract was summoned for this project.