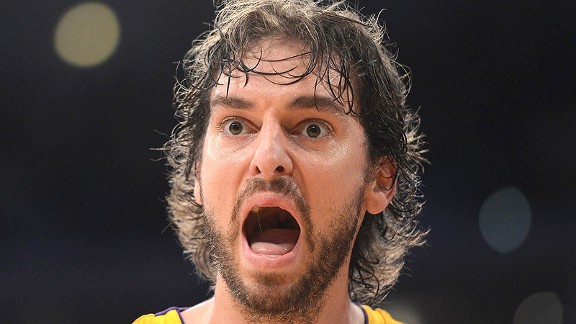 Harry How/NBAE/Getty Images
Pau Gasol is calling for the ball in the post. Will Mike D'Antoni answer?
Last Friday in Memphis, two-time NBA champion Pau Gasol found himself banished to the bench for the entire fourth quarter. Gasol was struggling to find good looks at the basket (and wasn't successful at hitting those he found), and at the moment down the stretch when he would've normally trotted over to the scorer's table to check in for reserve Antawn Jamison, Lakers coach Mike D'Antoni never called Gasol's number.
After the game, Gasol expressed his frustration, not so much with D'Antoni's decision to stick with Jamison, who was playing well on the offensive end. Gasol was disheartened by the lack of touches he was getting in the post, where he's most comfortable operating:
All my looks are jump shots ... I would like to see something closer to the basket and not just rolling, especially when Dwight is there. But we'll see. We'll figure it out. We're just starting, pretty much.

... I'm not a pure jump-shooter ... I can stretch the defense out and make a couple jumpers. But how I get going is by getting in the paint and creating off the post, things like that. That's historically how I've been really successful and made a really good name for myself and earned my contracts. But hopefully I'll find a way and we'll find a way to get me a few opportunities there and get myself going in that way and be more effective.
Gasol's claim is correct: He is seeing fewer post-up opportunities this season. According to ESPN Stats & Analysis, only 15.3 percent of Gasol's possessions under D'Antoni can be classified as post-ups. During the four seasons of the Phil Jackson era, Gasol was used in the post on 38 percent of his plays.
There are several explanations for this, most prominently the introduction of Dwight Howard to the Lakers' offense. Gasol is also battling tendinitis in his knee, and that makes the physical nature of battling NBA post defenders much hairier.
All that aside, there's a primary factor dictating why Gasol is spending less time on the block, and that's D'Antoni's devotion to a system that doesn't take kindly to traditional post play.
Gasol isn't the first player to find that his perceived strengths don't have a rightful place in D'Antoni's strategy. In "Seven Seconds or Less," Jack McCallum's entertaining and insightful chronicle of the Phoenix Suns' 2005-06 campaign, Shawn Marion frequently finds himself grappling with his role in D'Antoni's system:
Marion desperately wants to be known as a "3," a small forward, generally the most athletic player on a team, rather than a "4," a power forward, generally a bigger and slower player. What the coaches want to communicate to Marion is that going against bigger players, filling the power forward spot, is precisely what has made him an All-Star. He can use his speed, quickness, and leaping ability to leave other fours in the dust, whereas, against the typical small forward, some of his athleticism would be negated.
Marion's beef and Gasol's are dissimilar on the surface. While Marion had a problem with his position (though positions tend to be somewhat irrelevant in a D'Antoni offense), Gasol is more concerned about where he's being situated on the floor and the kinds of shots that materialize for him within the flow of the offense. But on a macro level, Marion then and Gasol now are lodging the same complaint: They're not being used in ways they're accustomed to, and that's hampering their game.
D'Antoni has conceded that Gasol isn't a natural fit in the system, but he recently told ESPN Radio's Colin Cowherd that much of the onus is on him to solve this riddle:
I just don't see how a player as smart as he is, as talented as he is, as big as he is, doesn't fit into anybody's scheme. Then I've got to re-examine myself and think, 'I can't play with Pau Gasol?' C'mon. He's won two championships. I gotta rethink what I'm doing.
Although D'Antoni might never admit it, running a 3-2 half-court offense, stationing two big men near the basket, then dumping the ball into one of them is heresy. That violates everything D'Antoni's offense is about: finding early shot opportunities, keeping the middle open for drivers and cutters, stretching the defense to the margins of the floor and running to spots before the defense can get set. D'Antoni needs players who abide by this philosophy and trust the spacing, and those who don't are often marginalized.
If Gasol wants more than 18-foot jumpers, he'll need to be the first guy to run out on defensive stops, just as Amare Stoudemire and Boris Diaw (!) did in Phoenix. That's how you create a mismatch against a guard who is back to stop the ball. Gasol will have to set early drag screens, then dive like hell to the rim. D'Antoni will also need to find ways to compromise that don't violate the integrity of his system. That means employing more misdirection by using Howard or Bryant to sneak Gasol inside, and designing a couple of sets that allow Gasol to cut, post and go in the first 10 seconds of the possession before the offense stagnates in the half court
It's not going to be easy, either for D'Antoni or for Gasol. D'Antoni is more of an abstract artist than an architect. The latter can make adjustments to the blueprint with a pink eraser, but an artist working off feel doesn't always have easy solutions within his reach. "Rethinking," a process D'Antoni has pledged to undertake, is tough when you've built success on orthodoxy.