Russ Isabella/US Presswire
Damian Lillard is one of the early favorites for Rookie of the Year.Damian Lillard came out of a school not known for basketball greatness in Weber State. Prior to Lillard, no player out of Weber had ever averaged over 6.5 PPG or 1.7 APG in their NBA career. Lillard, through 16 games, is averaging 18.4 PPG and 5.9 APG for the Portland Trail Blazers.
Although Lillard will almost assuredly be the best player ever to come out of Weber State, he should be setting his career goals to the heights of other great point guards to come out of his hometown: Oakland, California.
Oakland's finest
First 16 Games of NBA Career
Lillard starred at Oakland High School a couple of decades after two Bay Area legends patrolled high-school courts: Jason Kidd at Saint Joseph of Notre Dame HS in Alameda and Gary Payton at Skyline HS in Oakland. Lillard actually started high school at Kidd's alma mater before transferring.
So far in his career, Lillard has proven to be a better scorer than either Payton or Kidd were as rookies – averaging nearly 10 more points per game 16 games into his career.
Pure shooter
Damian Lillard Shooting By Distance
This Season
A big reason for Lillard's success has been his outside shot. He's shooting 51 percent from 15-24 feet and 37 percent from outside of 25 feet – both above the league average this season.
Last season for Weber State, Lillard did a lot of his damage on 3-pointers, making nearly three per game while shooting 41 percent from that range. The adjustment to the NBA 3-point line hasn't hurt his production from deep much. He's making two-and-a-half 3-pointers per game and connecting on 40 percent of them.
Good value
The Trail Blazers average 102 points per 100 possessions with Lillard on the court as opposed to 97 per 100 possessions without him.
Lillard has already established himself as one of the most valuable point guards in the league this season. In terms of the 'Value Added' metric, Lillard is one of the top 10 most valuable point guards in the league this season.
Value Added is the estimated number of points a player adds to a team's season total above what a 'replacement player' (for instance, the 12th man on the roster) would produce.
If Lillard continues this pace as an impressive scoring point guard, he'll quickly join the conversation as one of the top young floor generals in the league. Mike Conley is the only point guard averaging at least 15 points and five assists per game with a higher 3-point percentage this season than Lillard.
It's been a while since Portland has had a point guard like Lillard. The last time a Trail Blazer averaged 15 points and five assists while shooting 40 percent from 3-point land? Terry Porter in 1992-93.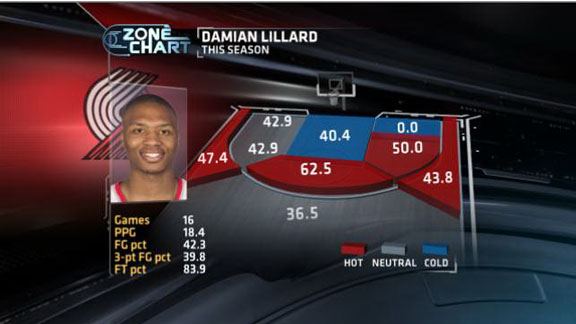 ESPN Stats & Information