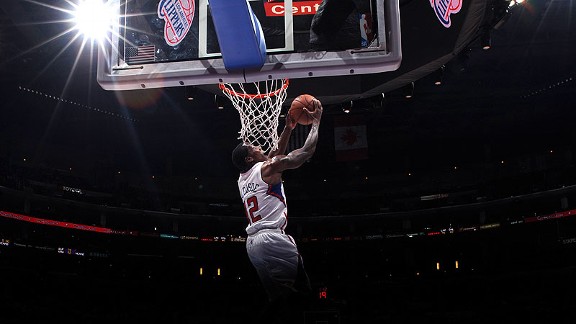 Andrew D. Bernstein/NBAE/Getty Images
Eric Bledsoe: Out of the shadows and into the spotlight.
Watching Eric Bledsoe warm up on the Staples Center floor an hour before tipoff is an underwhelming experience. Bledsoe isn't phoning it in or disengaged as he's fed pass after pass to launch shot after shot from midrange. It's just that the exercise is so repetitive and orderly, he might as well be icing a hundred cupcakes.
The full effect of Bledsoe can be experienced only when the clock's running, because Bledsoe is fueled by live basketball -- the super-animated stuff we see in the NBA. Most players expend energy when they're asked to chase people around and sprint the floor and collide with enormous bodies and leap every five seconds for one reason or another and occasionally land awkwardly on thick wood or men holding large cameras, but not Bledsoe. He actually gets stronger, faster and more lethal as he chews up the court at warp speed.
As a result of this peculiar immunity, Bledsoe has become the NBA's newest cult hero, the kind of player who causes viewers to talk at their LCDs and to insist that non-fans in the house come into the room to witness this pure testimony to basketball.
Bledsoe didn't come into the league with much fanfare. He was the other guard on Kentucky's young, talented 2009-10 squad led by John Wall, the No. 1 pick in the 2010 draft, and faced a familiar rap -- not pointy enough to succeed at the 1, but without the shot or size to play the 2. Off the floor, Bledsoe had little of Wall's charisma and what's called "makeup" in draftspeak.
On draft night, Bledsoe was plucked at No. 18, just behind Luke Babbitt and Kevin Seraphin. Clippers management, preparing for life after Baron Davis, ranked Bledsoe in their top 10, and dealt a protected future first-round pick to Oklahoma City for Bledsoe's rights. That pick was conveyed to Boston last June and became Fab Melo at No. 22.
Bledsoe was raw during his first season, and injured for a good portion of his second. When he saw floor time, Bledsoe was a frenetic blur and his ball hawking showed up in the Clippers' numbers, where a below-average defensive team was 8.5 points stingier per 100 possessions with Bledsoe on the court.
For many, the introduction to Bledsoe came during the Clippers' first-round playoff series with Memphis last spring. Stuff like this is routine for Bledsoe now, but the Memphis series was the first time most NBA fans saw a 6-foot-1 guard block a 6-foot-10 big man at the rim. Bledsoe also tortured Mike Conley, who posted a plus-48 with Bledsoe on the bench, but a minus-34 when Bledsoe was on the court over the seven games.
There are few better ways to obtain cult status than to be denied rightful playing time. The #Free hashtag begins to surface before a player's name, as it did in that series for Bledsoe, who played seven and six minutes respectively in the Clippers' Game 2 and Game 5 losses. With Randy Foye struggling on both ends and Bledsoe's influence obvious, what started out as a clarion call became a full-fledged campaign for Bledsoe among fans as well as management, which fed the coaching staff the numbers.
Seven months later, Bledsoe has a devoted, even fanatical following. He's the rare NBA player who is a darling to both statheads who value data and basketball mystics who live for the improbable. The overlap between "daredevilish" and "efficient" in the NBA Venn Diagram is a small space, but Bledsoe resides there -- and his niche appeal is becoming something much larger.
Teammates nicknamed Bledsoe "Mini LeBron" and Chris Paul's father calls him "Little Hercules," though the best prototype for Bledsoe might be Dwyane Wade, a relentless, slashing attacker who leverages his strength to exploit his quickness, and vice versa.
Like Wade, Bledsoe takes a ton of chances on both ends of the floor, but has both the instincts and athleticism to offset that risk. Gamble in the passing lane, but come up empty? No worries, because Bledsoe can recover, even if it means absorbing a bump or three in traffic as he races to catch up with his man at the rack. If Bledsoe's bet is successful -- and nobody in the NBA has had more success this season -- then it pays out.
Fans love risk-takers because risk produces uncertainty, and uncertainty produces suspense and suspense is why we tune in to games, follow a good drama series and tolerate electoral politics.
But NBA coaches aren't fans. They're men who want to know what they're going to get from a ballplayer, and they're slow to trust someone whose game precipitates unpredictability. If a coach has conventional sensibilities about the NBA game, then he probably wants his perimeter players to be able to stretch the floor with the threat of a long-range shot.
Bledsoe offers Vinny Del Negro -- or any coach he plays for -- none of that comfort. As part of a backcourt already populated by Chris Paul, Jamal Crawford, Chauncey Billups (when healthy) and Willie Green (when Billups isn't), Bledsoe is averaging only 18.6 minutes per game, despite excelling in whatever metric you want to look at -- basic per minutes stats, Player Efficiency Rating (PER), plus-minus, offensive and defensive rating per 100 possessions, win shares per 48 minutes, etc.
Del Negro has a lot of mouths to feed on the league's deepest roster, and it's not as if the current rotation isn't working. The Clippers enter Tuesday night's game at Chicago at 14-6, and rarely field a lineup that's given up more points than it has allowed this season. Increasingly over the past week, the starters have played as an intact unit, as have the reserves, including Bledsoe. There's a certain symmetry to the substitution patterns, which is probably helpful in a locker room where individual expectations with regard to minutes have to be tempered.
Necessity is the mother of invention, and a .700 winning percentage tends to solidify patterns, not upend them. The Clippers are going to win a lot of games this season whether Bledsoe plays 14, 18, 24 or 30 minutes. Del Negro isn't looking for excuses to take minutes away from a veteran and hand them to Bledsoe. But if Del Negro wants a reason, sliding some of Green's minutes to Bledsoe would undoubtedly improve the Clippers' woeful rebounding numbers. Bledsoe ranks second to only Kyle Lowry in rebounding rate among point guards (and would actually place in the top 5 among regulars at the shooting guard position, where you can find Green in the bottom quarter).
Maybe one day, an uncertain situation will call for an unknown quantity. In the meantime, Bledsoe presides as the NBA's most exciting novelty act. The scarcity of his court time lends even more appeal to his pursuit of thievery, mid-air suspension, driving jams and the chaos that invariably triggers those outbursts of spontaneity -- moments more conducive to risk than control.