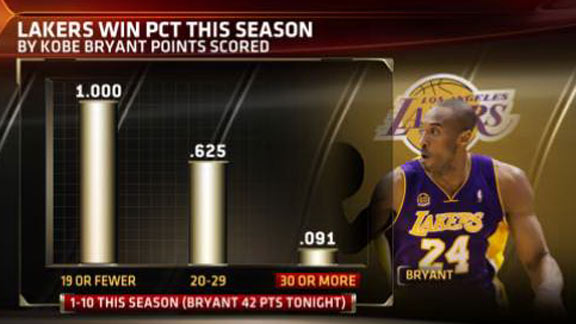 US Presswire
The Lakers fall to 1-10 this season when Kobe Bryant scores 30 or more points.
The Cleveland Cavaliers beat the Los Angeles Lakers 100-94, their seventh win in their past eight home meetings with the purple and gold. The Lakers have lost five of their past six games and fall to 9-13 this season, their worst start since the 2002-03 season. That team was eliminated in the second round of the Western Conference playoffs.
It's the first time the Lakers have been four games under .500 since the end of the 2004-05 season. That team finished 34-48 and is the only Lakers team to miss the playoffs in the past 18 seasons. Phil Jackson returned to coach the team the following season.
The Lakers trailed by 15 at halftime, their largest halftime deficit of the season and their largest in a game against the Cavs in the past 15 seasons.
Kobe Bryant scored a season-high 42 points, his 115th career 40-point game, the most among active players and third-most all-time. It's his third 40-point game this season -- the rest of the NBA has four such games combined, including Carmelo Anthony's 45-point outburst tonight, which tied the NBA season-high for scoring.
But as you can see in the graphic above, more points for Bryant don't equate to wins this season. The Lakers are 1-10 this season when Bryant scores 30 or more, and have lost eight such games in a row.
Lakers on Tuesday vs Cavaliers
Bryant and Dwight Howard put up monster numbers, but the rest of the team didn't offer enough support. That duo scored nearly 65 percent of the team's points and made more than twice as many free throws as the rest of the team even attempted.
Howard notched his 60th career 20-rebound game, the most among active players (Marcus Camby is next with 44).
The Lakers fall to 4-8 sine Mike D'Antoni took over as head coach, tied for the fourth-worst start for any coach in franchise history. The bad news is that none of the other four coaches who started their Lakers career 4-8 or worse were still coaching the team the following season.
THE CLASS OF L.A.
L.A. Teams This Season
Making matters worse, the Clippers -- the Lakers' crosstown rivals -- won their seventh straight game Tuesday night. That's their longest winning streak since they won eight straight in the 1991-92 season. That leaves the Charlotte Bobcats -- in just their ninth season in existence -- as the only team without a seven-game win streak in the past 20 seasons.