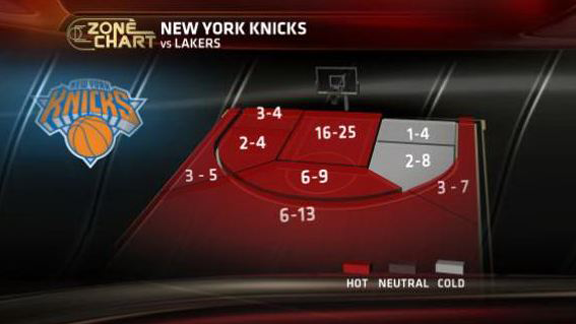 The Knicks were red hot from the field on Thursday.
The way the New York Knicks shot the ball early in their win over the Los Angeles Lakers, it looked like they might score 200 points by the time the night was done.
They came up a little short, but still scored another impressive win.
Here's a look at our best notes to know from this contest.
1-- Carmelo Anthony scored 30 points in 23 minutes before departing with a sprained ankle. Along the way, he had a career-high 22 first-quarter points.
Knicks with Carmelo Anthony
Thursday vs Lakers
Anthony became the first player to finish with 30 points in 23 minutes or less Jalen Rose did so for the Toronto Raptors against the New York Knicks in 2005-2006 and the first starter to do so since David Robinson for the San Antonio Spurs against the Vancouver Grizzlies in 1995.
2-- Anthony is averaging 10.3 points in the first quarter of games this season. No one in the NBA is even close to that. Brook Lopez and Kevin Love now rank second at 7.6 points per game, just ahead of Kobe Bryant and James Harden (7.3).
3-- Speaking of Bryant, yet again, he scored 30 or more points for the Lakers, and the Lakers lost. The Lakers are 1-11 this season when Bryant scores at least 30 points.
The Elias Sports Bureau provided the stat of all stats on that one.
Only once before could a team say they were 1-11 the first 12 times a player scored 30 or more points for them in a season. That team was the 1972-73 Portland Trail Blazers.
The player: Future team executive Geoff Petrie.
Win Pct when Bryant Scores 30
Last 6 Seasons
Bryant still has the upper hand on Anthony in head-to-head matchups. He's been on the winning team in 23 of their 35 regular-season/postseason meetings.
4-- Jason Kidd still has a little left to his game on the defensive side. Kidd guarded Bryant the most of any Knicks player.
Bryant managed 16 points on 6-for-13 shooting against Kidd, but committed four of his five turnovers with Kidd guarding him.
5-- The Knicks were able to take advantage of the Lakers on the fast break. They scored 16 fast-break points for the game, including 13 in the first half. The Knicks entered the game ranked last in the NBA with 8.6 fast-break points per game.
For the game, the Knicks were 9-for-11 in transition, including 6-for-7 from 3-point range.
6-- The Knicks have beaten the Lakers in each of their last two meetings.
The last time they won consecutive regular-season games against the Lakers was in 2007. Looking ahead to their Christmas Day rematch, they haven't won more than two straight against the Lakers since a seven-game streak from 1993 to 1995.