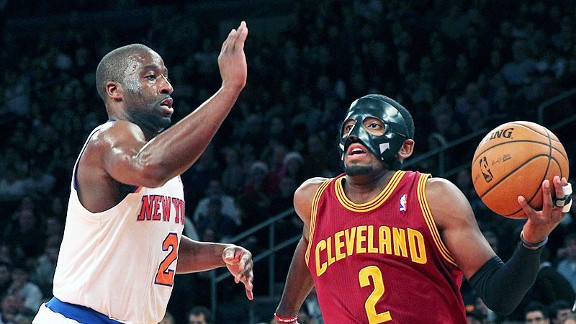 Anthony Gruppuso/USA TODAY Sports
Donning a mask to protect his broken jaw, Kyrie Irving unleashed a career-best performance.NEW YORK -- This week Kyrie Irving (1) won a duel with Kobe Bryant after an back-and-forth battle in the fourth quarter, (2) scored a career-high 41 points at Madison Square Garden, 17 of them by showing shooting, driving and dribbling wizardry in the fourth quarter, and (3) cracked a bone in his jaw after a hard landing.
This is the Irving experience.
The Cleveland Cavaliers' prized franchise player continues to show all the signs of being the future of the point guard position in the league. He just has to be able to stay healthy enough to allow it to happen.
The New York Knicks escaped Irving's one-man Garden show Saturday night when Anderson Varejao – a career 62 percent free throw shooter who happens to be making 77 percent this season – missed a free one with one second left. The final was 103-102, and the Knicks improved to 10-0 at home.
Irving has played just 64 games in his career. He played 11 games in college. Which means in the past three years combined he has still played less than a full NBA season. Since July, he has suffered three small fractures: one his hand, one in his finger and now one in his face. He missed games last season with a shoulder injury and a concussion. In college at Duke he had a toe injury that cost him the majority of his only season.
This is a topic that is the most sensitive in Cleveland since a certain former player's free agency. The Cavs, fully invested in Irving as the future of their team, redden when the subject of Irving's fragility is broached.
"I don't see him, as most people say, as being injury prone or anything like that," Cavs coach Byron Scott said. "It's not a concern for me."
Irving is already one of the best dribblers in the game: His ability to change direction and speed is beyond his years. He's also adept at finishing in traffic around the rim. He's always been a good shooter and this season is at 40 percent from 3-point range. His performance in clutch situations is better, at least statistically, than those of LeBron James, Kobe Bryant or Carmelo Anthony.
On this topic, the Cavs' chests broaden.
"That kid has a bright future," said Knicks guard Raymond Felton, who had 25 points Saturday but was reduced to a sideshow. "I think he's one of the best point guards in the league, and he's still young and going to get better."
The Knicks are the East's best team at the moment but were playing without Anthony, who has an ankle injury. This meant Irving was the best man on the floor. Had the game gone to overtime, the Cavs and Irving had the advantage. This is why many believe that within a year or so, Irving will be considered one of the league's 10 best players. Already, he appears to be the best guard to enter the NBA since Derrick Rose.
The Cavs were down eight points with three minutes remaining, playing their fourth game in five nights. Irving didn't arrive in New York until late afternoon Saturday because he had to wait to be fitted for a mask after cracking his jaw. He was playing on four hours' sleep. And in those last three minutes, he had 10 points, two assists and a steal. He did it with the sort of All-Star aplomb that usually is reserved for polished veterans.
"It was incredible," Knicks guard Jason Kidd said. "He was so under control, he never forces anything. None of his points were in a hurry or from taking bad shots. He's the future."
This was no fluke. Last season, Irving was far and away the league's best performer in so-called "clutch" situations. In the last five minutes with the score within five points, Irving was the NBA's leading scorer, shot 55 percent from the field, 67 percent from 3, 89 percent at the line. He turned 20 in March.
Irving struggles at times on defense. He has inconsistent energy at times. Like all young guards, he is sometimes turnover prone. His supporting cast is either young, suspect or young and suspect. But all these items can and should be fixed over time.
The only thing that might slow this young budding star are these injuries, the string becoming harder to blame on "flukes." Irving broke his hand slapping a wall last summer. He fractured his finger when he was going for a steal and jammed it into a shoe. He plays a style, attacking the rim with aggression and ease, that will continue to create all manner of contact.
"No, I'm not going to change my game," Irving said. "Playing that way has gotten me this far; I'm going to continue to play that way."
The Cavs sure hope he doesn't, because he's got superstar-type talent. As long as he can stay in uniform.