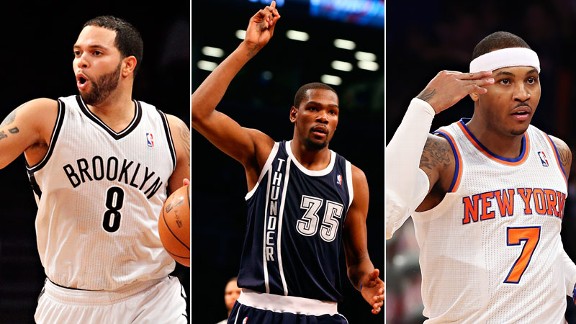 Getty Images
Working on Christmas: Deron Williams, Kevin Durant and Carmelo Anthony.
A third of the NBA will be in action on Christmas Day, as fans will be treated to 14 consecutive hours of basketball featuring the league's top four teams and seven leading scorers. For those who make the Christmas quintupleheader their first real look at the NBA season, here's a handy guide to some of the league's more compelling storylines:
Can Deron Williams lead Brooklyn where it wants to go?

Deron Williams isn't wrong when he says that the Brooklyn Nets run nothing as fluid as the flex offense he guided as the Jazz's point guard. But Brooklyn's roster isn't endowed with the collective skill set those Utah teams had, and the absence of an orderly system doesn't explain why Williams has taken 241 shots outside the paint, for a terrible 40.7 effective field goal percentage.
Williams might argue that a good number of those attempts are hand grenades he finds himself with at the end of wayward possessions, but if he truly wants the Nets to improve upon their 11th-ranked offense, Williams will have to create his own flow. With some prompting from Williams, Gerald Wallace could make some devastating flex cuts, and Joe Johnson can space, post and pass better than any wing Williams ever had in Salt Lake City.
Williams has real assets in Brooklyn, and a point guard with his talent shouldn't need an orthodox system to play systematic basketball.
Can the Boston Celtics re-establish their defensive bite?

Boston hasn't had a top-10 offense since 2008-09, but its elite defense has kept it in the conversation every spring. The Celtics are still loading up on the ball handler while zoning up the weak side. And they're still stymieing high ball screens at the point of attack while asking rotating defenders to take away everything but sketchy corner passes and long 2-pointers for guys who have no business shooting them.
This season, offenses are having an easier time generating open looks. When you watch the film, the incriminating evidence isn't glaring. This is still a comparatively efficient defense (11th overall) practicing those same principles, and the familiar cycle of movements is there, but point guards whom the Celtics used to send to remote outposts on the floor are finding their way to the middle. That old Celtics swarm doesn't cause the same disruption it once did, which means offenses have more available options on the floor.
Defensive systems take time to master, and it's possible everyone will achieve the level of fluency necessary. The Celtics should hope so, because the team's margin for improvement probably lies on that end of the floor.
Are the New York Knicks for real?

This is the single biggest conversation starter heading into Christmas Day for casual NBA fans, League Pass junkies, NBA players, coaches and execs alike -- and trying to solve the mystery will trigger a whole series of associated questions:
Has Anthony's game undergone a profound evolution at the power forward slot, or is the uptick in production largely attributable to eight weeks of hot, but unsustainable shooting? How do you integrate Amar'e Stoudemire back into the rotation after the team forged a strong identity without him? And if your plan is to confine him to a much smaller role, how exactly do you break that to him without the risk of killing the good vibe around the team? Is the defense (ranked 17th) strong enough around Tyson Chandler for the Knicks to have championship expectations?
When the Knicks were horrendous, there was a school of opinion that said the NBA would be much more interesting if New York had a relevant NBA team. Those in that camp were correct.
How close are the Los Angeles Lakers to a breakthrough?

The Lakers now have their four stars on the floor together for the first time since October. Let's say they hold their home court against the Knicks on Tuesday. And let's say Dwight Howard continues to build strength, as does the defense. And the offense, already ranked fifth in efficiency, starts operating as the lethal machine it was designed to be. And the wins start to pile up.
That's an entirely conceivable chain of events, but it's no lock, either. The Lakers still feature a core of players who like to work with the basketball operating in a system that prefers they pass or shoot instantly. Success will require some compromise, but any offensive philosophical differences will likely resolve themselves -- there's too much talent. The Lakers' prospects hinge primarily on a willingness to play defense. Howard didn't have any perimeter stoppers in front of him in Orlando, but anchored a top defensive unit. The Lakers can play that brand of defense if Howard is up to the task, the other starters and the coaching staff apply their wits, and the second unit makes guarding opponents its mission.
If those scenarios shake out and the Lakers are playing some of the best basketball in the league headed into the All-Star break, does the early-season turmoil get summarily dismissed as old news?
How many different ways can Kevin Durant score?

It's unlikely this Oklahoma City Thunder team will ever develop a brand-name offense, but when Kevin Durant is as dialed in as he has been this season, structure seems almost quaint.
High-usage wing players like Durant are not supposed to post true shooting percentages in the 65 range. Michael Jordan exceeded 60 percent four times and Larry Bird topped the 60 percent mark twice, but both maxed out around 61 percent. And LeBron James' career-high mark of 60.5 percent came last season.
Durant this season? 65.4 percent.
He quietly has become one of the most brutal post assignments in the game from either side of the floor. He's getting more separation than ever on curls and pin-downs, working in some sneaky misdirection like a wide receiver running a route. When he's off the ball, he's looking more than ever to slip beneath the defense for easy feeds at the rim. And he's drawing more contact than ever off the dribble.
Durant has never displayed anything but maximum effort on the floor, but did close proximity to a title this past June ignite something more visceral in his game?
Do the Miami Heat have anything serious to be concerned about?

Size up front? As NBA worries go, that's so retrograde. Nobody cares anymore if the heaviest guy in the rotation is 6-foot-8 and 250 pounds, least of all the Heat, who won a title in June flouting convention.
The defense was another story as recently as a few weeks ago, when narcolepsy was the Heat's preferred defensive strategy in the half court. Were the issues systemic or did Erik Spoelstra just need to shuffle the rotation?
Shane Battier returned from injury and Joel Anthony returned from exile just as the Heat were being embarrassed on their home floor by the Knicks. In the seven games since -- the only seven games both Battier and Anthony logged double-digit minutes -- the Heat have posted a defensive efficiency rating of 96.0. Only Indiana's top-ranked defense has been better over the course of the season (95.7).
There are other factors at work, of course. The Heat are a high-risk, high-reward defensive outfit with a license to gamble, but guys were abusing the privilege and calculating risk without care. Now, James and Dwyane Wade are locked in, and that string the Heat are so fond of referencing as the connective tissue of their defense is taut once again.
Are the Houston Rockets figuring things out?

So this is what it's like to have a pure playmaker at the top of the floor who can get a shot off against constant pressure anywhere between the rim and 26 feet?
How strong has James Harden been in this regard? Of the Rockets' top eight in minutes played, he's the only one whose player efficiency rating is above league average, yet the Rockets come into Christmas Day with the league's seventh-ranked offense.
There's little magic to the Rockets' offensive formula. The priorities, in descending order, are as follows: (1-2-3) transition; (4) quick-hitters for Harden if he can find a modicum of space off a drag screen, or for others if Harden can leverage the attention of the defense; (5) a more deliberate high pick-and-roll for Jeremy Lin, and by deliberate we mean with 15 seconds on the shot clock rather than 19; (6) fast, easy ways to free up shooters -- flare screens courtesy of Omer Asik, or pin-downs set by little guys for big guys who can shoot.
Next item on the agenda: Protecting the basket area and picking up shooters early -- two hazards of playing at a breakneck pace the Rockets haven't yet figured out.
Can the Chicago Bulls manufacture enough offense?

When discussing how the Bulls try to score without Derrick Rose, manufacture is more descriptive than metaphoric. It's a laborious process being managed by diligent guys with limited skills but strong work ethics. But as a viewer, it's like watching the factory floor at a cannery.
Try as Tom Thibodeau might to create open space in the half court with cuts and constant motion, he simply has nobody on the floor who can find an easy shot in isolation or pressure a defense by bursting off a screen (let alone, driving away from one the way Rose does more artfully than anyone). Defenses never have to make any tough decisions when the ball is in the hands of Kirk Hinrich, Nate Robinson, Marco Belinelli or Jimmy Butler, and that makes every possession a grind.
On the bright side, the Bulls make life similarly difficult for everyone else, which is how a team wins nine out of 13 with the parking break on. That's the beautiful thing about an air-tight defensive system: The principles work irrespective of personnel. So if the Bulls can hang on in the meantime, and Rose can return as Rose, Chicago is going to be a nightmarish spring matchup for an Eastern Conference foe.
Will the Denver Nuggets ever have a homestand?

The most consecutive games they've played at home this season is two -- and the Nuggets have done that only once through 28 games. Are their white jerseys on back order? Is the Pepsi Center in downtown Denver undergoing chemical fumigation? Are they finally installing reliable Internet in that building, a process that requires a complete rewiring of the place?
Whatever the case, the Nuggets find themselves on someone else's floor on Christmas night. Their 15-13 record might suggest the league made a programming error, but when you consider the home-road split, the Nuggets just might be the sleeping giants in the West. When the calendar turns on New Year's Day, the Nuggets will play 15 of their next 18 games at home, where they're 8-1.
With the defense showing signs of life, Andre Iguodala gradually adapting to his more open living space and the Nuggets gobbling up their own misses at unseemly rates, this team could quietly vault itself into the upper ranks of the West simply by playing quality basketball at home.
Is Vinny Del Negro smarter than everyone?

Junkies will continue to scratch their heads when Willie Green is announced as the Clippers' starting shooting guard, and the playbook might never be put behind a glass display in Springfield, Mass., but you think the 21-6 Los Angeles Clippers care?
Del Negro's approach has been simple: a few very basic offensive precepts, plenty of freedom for Chris Paul, trust in a second unit that could probably win 48 games as a starting five and a few tried-and-true sets that maximize Blake Griffin on the left block and Paul as a prober. Most of all: manage expectations and let Paul be the guy. If that means letting him sculpt the offense or playing Green to start the first and third because Paul wants it that way, so be it. Del Negro believes that leading is often a task in deference, and he isn't about to muck things up with a heavy hand when a light touch will do.
If the defense were mushy and the Clippers were still dropping games they shouldn't, the discussion might be different. But the Clippers have established some simple coverages the young bigs have mastered, and they're rarely finding themselves in the sort of end-of-game chess matches that challenge a team's tactical prowess. The day will come when a Gregg Popovich is strolling the opposing sideline, and that will be the true test. In the interim, keep things light.