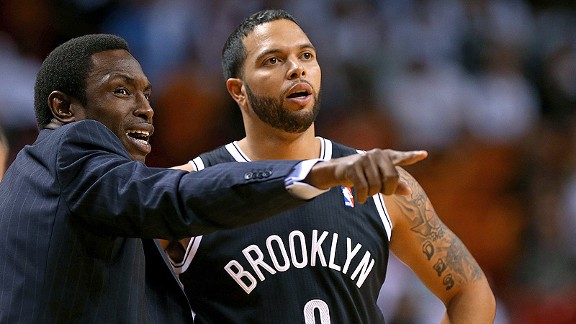 Mike Ehrmann/NBAE/Getty Images
In 28 games this season, Avery Johnson couldn't point the Nets in the right direction.
The buzzards had been circling in Brooklyn over Avery Johnson for the better part of two weeks. After finishing November at 11-4, the team has dropped to 14-14 and sits at .500 in an Eastern Conference where any team worth its salt should be winning more than it's losing. Not satisfied with their level of saltiness and with the losses piling up, the Nets dismissed head coach Avery Johnson on Thursday, with P.J. Carlesimo serving as head coach in an interim capacity.
Public expressions of discontent are among the surest signs of trouble for a head coach, and those voices had grown increasingly audible in recent days. Less than half an hour after the Nets' dispiriting loss to Boston on Christmas Day, Brett Yormark tweeted, "Nets fans deserved better today. The entire organization needs to work harder to find the solution. We will get there."
Late Wednesday night in Milwaukee, where Brooklyn, without Deron Williams, looked terrible in a 108-93 loss to the Bucks, Gerald Wallace let loose: "It seems like guys are content with the situation that we are in, and I'm f------ pissed off about us losing, especially losing the way we are losing."
While Yormack's remarks were general, and Wallace's were targeted at teammates, point guard Deron Williams was more explicit 10 days ago when he cited what he saw as flaws in the Nets' offensive schemes as the major symptom. Williams waxed nostalgic for Jerry Sloan's flex system, praising the constant motion that facilitated an easy offensive flow, a direct jab at Johnson (and one laced with irony given Williams' grouchiness in Salt Lake City). Meanwhile, Knicks guard Jason Kidd -- not exactly Avery Johnson's biggest champion in Dallas -- challenged Williams' premise: "I don't think it has anything to do with the coach ... I think it's just a matter of getting comfortable making shots."
Almost every NBA team has a degree of internal rivalries and grumbling. But the Nets aren't your average NBA team in your average NBA market with an average set of expectations. In New York, the light bulbs flash brighter, the microphones are larger, the media pricklier and the fans are always restless.
That's all true whether or not a franchise is coasting or, in the case of the Nets, has drawn up some of the most aggressive designs for organizational renovation the NBA has ever seen. Owner Mikhail Prokhorov has no qualms about the Nets sitting in tax territory for the immediate future. They handed both Deron Williams and Brook Lopez the max, absorbed Joe Johnson's enormous contract and shelled out big money for Gerald Wallace and Kris Humphries.
Big payroll aside, the optics -- and Oculus -- loom large. The Nets play in the most ambitious arena built in North America in decades, a building into which Prokhorov invested heavily. And they also have a formidable measuring stick across the East River in Manhattan. Although the Nets weren't exactly looking to take a large bite of the Knicks' market share so much as expand the base of NBA fanhood in the city, the Knicks' rosy success so far has cast an imposing shadow. Had the Knicks fallen flat, both teams could've bunked together in New York Fan and Media Jail. Instead, the Nets have the entire joint to themselves (though they share a wall with New York's pro football teams).
How much of this is Avery Johnson's fault? That depends on how much you believe player performance is dependent on coaching. If you're Avery Johnson's son, an admittedly partial source, the onus falls on the players. Soon after the firing was announced Thursday, the younger Johnson tweeted, "I'm sorry are best players couldn't make open shots. Yeah that's my dads fault totally..."
The kid has a point. Is it Johnson's fault Deron Williams has missed 166 shots outside the paint this season for a ghastly effective field goal percentage of 41 percent from that range? Is it on Johnson that Williams, while not altogether wrong about the contours of the offense, couldn't do what max point guards do -- wield his exceptional individual talent to make the system work?
In recent days, Johnson has ripped several pages from the Utah playbook, installing some tried-and-true flex actions -- baseline screens for cutters who move directly into the next off-ball screen. The results were mixed, but for all the talk about an underachieving offense -- and the Nets have most certainly failed to maximize their assets on that end of the floor -- the team has lost a lot of basketball games in December because it fields the NBA's 10th-worst defense.
When Johnson was in Dallas coaching the elite Mavericks teams of the mid-2000s, "42" was one of his mantras, as in success for his team would be measured in large part by the defense's ability to hold the opposition to a field goal percentage of less than 42 percent. Only a handful of teams are able to accomplish that more times than not, but the Nets are rarely one of them.
It's difficult to assess to what extent Johnson's coverages are at fault. Lopez's skills as a pick-and-roll defender are remedial (his Synergy stats indicate proficiency, but they don't account for demands Lopez places on baseline and top-side rotators). Johnson's menu of options at power forward don't leave him much to work with. Wallace is active, while Johnson has size, but Williams has never demonstrated the instincts or commitment of a quality defender on the ball (though he'll body up in the post).
Schemes and strategies aside, the assignment of blame is one of the trickier exercises in pro sports, because everyone orders the list of NBA coaching responsibilities. Some NBA players want a guy who they can trust, others don't care so long as they get minutes, while others simply just want a friendly workplace where the boss isn't up in their face all day long.
For management and ownership, those aforementioned expectations are everything, especially this season in Brooklyn. Putting an inferior product on the floor, getting embarrassed on national television, crossfire in the tabloids -- it just can't happen. And from the perspective of most owners and managers, maintaining morale ranks just behind winning as the top deliverable for an NBA coach.
Intelligent people can disagree about whether the Nets spent their money well, or whether general manager Billy King has good taste in basketball players, or whether Williams is a coach-killer, or whether it's the coach's job to horse-whisper a temperamental floor general just as the player has the responsibility to do what he can with the coach's system.
But Prokhorov isn't going anywhere, and King has furnished the roster with enough paper tigers to deflect blame (for the time being) and the contracts on the team's books aren't very movable.
That left one remaining party, the guy sitting in the first chair on the bench -- the loneliest seat in basketball.