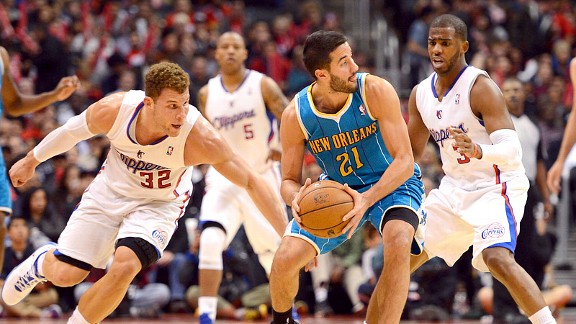 Harry How/NBAE/Getty Images
The Clippers' once-mediocre defense now ranks among the NBA's best. What happened?
Defense is the NBA's dark art, the great unknown, a phenomenon whose essence we can't fully quantify with a simple measuring stick. We think we know good defense when we see it, and we can factor how many points a team surrenders per possession to confirm the eye test. But analyzing defense is still an exercise fraught with assumptions about coverage schemes, who was supposed to do what, and whether the process produced the intended results.
On the results side, we know one thing about the Los Angeles Clippers through 33 games -- only two defenses in the NBA have been better statistically, something not even those most optimistic about the Clippers' prospects three months ago would've put good money on.
Those less bullish on the Clippers prior to the season often cited defense as the most obvious shortcoming. No matter how potent its offense, a team with a league-average defense usually doesn't finish much higher than third or fourth in a deep conference, and there weren't a lot of reasons to believe the Clippers' defense would be much better than that. The Clippers finished 2011-12 with the league's 18th most efficient defense, and didn't add anyone to the roster in the offseason who could fairly be characterized as a stopper, 40-year-old Grant Hill the possible exception.
Acquiring solid defenders is probably the surest way to fortify a defense, but there are other means -- the implementation of a smart system and/or significant individual improvement from key players. This isn't easy because systems need time before they're perfected, just as younger guys with only a few NBA seasons under their belts need time to refine their instincts. For the Clippers to make a leap, they'd have to craft a more systematic defense that could be mastered quickly, while Blake Griffin and DeAndre Jordan made significant progress.
By and large, most of those variables have fallen in the Clippers' favor. Much like their productive offense, the Clippers' defense isn't anything fancy. It doesn't employ any defensive aces who can make life difficult for a decent-sized wing scorer. Griffin has improved a good deal, but can still get into a little trouble when he's extended beyond the foul line. Same goes for Jordan, who is more disciplined in his movements and precise in his timing, but still hasn't grasped every nuance.
So how have the Clippers taken a mediocre defense, swapped Randy Foye, Nick Young, Kenyon Martin and Reggie Evans for Jamal Crawford, Matt Barnes, Lamar Odom and Ronny Turiaf and climbed 15 spots in the defensive rankings?
---
The second unit
The Clippers' starting lineup has been adequate defensively, but much of the statistical improvement has been accumulated while the team's second unit of Eric Bledsoe, Crawford, Barnes, Turiaf and Odom has been on the floor. In 230 minutes on the floor together, these five give up only 87.2 points per 100 possessions -- that's tops among the 60 most used lineups in the NBA.
Pressure has been a bedrock principle of the defense this season, and when this unit is in the game, it looks positively Grizzly. Bledsoe is a relentless ball hawk. Consider this for a second: The Clippers' two point guards combine for eight steals per 48 minutes, with Bledsoe and Paul ranking one and two in the NBA in that category. The entire unit has license to trap the ball just about anywhere on the floor. Barnes and Odom make particularly smart reads defensively and know just when to release that pressure to relieve the back side of the defense.
For opposing reserves, it has been a nightmare. Every fifth possession ends in a turnover (the third-best rate among those 60 units that have logged the most minutes in the league), and if a shot does materialize it's generally contested. All this despite the fact that Bledsoe roves a bit too freely and Crawford has been known to die on a screen away from the ball. Meanwhile, Turiaf is undersized, Barnes a bit foul-prone and Odom still off his fighting weight.
---
Let the big men use their speed
Neither Griffin nor Jordan has the experience of Kevin Garnett, the instincts of Joakim Noah or the presence of Tyson Chandler. But they're faster than all those guys, and this season Griffin and Jordan have been empowered to unleash that speed more aggressively.
Last season Griffin and Jordan spent much of their time on defense trying to hold their ground in a flat scheme. This year, Vinny Del Negro and assistant coach Bob Ociepka are asking more of Griffin and Jordan -- and they're getting more. Griffin and Jordan are blitzing selectively (e.g. step-up screens, last third of the shot clock) and are frequently showing high on ball screens to force the ball as far away from the paint as possible. Because they're finding themselves higher up in the half court than last season, they have farther to travel when it's time to recover. But that's OK because both Griffin and Jordan can fly, so long as they know where they're going, they're more than capable of getting back.
In short, the Clippers have decided this season to double down on their athleticism, even if it means absorbing a few mistakes here and there. Are Griffin and Jordan fluent yet? No, but they're increasingly proficient and that footspeed affords them a little more time than most big men. They have a coaching staff who trusts them to take aggressive measures to defend, then use that speed to mitigate any potential mistakes.
---
Talk, Talk
Elite teams often characterize the seamlessness of their defense as being "on a string." A movement by one defender instantaneously triggers another defender to rotate into his place, and so on. The fibers that make up the Clippers' string are getting stronger, but the cord isn't completely taut, at least not yet.
In the meantime, the Clippers maintain order by communicating. You can hear Jordan and Griffin confidently calling out screens so that Chris Paul doesn't plow into an opposing big man. On high ball screens, Jordan has gotten especially good at letting Paul know when he's dropping back into the paint, so Paul can push the ball handler down the sideline. That's crucial because Paul can't let a guy get low unless there's a plan to cut off the ball.
When Barnes wants to join Bledsoe in pinning a guard along the sideline, he'll call out to Odom to take momentary responsibility for the man left open. And when Paul finds himself away from the ball on the weakside, he's constantly barking directions to teammates to close the back door or cut off an obvious pass to the middle.
---
We knew the Clippers would be an efficient offensive unit -- Paul virtually guarantees that. We knew they'd be deep, and would have the flexibility as a team to bang with the brawlers, run with the gazelles, protect the basketball, scramble defenses with Paul's probing, exploit double-teams with Griffin on the block, and wreak havoc with a second unit that can pressure opponents and move the ball.
Yet we had no inkling the Clippers would post these kinds of defensive numbers this deep into the season. We're beyond the point (40 percent of the regular season in the books) at which we can talk about the sustainability of that success. That's not to say there won't be retrograde, early 2012-ish defensive outings like Wednesday night in Oakland when the Warriors shredded the Clippers on the perimeter, in transition, on pick-and-pops for David Lee. We'll learn a lot more about the Clippers on Saturday night when they get another crack at Golden State and make their adjustments.
But if the Clippers have figured out the defensive piece, if they've truly accomplished what elite defenses do -- maximize their individual strengths and mitigate those weaknesses -- and if they continue to post overall offensive and defensive ratings that rank in the NBA's top five overall, it's mathematically impossible to dismiss them as legitimate competition to Oklahoma City, San Antonio and anyone else in the West who stakes a claim.