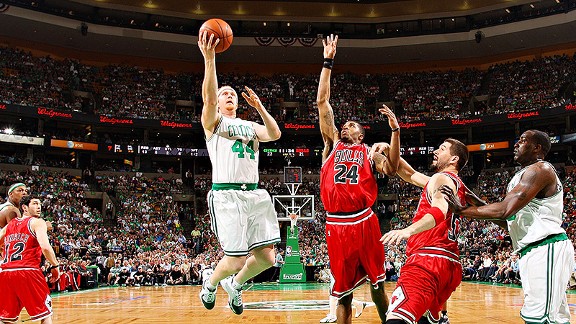 Jesse D. Garrabrant/NBAE/Getty Images
In the 2009 playoffs, doctors allowed Brian Scalabrine on the court only after he lied to them.
In the 2008-09 season, then-Boston Celtics forward Brian Scalabrine suffered three concussions in one month. The first came in Boston's game on Jan. 25 against the Dallas Mavericks. This is his story, as told to Beckley Mason:
I was guarding Dirk [Nowitzki]. He was going one way, I cut him off, he spun and he elbowed me right in this nerve. There's a nerve -- in boxing, they call it a glass jaw -- that goes from your jaw, almost like a funny bone, right to your brain. I got hit in the jaw, and that nerve makes your brain lose feeling and tingle. But you have no feeling in your brain, so you don't hurt, you just feel ... different. You feel woozy. So I continued to play.
Went to practice the next day, they sat me out for precautionary reasons. The next practice, I practice. I barely, barely got hit in that area with the nerve, like brushed, and I blacked out. So at that point they thought, 'Man, this is something serious' because they went to the film and watched it and it was nothing ... but it knocked me out. So clearly I hadn't recovered from that first one.
So I saw a specialist and he was explaining this to me and I took a thousand different tests.
---
Scalabrine returned to the court 25 days later, playing 11 minutes in a loss to Utah. Two games later, he suffered his third concussion of the season when Johan Petro landed on him in Denver.
At that point, they shut me down for the year. Not like I wasn't going to play, but until further tests were done, we don't know what's going on with him, we're going to shut him down.
The story is I got hit in the head and more than likely I would have sat out the entire year ... except that [Kevin] Garnett was out with the little knee thing he had, then Leon Powe tears his ACL.
So we're sitting there playing Chicago in the first round and at that point I go back to "I don't care if I'm 70 percent, I don't care if I'm 50 percent, I have an opportunity right now to play in the playoffs."
The only two bigs we had were [Kendrick] Perkins and Big Baby [Glen Davis]. I was the third rotational big man, and I got a chance to play a ton of minutes in the playoffs. So I said, Hey, the long-term repercussions of this, I'll deal with later. I'm going to push through and play.
---
Scalabrine returned to the Celtics for Game 3 of their first-round series against the Chicago Bulls wearing an oversized headband designed to provide his head with extra padding.
The symptoms were this: I couldn't sleep longer than three-and-a-half hours. So every three-and-a-half hours, I would wake up for two hours, then try to go back to sleep for three hours, then I'd wake up again.
Another symptom was that I couldn't handle light, at all, so I'd wear dark, dark sunglasses all the time. And every time I tried to exercise, I would get really light-headed. So for me to be cleared, I had to be cool on all three.
Well, I just lied.
At the end of the day, I made that decision and I was happy with that decision. I'm completely fine with that because I look for opportunities; I was an opportunistic guy. I played 11 years in the NBA without a lot of talent, so I tried to take advantage of the opportunity in front of me. Regardless of how I felt, I was playing through that. I just said I'll just deal with this stuff later.
I just told the doctor, Man this is great! I don't have any issues with light, I'm sleeping better, I'm doing this, I'm doing that.
Were those things happening? Eh, not really. I wasn't sleeping much better, I wasn't feeling much better. But at the end of the day, there was an opportunity to play, so I played. That's the decision I have to live with, and I'm completely fine with it.
I get a lot of heat for how I played in that playoff series. They judge me based just on that. But I'll remind people that I couldn't exercise, not play basketball, I couldn't exercise for two months. Two entire months. I could walk. I couldn't lift, I couldn't run, I couldn't shoot, I couldn't do anything for literally two straight months.
I would like to see another NBA player, even a star, who has to sit there for two months then get thrown into a playoff series. I ended up shooting 50 percent from the field; I played pretty decent for what I did. But I looked terrible, my body was in awful shape. I had to wear a headband that had padding in it. People make fun of me for playing and how I looked, but at the end of the day I had no business being out there.
---
When you get tired, the first thing that goes is your mind. So if you're not in shape, like two minutes in, you're gassed. Your mind will go first. Your body, you can push through a lot of stuff. So you're thinking, 'Is this fatigue? Is this from lack of training in the last two months? That could be it.
'Or, is it concussion-related?'
I always just said this is physical fatigue, push yourself through it. The last rotation and all those things, or even being a step slow and not getting somewhere. If I would have been like "Man, this is because of my concussion," that's just an excuse. Mentally, I just told myself: What do you expect? You couldn't do anything for two months. Stop being a p----, push yourself through it. It's not about the concussion. And that was the way I dealt with it.
Believe me, I'm not sad about it; that's the way I had to deal with it.
---
During and after his concussion ordeal, Scalabrine began to educate himself about "brain health."
I believe that going through that, I learned a ton about brain health. Every day, I take Omega-3s [supplement pills]; 99 percent of the liquid that goes into my body is water because water helps your brain eliminate gray matter. I've learned a ton about brain health. Don't listen to loud music in your ear all the time because that affects brain health, keeping cell phones away, using headsets.
So at the point I want to get back, I'm reading a thousand things a day to figure things out, I'm writing in a journal to figure things out. When I take fish oil three times a day, I feel so much better. I stop taking fish oils or Omega-3s and I start to feel woozy again. Why not have a healthy brain outside of concussions? This is a new way I live my life now.