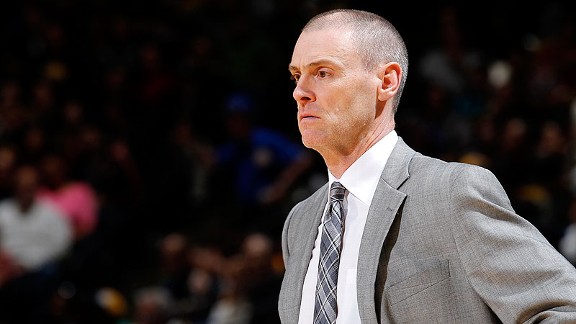 Rocky Widner/NBAE/Getty Images
Rick Carlisle: The pragmatist
Name: Rick Carlisle
Birthdate: October 27, 1959
Is he an emotional leader or a tactician?
A tactician. Carlisle inspires his team and staff with his deep knowledge of the game, not an emotional appeal. They know he's passionate about winning and losing, but that's conveyed through his intelligence and command, not huddle histrionics or heartfelt one-on-ones with players or coaches. Those who've worked with him, as well as colleagues around the league, marvel at Carlisle's ability to manage the last five minutes of a basketball game.
Is he intense or a go along-get along type?
You'd be hard-pressed to find anyone in the NBA who would characterize Carlisle as lighthearted. He's very intense, but he also knows how to corral that sharpness and doesn't coach angry.
Does he rely on systems, or does he coach ad hoc to his personnel?
Give Carlisle the pieces, and he'll find something that works. In Detroit and Indiana, Carlisle's teams were defined by their defense and were all about controlling the possession on offense. He succeeded with both Stackhouse-Atkins and Billups-Hamilton backcourts in Detroit, all four guards decidedly different in styles and strengths. In Indiana, Jermaine O'Neal got the ball on the left block, and Reggie Miller curled off single-singles, stacks and staggered screens. In Dallas, Carlisle went away from play-calling in favor of something that relied on more general principles -- and the instincts of Jason Kidd and Dirk Nowitzki to put those principles into action. To the extent that there's a commonality over the course of Carlisle's career, it's "Find the right shot at the right time for the right guy."
Does he share decision-making with star players, or is he the Decider?
Carlisle is the Decider, but he's exceptionally good at giving his key players the sense that they own a piece of the enterprise. He takes in a lot of information -- from assistants, star players, owners, numbers guys and trainers -- and that knowledge will often guide his decisions. For instance, things weren't so rosy in fall 2008 when the Mavericks came out of the gate 2-7. Kidd didn't want every set being commandeered from the sideline and was pining for more freedom. Carlisle went into the lab with his staff, came up with the "push" offense, which gave Kidd the flexibility he needed, but still generated the right shot at the right time for the right guy. That often amounted to an early jump shot for Nowitzki in a prime spot.
More coaching profiles
Does he prefer the explosive scorer or the lockdown defender?
Carlisle has always appreciated who's helping his team on the defensive end of the floor and feels confident he can find good shots for just about anyone -- even a defensive specialist like DeShawn Stevenson. In Indiana, Carlisle found plenty of minutes for Fred Jones, and in Dallas there has almost always been a Corey Brewer, James Singleton or Quinton Ross within close reach if needed for defensive duty. All that said, neither Corliss Williamson nor Jason Terry ever had to worry about losing minutes under Carlisle, who can recognize a well-tuned microwave when he sees one.
Does he prefer a set rotation, or is he more likely to use his personnel situationally?
Carlisle has no problem mixing things up when he identifies an opportunity. When his Pacers team needed to unclog the half court against the Pistons in a grueling conference final in 2004, Carlisle had Austin Croshere make his first start in two seasons to help the spacing. When his Mavericks team needed someone to attack the Heat's defense off the dribble in the 2011 Finals, Carlisle inserted J.J. Barea into the starting lineup for the final three games of the series en route to an NBA championship. Throughout his tenure in Dallas, if a player has cracked the code in a regular-season game -- say Brandon Bass in a pick-and-roll with Barea -- Carlisle will gladly leave him out there to exploit an opponent's defensive vulnerability.
Will he trust young players in big spots, or is he more inclined to use his veterans?
Again, Carlisle isn't prone to personal bias. He wants the guy out there who can help him the most. The situation will dictate the personnel, regardless of a factor like age. In Indiana, the core apart from 38-year-old Reggie Miller was very young, and nobody used more possessions for him during his last season in Detroit than 24-year-old Rip Hamilton. Yet Dallas has largely been a veteran's shop under Carlisle.
Are there any unique strategies that he particularly likes?
Carlisle might never fashion a trend in the NBA, but he'll take a current one and perfect it.
The push offense isn't so much an offensive system as it is solution to a problem. The 2008-09 Mavericks roster featured few players who could break a defense down with penetration and nobody who could be classified as a low-post threat. What Dallas had in spades were one- and two-dribble jump shooters and guys with astronomical basketball I.Q.s and other discernible skills like picking, diving and cutting. So Carlisle, with the aid of then-assistant coach Terry Stotts, devised a strategy to empower the team to find early high-percentage looks against an imbalanced defense.
As a general tactic, this wasn't new -- several teams had abandoned structure for freedom, Mike D'Antoni's Phoenix squads the best example. But unlike D'Antoni, Carlisle didn't have a prober like Steve Nash, nor was his group in Dallas as speedy or stretchy. The Mavs couldn't run and shoot with abandon, but Kidd could orchestrate an aggressive offense that knew how to sniff out those clean, early looks. That often meant getting wings and big men behind plays into random pick-and-rolls, or pinning Nowitzki's man early, or hitting Terry on the secondary break for a trailing jumper, or finding Josh Howard (later Shawn Marion) underneath a defense that's collapsed after an early drag screen.
Given his conventional playbook at his previous stops, this shift to a more free-flowing offense seemed like a departure for Carlisle. But in time, we learned that Carlisle didn't coach a deliberate, half-court game in Detroit and Indiana because he had a predisposition for it. He drew it up that way because his rosters necessitated more structure. When the circumstances in Dallas revealed themselves and he realized Kidd wasn't Jamaal Tinsley or Anthony Johnson, Carlisle deftly adjusted to the talent around him and created something special.
Defensively, the Mavericks adopted an inventive zone defense strategy devised by Dwane Casey. They were the rare team that was able to effectively zone up after misses, and would actually employ both zone and man-to-man schemes within a single possession.
What were his characteristics as a player?
A plodding but an intensely hard-working shooting guard who was always prepared and stayed in impeccable shape. Curiously, he tallied only 3.5 rebounds per 36 minutes for a total rebounding rate of 5.4 percent -- one of the lowest in history for a guard his size. By all accounts, this wasn't for a lack of effort, but a lack of hops.
Which coaches did he play for?
Carlisle played for Pine Tree State lifer Skip Chappelle at the University of Maine before transferring to the University of Virginia, where Terry Holland was the head coach. During his three years with the Boston Celtics, Carlisle came off the bench for K.C. Jones. Rick Pitino had Carlisle for a single season in New York. Carlisle finished his career as a player with New Jersey for Bill Fitch, who eventually offered him his first job on an NBA staff.
What is his coaching pedigree?
After being waived by the Nets, Carlisle got his start breaking down film under Fitch. In 1994, Carlisle joined P.J. Carlesimo's staff in Portland, where he worked alongside the legendary Dick Harter, the man responsible for the Bad Boy Pistons' "Jordan Rules" defensive strategy. Harter had a tremendous influence on Carlisle, who ultimately adopted many of Harter's principles in Detroit and Indiana -- strong base defense without much switching, few double-teams, help and rotations only when necessary and, above all, physicality. In 1997, Carlisle joined the coaching staff of former teammate Larry Bird in Indiana. Again Carlisle found himself on staff with defensive guru Harter. When Bird left the sideline in 2000, Carlisle was passed over for Isiah Thomas, but was tapped by the Pistons for his first head coaching gig. After two seasons in Detroit, Carlisle moved on to Indiana for four seasons before landing in Dallas in 2008 after a one-year sabbatical.
If basketball didn't exist, what might he be doing?
Working as a clinical psychologist.