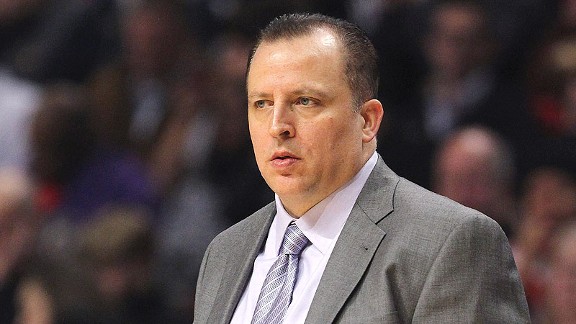 Jonathan Daniel/Getty Images
Tom Thibodeau: The defense-first drill sergeant.
Name: Tom Thibodeau
Birthdate: Jan. 17, 1958
Is he an emotional leader or a tactician?
Thibodeau's obsessive, workaholic personality has an unmistakable presence on the sideline of every game and throughout the Bulls' organization, but his greatest value is as a defensive tactician. No coach in the NBA understands how a team works as one to close down driving angles and to deny the offense's preferred move better than Thibodeau. Playing the kind of defense that Thibodeau teaches demands an extreme work ethic from his players, so differentiating between strategy and emotional commitment is tough. However, his most significant contribution to any team will be the X's and O's.
Is he intense or a "go along, get along" type?
Thibodeau is one of the most intense men in the NBA. His defensive system is built on hard and fast rules, and there's no negotiating. Thibodeau won't coddle anyone, not even a star like Derrick Rose, and needs players who have the mental toughness to get on board with both the style of play and style of communication that Thibodeau brings.
Practices are run with military precision, and Thibodeau is known to work through Saturday nights in the offseason. He's a no-nonsense coach, but his personal authenticity and the success of his strategies endear him to his players.
Does he rely on systems, or does he coach ad hoc to his personnel?
He relies on systems, especially on defense.
Though similar, Thibodeau's defensive system in Chicago is a bit different than the one he installed as a defensive assistant in Boston. Instead of using a hard show on pick-and-rolls -- something no big man did better than Kevin Garnett when Thibodeau coached him from 2007 to 2010 -- the Bulls almost uniformly "down" pick-and-rolls. This means the big man hangs back a bit more while the guard directs the ball handler to him and toward the baseline. One effect of this modification, which allows the Bulls bigs to remain closer to the paint, is that Chicago has been a top-10 defensive rebounding team since Thibodeau took over in 2010.
More generally, Thibodeau is not an especially creative in-game coach. Though he is inventive in his meticulous pregame preparation, his adjustments during games are just OK, especially on the offensive end. With all his success, it's sometimes hard to remember 2012-13 is Thibodeau's third season as an NBA head coach. This is one skill that could really evolve as he gains experience.
Does he share decision-making with star players, or is he The Decider?
The Decider. Thibodeau communicates well with his players but, especially during games, expects his players to follow his directives, not discuss them.
More Coaching Profiles
Does he prefer the explosive scorer or the lockdown defender?
Explosive scorer. This is a controversial distinction for Thibodeau, who, despite being a defensive ace, has a tendency to give big minutes to players like Carlos Boozer and Rip Hamilton, two guys who contribute real value only on the offensive end. For example, facing Miami in the 2011 playoffs, Thibodeau struggled to decide whether to lean on Boozer or defensive stopper Taj Gibson. When he left Boozer in for crunch time, the Heat successfully and repeatedly attacked him in pick-and-rolls.
Does he prefer a set rotation, or is he more likely to use his personnel situationally?
Thibodeau prefers a set rotation, but he will make quick substitutions, especially when it comes to playing Luol Deng and Joakim Noah abnormally long minutes.
Will he trust young players in big spots, or is he more inclined to use grizzled veterans?
Thibodeau has a clear affinity for veterans, even when it may benefit the team in the long term to give younger players more minutes early in the regular season.
Are there any unique strategies that he particularly likes?
Thibodeau's defensive system is the pinnacle of team defensive strategy in the NBA. He is often credited with being the first coach to fully leverage the abolition of illegal defense by loading up the strong side box while having the weakside defenders zone the back side of the defense. In effect, Thibodeau's defenses force ball handlers -- whether in isolation or in side pick-and-rolls -- to the baseline and then send a second defender from the weakside over to the strong side block to cut off dribble penetration.
He is especially detail-oriented when it comes to pick-and-roll defense, getting down to the specific angles that each defender's feet should be pointing. Thibodeau wants to send everything away from the middle of the court and force lob passes or bounce passes out to the perimeter, allowing defenders more time to get back to their men.
Off the ball, every defender in the Thibodeau system will have his hands up and active, with arms stretched as wide as possible. The goal isn't actually to get deflections, though that happens. The real objective is to take away the first passing option of the offense -- to make the ball handler hesitate and throw a slow pass rather than whipping a chest pass to an open shooter. This gives the defense more time to recover from screens and cuts and often forces the ball away from the offense's primary option on a given play.
Thibodeau knows he can't ask his defenders to do everything, rather he teaches them to take away certain high-percentage options for the offense. When everyone does their jobs, the odds tilt heavily in the defense's favor.
Most of Thibodeau's offensive sets are not rudimentary, but he tends to keep things basic in big moments. It's not uncommon to see some brilliant flex-based sets early in the game devolve into a steady diet of standard pick-and-rolls and pin-downs by the fourth quarter. He makes solid adjustments from game to game. For instance, he used Noah in the middle of the court to unlock Miami's pick-and-roll defense in their 2011 playoff series, but Thibodeau is not known for drawing up brilliant offensive game plans on the fly.
What were his characteristics as a player?
Thibodeau's playing career ended with his last game for the Division III Salem State University Vikings. His team won its league in his junior and senior seasons, and Thibodeau captained the team in his final year. An odd note: According to Salem State's records, Thibodeau shot just 48.9 percent from the free throw line as a senior.
Which coaches did he play for?
Art Fiste (Salem State).
What is his coaching pedigree?
In the NBA alone, Thibodeau has worked with Bill Musselman, Jerry Tarkanian, Rex Hughes, John Lucas, Jeff Van Gundy and Doc Rivers. He was a longtime assistant to Van Gundy in New York and Houston before joining Rivers in Boston.
If basketball didn't exist, what might he be doing?
Running an ultra-high-end personal security company.
---
The spirit of the 1984 Bill James Baseball Abstract was summoned for this project.