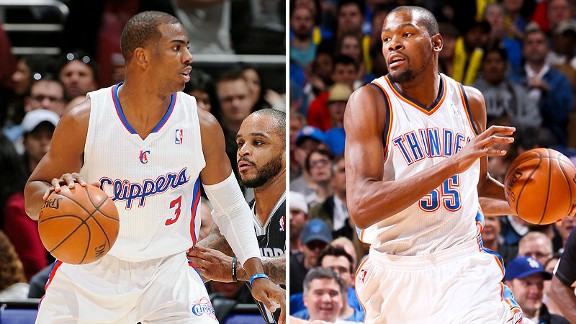 NBAE/Getty Images
Devising a strategy against Chris Paul and Kevin Durant is at the center of any Clips-OKC matchup."Like a playoff game in November" is how Oklahoma City coach Scott Brooks characterized the Thunder's 117-111 overtime win over the Los Angeles Clippers on Thanksgiving eve.
It was a riveting, but odd game. Chris Paul spent much of the night pinned against the left sideline by Thabo Sefolosha and the Thunder's troop of big men. As a result, Paul logged one of the worst statistical nights of his career.
Blake Griffin battled foul trouble, which disrupted the Clippers' rotation, as did the absence of Caron Butler. Both teams had prolific spurts when they scored at will, yet there were lengthy stretches when the game became an offensive slog. And neither team put together many big runs. Yet when it was all over, the Clippers and Thunder had played an instant regular-season classic. On Tuesday night, the two teams will face off again, and the winner will leave Staples Center with the best record in the NBA.
It's still early and the San Antonio Spurs will have a hand in assembling the Western Conference playoff bracket, but the way the standings have started to settle, a Thunder-Clippers matchup with high stakes is highly likely. The Clippers feel they match up well with the Thunder. They're 3-2 against the Thunder in the Chris Paul era (three of those five games played in Oklahoma City), and one of those losses came in that overtime game. The Clippers' primary worry about a potential matchup with the Thunder -- no wing to match up with Kevin Durant -- was addressed in the offseason when they signed Matt Barnes. No team in the West truly matches up well with the Thunder -- there are only degrees of desperation trying to guard them -- but Barnes helps, as presumably will Grant Hill who has returned from injury.
A faceoff between the Thunder and Clippers presents each team with a series of tough riddles, starting with how to deal with the opposing superstars. Interestingly, the two teams will employ similar strategies against Paul and Durant respectively, largely because they have similar attributes defensively.
The Thunder locked up Paul in the first meeting, and Sefolosha deserves much of the credit. Paul finished with nine points on 2-for-14 shooting from the field with four turnovers and nine assists. On the Clippers' pick-and-rolls, Sefolosha glued himself to Paul's right shoulder while Serge Ibaka or Kendrick Perkins forced Paul miles from the paint. When Paul was able to get some middle, he would run into a third defender pretty quickly. As far as shooting over Sefolosha, Paul struggled with that, as well.
The Thunder have improved their team defense this season. They rank sixth in the league overall in efficiency (points surrendered per possession). More important, the Thunder are learning some important truths about themselves. They're beginning to recognize that they have the length and speed to do some very cool stuff defensively. Ibaka and Russell Westbrook would have to break character to thrive in a strict Tom Thibodeau-style defense, but the Thunder are starting to understand they can still apply some of its main principles. Against the Pauls and Tony Parkers of the league, they can afford to load up the strong side of the floor because guys such as Durant, Ibaka and Westbrook have the length and speed to zone up the weak side while Sefolosha and the other big man are harassing the ball.
As dynamic and crafty as Paul is with the ball, he's a point guard who thrives most when his big man provides him with a solid screen. That means Blake Griffin, DeAndre Jordan and Lamar Odom need to give Sefolosha a harder time, give him the right tackle treatment that will allow Paul to split the defenders and get to the middle with a layer of space around him. You can send a third man at Paul once he clears the two pick-and-roll defenders, but with momentum and control, Paul will find a way to make a play for himself (floater, pull-up jumper, little scoop shot or just draw contact for three freebies).
No doubt Paul will spend some time today thinking about how to adjust his strategy against Sefolosha and the Thunder's defense, and he's unlikely to go 2-for-14 from the floor again Tuesday.
The Clippers' defense has seen an even more dramatic improvement than the Thunder's, jumping from 18th to fifth in defensive efficiency. The defense had plenty of flaws last season, but a central one was the absence of anyone on the Clippers who could lock down a bigger wing (Eric Bledsoe can pressure the life out of smaller guards, but, at 6-foot-1, you can't assign him to Durant).
This season, Barnes wasn't explicitly brought in for the veteran minimum to be the designated stopper, but it's a job he can handle more than adequately. Durant scored 35 points in 47 minutes on 7-for-19 shooting from the field. Nineteen of those 35 points came at the line, although Barnes was responsible for only three of the nine fouls committed on Durant.
Barnes did a good job of forcing Durant to his left. A gambler by nature, Barnes roamed very selectively as he devoted careful attention to Durant at all times. Jump shots were contested aggressively. Durant turned the ball over six times, four of which can be credited to Barnes on strips and deflections.
There's no such thing as a Durant-stopper and likely never will be -- and 35 points is 35 points -- but Durant used a ton of possessions to get there. It will be curious to see how Vinny Del Negro assigns the task of covering Durant, especially with Butler in action, but the Clippers have a very nice option in Barnes, something that wasn't available to them last season.
How the Thunder contend with Paul and how the Clippers contend with Durant are just two facets of a matchup with an endless number of facets. Both teams will be tempted to go small, as they did in the first meeting, but it's unclear who has the advantage in that scenario. The Clippers are a paint team defensively, more focused on the rim than the arc. Can they find a balance? The Thunder turn the ball over excessively, something that will kill a team against the Clippers. If Bledsoe is the Clippers' best option on Westbrook, someone else has to surrender minutes.
However these questions get answered and regardless of the new ones that surface, one thing is certain: A playoff series between these two teams would be spectacular.