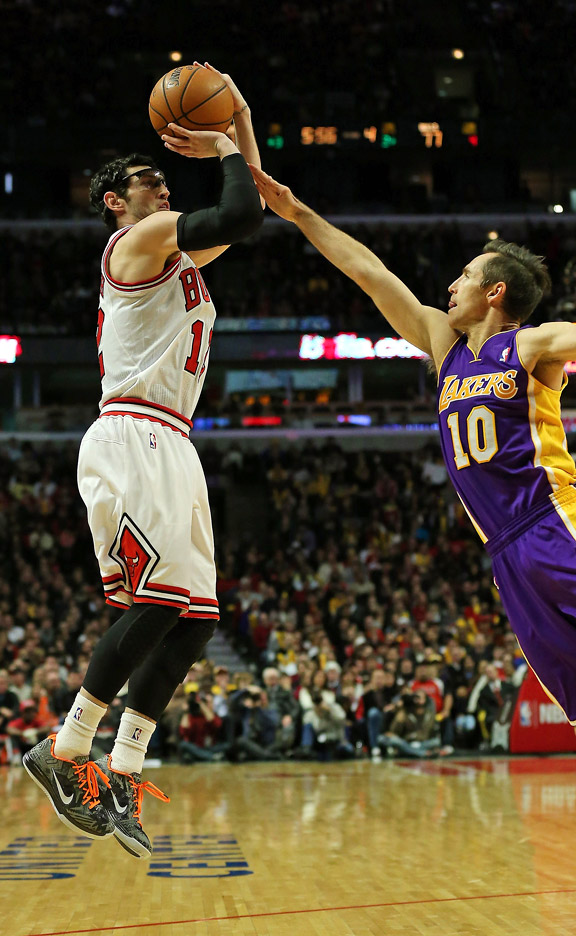 Credit: Jonathan Daniel/Getty Images
Opposing guards have been scoring over Steve Nash with ease.
For the Lakers it was yet another road loss on Wednesday night, this time to the Grizzlies. With that, just about everybody's preseason favorites to win it all, the Lakers, have fallen -- according to John Hollinger's automated playoff odds -- to just 18.5 percent likely to even make the playoffs.
The Lakers' offense, while nothing as effective as imagined, is good: Currently sixth best in the NBA.
But it's the defense where the team is stuck in the pack, tied for 19th, back in the territory where nobody is a threat to win any titles.
Barring a miracle comeback, whole books will be written about what has gone wrong this season. And any such book would need a chapter on Steve Nash's defense.
---
It's the fourth quarter Monday night, and the Bulls are leading the Lakers 77-75 with six minutes to play. They need a hoop.
So they go to Kirk Hinrich.
Not because Hinrich is their best scorer.
Because Nash is guarding him, and the Bulls like to see Nash under pressure.
It's a wise move. Nash has never been a defender with great strength or recovery speed. But despite his limitations he has long been graded, by Synergy, as average defending pick-and-rolls. The video shows that's because in Phoenix he collaborated with teammates like Marcin Gortat, Channing Frye and Robin Lopez to do just enough to take away the easiest looks. (In Phoenix, it was defending isolation plays where Nash really struggled.)
But Nash enjoys far less help from his teammates on the Lakers. Late in the game against Chicago, it hurt the Lakers repeatedly. On consecutive late-game possessions, the Bulls attempted a Boozer-Hinrich pick-and-roll on the right side. Hinrich scored twice.
That's how it has gone all year. As a matter of course, Nash goes under just about every screen he can -- seldom fighting up and around the screens. He doesn't have the length or leaping ability to disrupt a ballhandler from behind the play, so he tries to keep his chest between his man and the hoop as much as possible, even if it means giving him space.
In Phoenix, big men would do what they could to keep Nash's man from being all alone with the ball. Typically that meant hedging hard -- shuffling feet and body to guide the dribbler toward half court, giving Nash time to race under the screen and recover to his man.
They weren't the most athletic bunch of pick-and-roll defenders, those Suns, but they looked like the 2008 Celtics compared Nash's current frontcourt teammates.
In L.A., when Nash slips under a screen, his help -- typically Dwight Howard or Pau Gasol -- stays firmly rooted in the paint, unwilling or unable to slow the oncoming ball-handler until he's nearing the basket. Gone is the hedging that sent Nash's man far from the hoop, lost is the time Nash once enjoyed to recover to the proper position.
Why? Howard was once one of the most nimble big men in the NBA, but since his back operation almost a year ago and more recently a labrum issue, he has been moving like a tin man in need of an oil change. Gasol is also recovering from injuries -- he has missed games with knee trouble and a concussion. It's no wonder both have generally opted to remain near the rim where their size might bail them out.
Nash has got his own problems guarding this action, and now it's compounded by teammates hanging him out to dry. Ball-handlers, Synergy says, are making a mighty 51 percent of their shots in pick-and-rolls against Nash. That places him in the bottom 12 percent of the NBA, despite the fact that only 16 percent of the shot attempts off of Nash-defended pick-and-roll have been layups.
Is Nash himself the problem? During the Suns' best years (2005-2010), Phoenix never had a really good defense, but they didn't get much worse on that end when Nash was on the court. And as Nash aged, the Suns used more zones to protect him. The whole team, from a schematic sense, was designed to cover up Nash's flaws.
Contrast that with the Lakers, who have done little to cover for him on defense, other than switching Kobe Bryant onto the point guard when possible -- a move that has coincided with a severe decline Bryant's offensive output.
As a result, Nash doesn't help the offense nearly as much as he might otherwise, and the Lakers defense is significantly worse when he's on the court.
Nash is said to be the ultimate team player, someone who cares deeply about the feelings of his teammates and enjoys their on court successes as much as they do. But the irony is that in order to help his team, everyone else on the court has to buy in to serving Nash's style. That type of cohesiveness to any one style, let alone Nash's preferred system, is painfully absent in Los Angeles and it's leaving Nash isolated, exposed and on many plays, especially on defense, hurting his team.