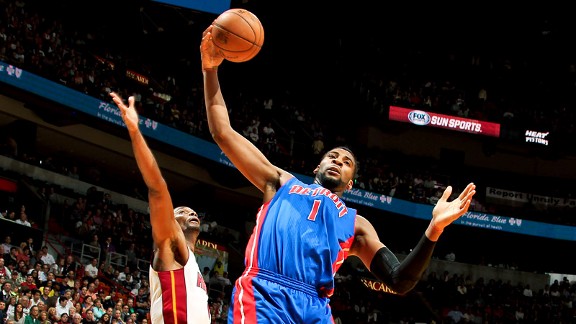 Issac Baldizon/NBAE/Getty Images
Ladies and gentlemen of Miami, meet Mr. Andre Drummond.
MIAMI – The first time I saw Andre Drummond in person, I did a double take.
Before a meaningless preseason game in October at AmericanAirlines Arena in Miami, the Detroit Pistons were gliding through their layup lines, warming up before a matchup against the defending champion Miami Heat.
It's no stretch to say that Drummond dwarfed everyone in the building. He is listed at 6-foot-10 and 270 pounds, but the scary thing is that he's probably not fully formed yet; he's 19 years old. You couldn't help but be struck by his enormity. He has tree trunks for legs, but when you witness him in layup lines, you immediately notice that he's almost impossibly light on his toes.
To prove it, Drummond did something that made the Miami crowd recoil in shock.
The 270-pounder barreled toward the rim after a dribble from the left sideline, catapulted off the ground, swung the ball between his legs from one hand to the other and slammed the ball through the rim so hard that you could feel the rumble across Biscayne Bay.
The size of Kendrick Perkins. Between the legs. With ease.
That's when I knew Drummond was special, and I wasn't alone. It was about that time in preseason that Pistons head coach Lawrence Frank fully grasped what kind of talent Drummond could be in the NBA.
"In preseason, he opened our eyes a little bit, because he didn't necessarily show that in Summer League," Frank said on Friday. "He had some 'wow' moments over the summer, but he didn't sustain anything. It was really in training camp when you really saw it."
A back injury kept the man they call "The Big Penguin" mostly grounded until preseason rolled around. But it's safe to say nothing's holding him back now. Picked ninth in the 2012 draft, Drummond leads all rookies with a 23.0 player efficiency rating, averaging 7.5 points, 7.4 rebounds and 1.6 blocks -- all in just 20 minutes per game. He's a per-minute marvel among stat-heads, and a daily fixture on highlight reels.
On Friday night in his return to Miami, you saw Drummond's promise early in the fourth quarter. He stripped the ball from Dwyane Wade, not once but twice. On back-to-back possessions. And then, he dribbled the length of the floor the other way for the finish on each occasion.
After the second pick-pocket, Drummond actually Euro-stepped around Ray Allen for the layup. Yes, seconds after stripping Wade, the nearly 300-pounder used Wade's own signature scoring move on a fastbreak.
And it worked. Well, kind of. The way that particular play ended encapsulates the Andre Drummond experience. It didn't end in a layup or a thunderous dunk, but a trip to the free throw line after Wade mauled him from behind.
The charity stripe is the one place on the court where Drummond looks human. After the pair of spectacular efforts, Drummond missed both of the ensuing free throws, dropping his free-throw percentage to a dreadful 40.9 percent on the season.
Steal, dunk, steal, missed freebies. It always seems to be three steps forward, one giant step back for Drummond. At age 19, that's all you can really ask for.
"He guarded Wade as well as anyone," Frank said after the game. "And I'm not saying that jokingly."
There were plenty of ups for Drummond on Friday. He filled every category in the box score again, finishing with six points on three dunks, seven rebounds, three steals and two blocks in 25 minutes. And if foolish plays were a statistic, he'd have a few of those as well.
But even now, he's catching opposing veterans by surprise. At one point, Shane Battier thought he was LeBron James for a moment and curiously tried to dunk on Drummond on the baseline. It didn't end well. Drummond met Battier at the rim and the rookie palmed the ball with his right hand in midair, ripping it down without using his off hand.
In a moment, Drummond made Battier look like 44, not 34.
"Yeah, I was surprised, I was like, 'Oh, he looks like he's gonna try to dunk it!'" Drummond said at his locker after the game. "I just jumped and got a hand on it."
Of course, it wasn't all "oohs" and "ahhs" for Drummond against the Heat. There were times when he tried to dribble around his defender and found nothing but trouble. Some missed rotations. But with a talent like that, you take the good with the bad.
"Andre had some good things he did," Frank said. "And some things obviously that, you know, we'll keep working on with him."
The Pistons are still experimenting with Drummond. And it might dictate their playoff hopes. Now 16-27, they stand three and a half games outside the eighth seed, behind the reeling Boston Celtics. Drummond's development next to fellow talented big man Greg Monroe, who registered 31 points and 12 rebounds on Friday, remains one of the biggest wild cards in the league.
While Frank recognizes the duo's potential, he's fully aware that they need to endure the inevitable growing pains. On the season, the Drummond-Monroe tandem has seen the court an average of 6.5 minutes per game, but that's up to 8.5 minutes in the month of January heading into Friday's game. And it's getting positive results. In the 85 minutes this month with those two on the floor, the Pistons have outscored opponents by 23 points. So far, so good.
But in a league that increasingly embraces small-ball, Frank has a dilemma on his hands. On Friday, he called it "a game of chicken." Should he play Drummond-Monroe together and risk getting beat by quicker players? The Pistons played the Heat even point-for-point when the two played together, but lost by 15 in the few minutes that Charlie Villanueva, not Monroe, played alongside Drummond.
"He's still learning, and he's going to be in a bunch of situations, like all our players, but for him it's all new," Frank said. "There are going to be times that because of a lack of experience, not for a lack of effort, but for a lack of experience ... and then it's really about finding out the best combinations that he can play with, and that we can be most effective with. And that's what we're still exploring."
All in all, Frank says he couldn't be happier with Drummond's progression as a rookie. But don't expect Frank to give him the starting gig anytime soon. Little steps.
"I'll tell you what, (Drummond) went from a guy who didn't understand screening at all, to now becoming arguably our best screener," Frank said. "You see the progress made and you love his effort, his spirit, his makeup. If he continues to maintain that type of approach, then he has really good things in front of him."
You won't find Drummond campaigning for a starting gig.
"Lawrence knows what he's doing," Drummond said. "He knows when to put me into the game to get the best out of me. So however many minutes he plays me, he knows he'll get 100 percent."
Based on age and draft position, Drummond may be the most impressive rookie of his class. At 19, the double takes seem to have only just begun.