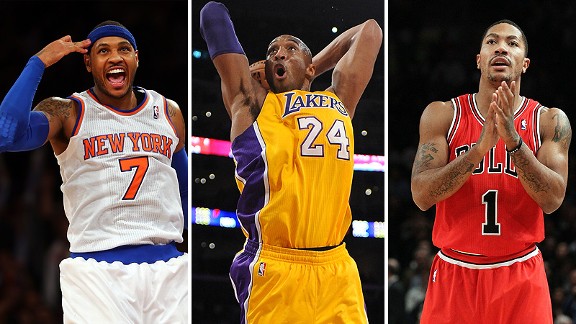 NBAE/Getty Images
Every title is an exercise in problem solving. Can Carmelo, Kobe and D-Rose provide the answers?The Indiana Pacers have a potentially terminal problem that could deprive their all-world defense the chance to achieve something special this spring: They can't score.
The Pacers don't have a lot of guys who know how to move the ball -- but that isn't a fatal flaw unto itself. In fact, the same could be said about many of the league's more efficient offenses (Oklahoma City, the Knicks, Brooklyn). What those teams have that the Pacers don't is a bunch of players who, when a possession stagnates, can hit from anywhere, command a double-team or, more generally, manufacture a shot simply by calling over a big man to set a screen late in the shot clock.
Paul George is an All-Star and a very nice offensive player, but he is still learning the full range of his skills -- how to identify and exploit defensive weaknesses and how to put a little finesse into a pick-and-roll. David West is Indiana's most refined offensive player, but it falls off quickly after that for Indiana, with little depth and not much help from the outside.
But there were the Pacers in Denver on Monday night, down 14 midway through the fourth quarter, looking nothing like a 29th-ranked offense. Lance Stephenson took a handoff and drove through the paint for a layup. West deked Danilo Gallinari with a shot fake and used the space to go into a soft right-handed hook shot in the lane. Down on the block, Roy Hibbert lured Ty Lawson low and calmly kicked the ball out of the post to a wide-open Stevenson on the arc. Stephenson raced up the court with the ball and spotted George trailing the play. Stephenson pitched the ball to George for another open 3-pointer.
By and large, it was like this the rest of the way for Indiana. Clean shots from the most high-percentage spots on the floor and smart passes to the right guys at the right time. All of a sudden, "Can the Pacers cobble together enough offense to contend in the East?" became a far more interesting question.
The NBA will never market its product with the tagline, "Problem solving at its best!" but it's fun to watch teams find solutions to mortal questions. (The Lakers might be the exception to the rule because a train wreck has its own perverse appeal).
Most championships are won because a team found an answer to a question: How can the Heat leverage all that athleticism on both ends of the floor? Can the Pistons win without a true superstar? How can the Lakers still make length the prize in a game increasingly dominated by spacing?
This season, there are no shortage of big riddles whose answers -- or lack thereof -- will determine the big themes when things start to get really serious:
Can Kobe Bryant facilitate the Lakers back into contention?

"Can the Lakers defend consistently?" is probably the more vital question, but speculating about Kobe's mood is much more fun. To that effect, Los Angeles is now a place where Bryant's assist total is the stuff of prop bets among friends after he racked up 28 dimes over a two-game period during which he attempted only 25 true shots.
Have the Heat become the NBA's latest switch-flippers?

Eighty-two games is an absurd amount of regular-season basketball, and for years we've seen reigning champions or older title contenders float their way through tedious Midwest road trips, dropping games they shouldn't by playing a brand of basketball that seems beneath them. Is this a function of boredom, or have they legitimately seen their collective skills and will erode? The Heat should be a stifling outfit defensively come the postseason, and they have enough versatility and self-awareness to find something that works offensively, but they haven't exactly assembled a sustained stretch of excellence this season. Are they vulnerable or just a little blasé?
How real is this Clippers' defense?

The Clippers' top-five defense has been impressive, but not because they mastered a system, imported a bunch of wing stoppers or have someone like Tyson Chandler protecting the rim. The Clippers are succeeding defensively because their second unit is terrifying, they feature a lot of versatility with regard to size and mobility, and their young big men have a far better understanding of where to be on the floor defensively. The versatility isn't going away, so if the reserves keep this up while Griffin and Jordan maintain their learning curves, does that mean the Clippers can play with anyone in a seven-game series?
If the Knicks can keep everyone healthy, can it all come together?

Jason Kidd's back is a concern, while Tyson Chandler's neck is a bit less so. But with the returns of Amar'e Stoudemire, Iman Shumpert and Ray Felton, the Knicks face the challenge of melding their various features into one cohesive identity. Can they recapture the glory of that spread pick-and-roll offense that lit up the league during the first month of the season? Will Chandler's presence be enough to compensate for some iffy defenders who make that offensive engine go? On nights when the game doesn't come easy, how will Carmelo Anthony respond?
Does Oklahoma City have anything profound to worry about?

Thunder fans worry a lot about turnovers. But the high totals haven't affected the offense's overall efficiency, nor does it seem to produce a dangerous number of fast-break opportunities for opponents. More than anything, the turnovers seem like an ancillary product of an aggressive offense. Apart from that, the Thunder have an improved defense that has benefited from familiarity. Aficionados of high drama will yearn for a Russell Westbrook-Kevin Durant tug-of-war at a crucial moment, but there seems to be more trust than ever in OKC, on the floor and off.
Should the rest of the East cower when Derrick Rose returns?

Throw a top-10 offense together with a top-10 defense and you generally have a contender. The Bulls with or without Rose have the defensive piece taken care of, but what happens to an offense that had little spacing and zero penetration once it injects Rose into it? If he has his intended effect and shots start to materialize in the half court, there's good reason to believe Chicago might be the second-best team in the East.
How much will Andrew Bogut improve Golden State?

Are we talking about a modest bump that offers the Warriors insurance from total defensive meltdowns and occasionally pressures opponents' backline defense in ways Festus Ezeli can't? Or will Bogut's return vault the Warriors' defense into the ranks of the elite and produce even more good looks along the arc for Stephen Curry and Klay Thompson while also giving the W's a high-low game with Lee (which we saw a glimpse of Monday night in Toronto)? If it's the latter, the West might have just bred another dark horse.
Of course, there's the whole "Who goes where?" question as the trade deadline approaches, the usual concerns about the Grizzlies' offense, the Nuggets' lack of a conventional superstar and which lower seeds the big boys want to avoid in Round 1.
Then there are the Spurs, who forever are unaffected by trends, age and turmoil. They provide us with no burning questions, and they wouldn't want it any other way.