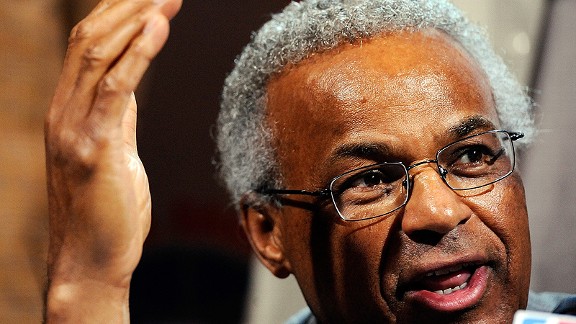 Patrick McDermott/Getty Images
Even if the union leader can avoid criminal charges, NBA players deserve better.
In spring 2012, players union president Derek Fisher sounded the alarm about troubles at the National Basketball Players Association, including the nepotism of executive director Billy Hunter.
Media reports prompted various investigations into the union's business practices, including potential criminal activity.
The most ominous of those investigations is ongoing. It is being conducted by the U.S. Attorney's office. The New York Attorney General and the U.S. Department of Labor are also on the case.
Hunter's power, we have since learned, had grown to be nearly limitless within the union's gleaming Harlem headquarters. His opposition was absent, silent or (in the case of Pat Garrity a few years ago) shouted down. Some of the union's best jobs went to Hunters' best friend, daughter, daughter-in-law and nephew. Hunter's son works for the union's financial advisers, and the law firm that employed his daughter won important players association assignments. Several big decisions that required a board vote -- including major contracts -- have proceeded with or without the board's knowledge or approval.
So when the union announced its own "independent" investigation of Hunter's business practices, it seemed almost laughable. With all due respect to the professionalism of the lawyers involved, before today's announcement that Hunter was being placed on leave, what ability would any union investigation have to be independent of Hunter? Was there any chance this, of all investigations, would be the one to find serious misconduct?
The least surprising press release in history followed eight months later, with Hunter announcing his satisfaction that "on the major issue, I am pleased that this report has confirmed what I have always known and said -- I did nothing illegal."
The report from Paul, Weiss, Rifkind, Wharton & Garrison LLP, however, is public, and that's not exactly what it says.
---
The report is hundreds of pages. They are so loaded with questionable behavior that a nearly amusing time-management issue emerges: With all the hours Hunter evidently dedicated to increasing his own salary, taking vacations, seeking reimbursement for work he allegedly did on vacation, directing complex deals to deliver union work to vendors with ties to his children, hiring friends and family ... how much time could he have really had to work on behalf of players?
The document contains all kinds of emails and insider accounts. The most skillful and passionate work of Hunter's in this report almost always concerns things other than the goal of the organization he has run: improving working conditions for players.
Just some of the things he is said to have been doing with his time:
Hunter has two homes. One in New York, where the union has offices, and another in Oakland, Calif. One of the exhibits is a spreadsheet of Hunter's travel to the Bay Area. It's there to address an issue about paying for plane tickets -- it seems the union paid for several that might have been personal trips. "Due to the passage of time," offered Hunter's personal attorney, "it is difficult for our client to determine if all the trips were for business or personal purposes. Mr. Hunter's best recollection is that the trips to San Francisco were generally business-related." But forget the $80,000 or so in airfares, and consider the sheer number of trips to his California home. By my count, there were 26 separate voyages from 2007 through 2011. In other words, more than five in a typical year, and judging by his lawyer's phraseology, it was tough to prove definitively that any of them were for work. Most work Hunter could do for players remotely should seem to generate documentation of some sort in the form of emails or phone records.

Hunter's daughter Robyn Hunter, daughter-in-law Megan Inaba, nephew Hal Biagas and (deceased) friend Gary Hall all worked at the union. His son Todd Hunter's financial business and daughter Alexis Hunter's law firm both had complex relations to manage. Hunter, the record shows, spent more than a little time managing these relationships, including defending them when reasonable concerns were raised, for instance by Garrity and later Fisher.

Hunter spent a great deal of time, and by his own estimation in one email, $100,000 in legal fees, digging into potential investments for the players association, including potentially taking over a struggling bank with ties to his son.
Whether or not Hunter has hurt the union is under review. But remember that in the big picture, he is paid to help it. How much better off might NBA players have been simply to have had an executive director focused more on executive directing?
When the lawyers write that the union was "unable to operate as efficiently as it should" it's simple to see that must be so.
One reason the report gives is the to-be-expected "deep rift among the NBPA staff."
"NBPA employees," the report says, "concluded that Mr. Hunter was running the Union as a 'family business' and, in the word of one, felt 'surrounded' by Hunter family members."
Throw in serious concerns raised in the report about poor CBA negotiating strategy in 2011 and various other first-hand accounts of the union dropping the ball, and it's clear the union could have been run better. This hurts players long before talk of crime.
---
A key point: Despite Hunter's words, the report does not say he did nothing illegal. Instead, it says "the facts do not show" that Hunter "engaged in criminal acts involving embezzlement or theft of Union funds."
In other words, evidence is lacking if you want to convict him of those two particular charges.
But of any other potential charges, this report says ... nothing conclusive. Hunter has not been exonerated of any crimes other than embezzlement or theft of union funds.
For instance, if you read carefully, the report mentions fraud as a concern.
"He could be found," says the report of an episode in which Hunter sought pay for time he may or may not have been vacationing, "to have defrauded the Union in the amount of tens of thousands of dollars. Our analysis of whether Mr. Hunter did so was ultimately inconclusive ..."
But most importantly, the report includes a late-breaking passage with big implications (which did not earn mention in the executive summary or press release). At issue is the much-examined relationship between the union and Prim Capital, financial advisers whose fees rose after Hunter's son joined Prim's board.
For a legal document, it reads like a scene in a detective novel:
Even more alarming than Prim's abrupt refusal to cooperate with this investigation is that on January 15, 2013, two days before this report was released, we received directly from Prim a document resembling a letter agreement for services between Prim and the union, which was purportedly executed in early March 2011. We had never seen this document previously. When interviewed, neither Mr. Hunter nor any Prim employees reported that a contract between Prim and the union had been signed in 2011. During the course of our investigation, Theresa Messer, the NBPA's director of finance, told us that the last known existing contract between Prim and the Union was a 2005 agreement, which had expired after one year, according to its terms, and we analyzed the union's relationship with Prim in light of that document. Indeed, when asked during his interview whether he would agree that there was currently no written contract in place with Prim, Hunter stated, "I'm not aware of one," and added, "I would say if [the 2005 agreement] doesn't continue, we have an oral contract."

When we brought the document that we received from Prim two days ago to the attention of Ms. Messer, who manages the union's use of Prim and meets with Prim representatives regularly, she was shocked to see it and confirmed that she had not been aware of its existence. She explained that in prior years, in response to requests from the union's outside auditors, who believe that the union should have valid contracts with key vendors, she has asked Prim for its most up-to-date agreement with the union. No document other than the 2005 contract was ever provided in response.

Unlike each of the previous agreements between Prim and the union, which allowed for termination by either party without cause, the 2011 letter calls for a five-year term, stretching from the date of execution, that "cannot be cancelled or revoked while in effect for any reason by the NBPA," at a cost of $602,000 per year. In our opinion, this provision is highly unusual and inconsistent with normal business practices. In addition, although the by-laws require contracts for greater than $25,000 to be approved by the executive committee, we are aware of no evidence to suggest that the letter was approved by the executive committee.

For these reasons and others, we have significant concerns about the validity of this document. Although we were not able to investigate these concerns before the release date of this report, we will continue to do so and will quickly provide our findings to the special committee. We have already discussed this matter with the U.S. Attorney's Office.
Calls and messages for the union, players on the special committee that commissioned the report, and lawyers at Paul, Weiss, Rifkind, Wharton & Garrison have not been returned. It is unknown what, if any, findings have been forwarded to the special committee, as promised, in the weeks since the report's publication.
But so long as lawyers have "significant concerns about the validity" of a contract promising $3 million in players association funds to a vendor with ties to Billy Hunter's family, and so long as the U.S. Attorney is interested in that, there's every chance the legal fallout from this could be serious and long-standing. Nobody is out of the woods.
And the victims in all this, of course, have always been the NBA players, who have long been deprived the benefits of a director who puts their issues first.
Perhaps now, with Hunter on indefinite leave and longtime staff attorney Ron Klempner filling in, the union can, for the first time in a long time, focus on serving the players more and the union's leader less.