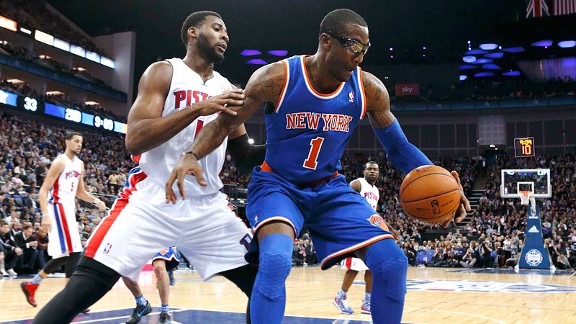 Paul Cunningham/USA TODAY Sports
Amar'e Stoudemire said his post game would be good this season.
During this offseason, much was made of Amar'e Stoudemire's two weeks of training with Hakeem Olajuwon. By and large, Stoudemire has been underwhelming this season. But that's not to say he hasn't been pretty darned good in limited post touches.
So far, the returns on Stoudemire's fortnight in Texas (and undoubtedly much more training alone and with the Knicks staff) are very promising.
In his first month back with the Knicks, Stoudemire is posting up far more than in previous seasons and scoring like crazy from the box, at least when he doesn't turn it over. Synergy reports that last season, Stoudemire used just 10.4 percent of his possessions in post-up situations. This year, that number has climbed to 30.7 percent. And Stoudemire is making good on those touches, shooting a ridiculous 62.1 percent compared to just 40.5 percent last year.
It certainly helps that, because he now comes off the bench, the majority of Stoudemire's post possessions come against second-tier defenders. But the tape also reveals that Stoudemire has a much clearer plan of attack this season. Whereas his post-ups tended to just sort of happen last season, this year plays are being run specifically to feed Stoudemire below the elbow, especially on the left side.
When he catches there, he immediately looks to attack middle -- a fundamental tenet of good post play. Whereas starting baseline causes players to lose sight of the help defense in the middle of the court, driving middle first allows Stoudemire to use his quick feet to counter and spin back to the baseline, away from the defense.
That's when he looks best: when he faces up, takes one hard dribble to the middle then spins hard to his left hand. Though he'll occasionally go for the speed move on the baseline, especially when he's on the right side -- he's just more comfortable going to his strong hand -- by and large he follows Tim Duncan's example and tries the middle first.
Stoudemire's touch remains good, even when the shot is awkward. Which is not to say his post game is refined. Al Jefferson he is not. If he doesn't take the face-up jumper -- and he seems to be settling for that shot a bit less this year -- he pretty much goes for the bull rush. That tactic has allowed him to draw a lot of fouls, but has also resulted in Stoudemire turning the ball over on about one in five post possessions.
Lineups featuring Stoudemire alongside Carmelo Anthony and Tyson Chandler performed poorly last year. This season, however, the Knicks with those three are outscoring opponents by an outstanding 12 points per 100 possessions. That's probably not because of Stoudemire's one-on-one post game. Rather, it seems to be more a result of the Knicks' improved ball movement and spacing, along with Stoudemire and Chandler's effectiveness when it comes to drawing fouls and hitting the offensive glass.
In sum, Stoudemire's hard work to develop his post game didn't make him the most dynamic post player in the league. But it certainly equipped him with a plan and the confidence to execute it with conviction. That's a nice boon for the Knicks' second unit, not to mention impressive growth from a player in his 11th NBA season.